Knowing firsthand What is Mega Luck Royale Free Fire (FF)? will probably make you all a big profit. Because when you use it, you will have lots of prizes and of course some good ingredients every day.
Even for the development of the Free Fire game this time it has reached a good thing, you just have to enjoy everything. There will definitely be some new Missions from an event that players must complete, then they will get more rewards.
Then you also have to know that in the Booyah Style Free Fire Event this time, there are lots of new missions that you have to complete. Because the prizes that you will get later, will definitely get better and you just follow the mission of this ongoing event.
But also know What is Mega Luck Royale Free Fire (FF)? so let's find out all this to be interested in trying it now. There are even some prizes that we can get, when we manage to get Mega Luck Royale in the game later.
What is Mega Luck Royale Free Fire (FF)? Let's Find Out!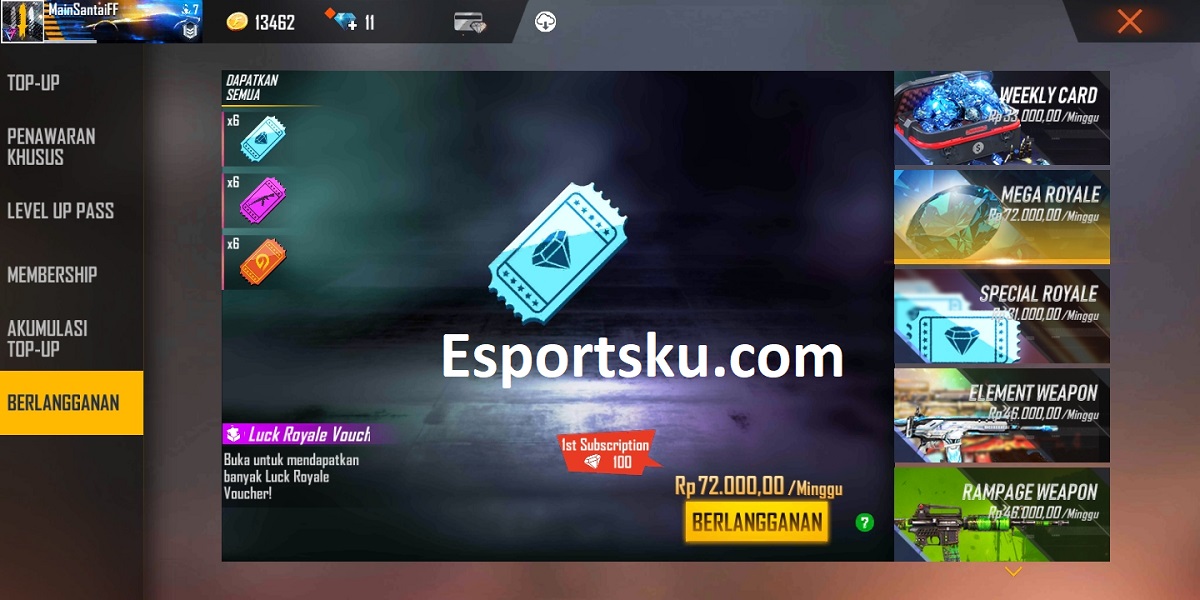 Mega Luck Royale is one of the selling Free Fire game features, all players will definitely have the opportunity to buy this. You also only need to spend 72 thousand, not including taxes, to make this feature you can get later.
Players who buy Megal Luck Royale will get a Royale Ticket, after having it, they can just spin. If you want to do it, you have to use Free Fire Spin Hockey Tips, so that later you can immediately get the main prize when you do gacha too.
The total ticket that you will get if you buy this feature is only 6 pieces, only available for the 3 most important Royales in Gacha later. Diamonds, Weapons and Incubators that you can get, it's also not bad if you directly buy Mega luck royale.
To get this feature or find it is also very easy and you can see the method below here.
You will have to login first into the Free Fire game, then select the Credit Card section at the top.
Now when you enter this section, select the bottom one with the words Subscribe.
You can immediately see the Mega Royale or Mega Luck Royale posts in the sequence number 2.
After choosing this, you can just buy a subscription for 1 week, so you can get the Ticket Royale.
The prizes we get are also quite large, but every week you will be billed for this.
If you don't want to continue the bill, you can just cancel it after you don't need it.
There is a 100 DM Bonus for people who are new to Mega Luck Royale for the first time
The news is that if you use this subscription, you will get 6 Royale Tickets every day. But there are also those who say that 1 day gets 1, then the total when it's up to 1 week means getting 6 for the total.
Just think about whether you want to buy it or not, because now we will indeed get lots of free gifts. Even from tickets like that, everything is free, make sure if you want to buy it, think about it as carefully as possible.
After knowing what Mega Luck Royale Free Fire (FF) is, now those of you who are already looking for it won't feel confused. Because what is present in the subscription feature, can provide many cool gifts for the players later.
It's better for you to try directly How to Get Raver Bundle Free Fire, it's different and maybe this will be included as a cool girl Bundle. After all, if you buy it, you don't have to worry about paying every month too.