Use Your Favorite FF Characters for Free at Booyah Style Events!
To welcome the new month, Free Fire (FF) often presents special events that can be enjoyed by many players.
This time in September 2021, the event is a Booyah Style event! There are lots of exciting activities that players can do in this event.
Also Read: Bundle Sauce Swagger Presents FF Hacker Store Event September 2021!
One of the most interesting things is the "Choose Character" Event where players can choose their favorite character for free!
Booyah Style event free FF characters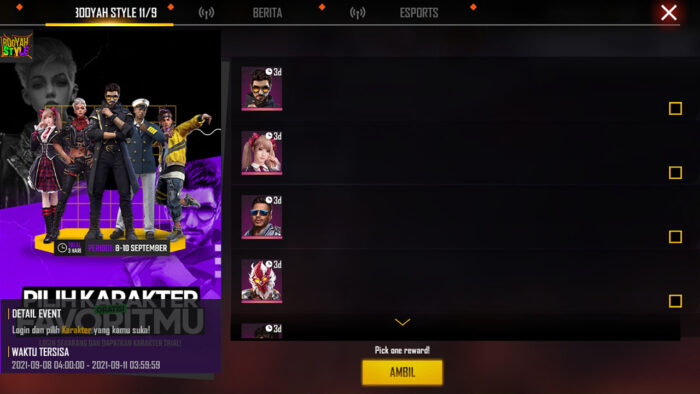 The Character Select Event in Booyah Style will take place from September 8 to 11, 2021, and there are a large selection of characters available.
Here is a list of characters that players can choose from:
Alok
Caroline
Maro
Wukong
Shirou
Laura
A124
Ford
Nikita
Notora
Rafael
Also Read: This is the latest Moco Awakening Skill in Free Fire (FF)!
Also Read: Free Fire Max Vs. PUBG Mobile: These are the 3 Differences between the Two Games!
From the list of characters above, you could say there are many characters with good skills that Spinners must choose if they don't have them.
Some of the characters that the author recommends to use are Alok (active skill), Wukong (active skill) and Shirou (passive skill).
Keep in mind that this event is a trial event so players will only be able to use the character for 3 days.
Don't forget to visit the SPIN Website for other latest updates, and follow our Instagram and Youtube.