Hi Buddy Booyah!
The struggle of the teams in the FFML Season IV Division 1 match seems to be getting fiercer. As this weekend's final match, each team is increasingly adding strength, to be able to destroy the opponent's defense to be able to bring additional points. So that the fight yesterday, managed to present a stunning and tense spectacle.
Not wanting to take more risks, each team has more and more careful consideration of the worst possibilities before taking action. Seen, some teams are reluctant to do battle at the beginning games, as a form of effort to win the match.
Also Read: There's a Free Cosmic Teleportia FF Bundle, Here's How To Get It!
Also Read: Have a Free Pan Moco Month FF in the Moco Rebirth Free Fire Event!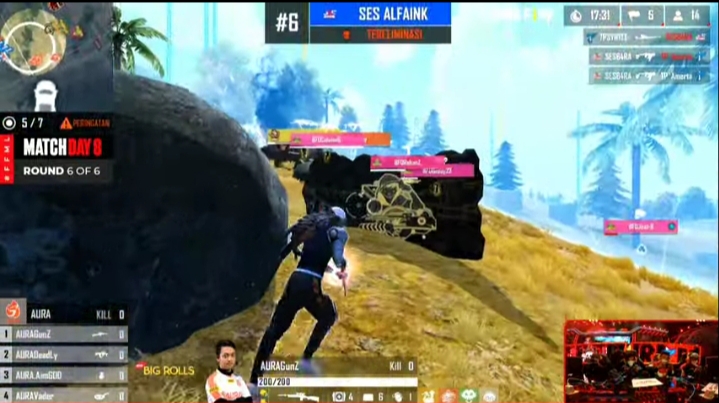 On the eighth Match Day yesterday, the teams from Group A and Group C brought together. After not being able to show maximum performance on the previous Match Day, of course Group A will further tidy up the game to be better. But the teams from Group C will not remain silent, with a definite movement they are able to dominate yesterday's match. It is proven by the acquisition of Booyah who was dominated in 4 Rounds by the team from Group C as follows.
Match 1 (Bermuda): Island of Gods
Match 2 (Kalahari): RRQ Hades
Match 3 (Purgatory): Island of Gods
Match 4 (Bermuda): The Prime Esports
Match 5 (Kalahari): SES Alfaink
Match 6 (Purgatory): AURA Ignite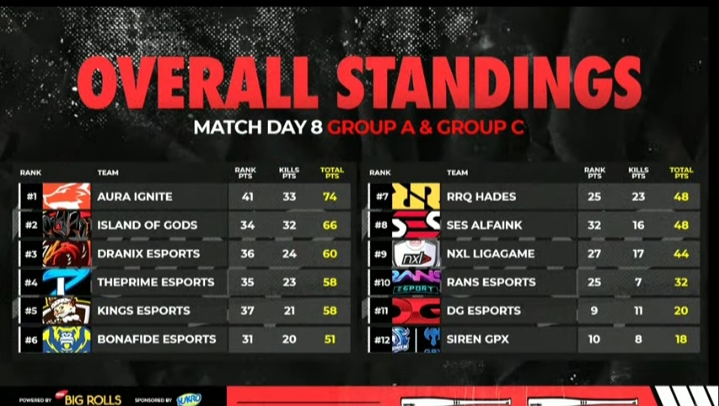 The long wait from AURA Ignite really paid off sweetly. Being the first Booyah, AURA Ignite has provided evidence that the process is real, so that it can ignite a burning fire to perform optimally.
An interesting surprise game from the AURA Ignite team, was finally able to bring home a full 20 points and topped the Overall Standings FFML Division 1 Day 8 yesterday. Thanks to this success, AURA Ignite also moved up to fourth position replacing the RANS Esports team in the Group A standings.
In addition, SES Alfaink still seems to be sitting quite comfortably at the top of the Group A standings with a total acquisition of 98 points. However, SES Alfaink must immediately improve because Bonafide Esports seems to have given a danger signal.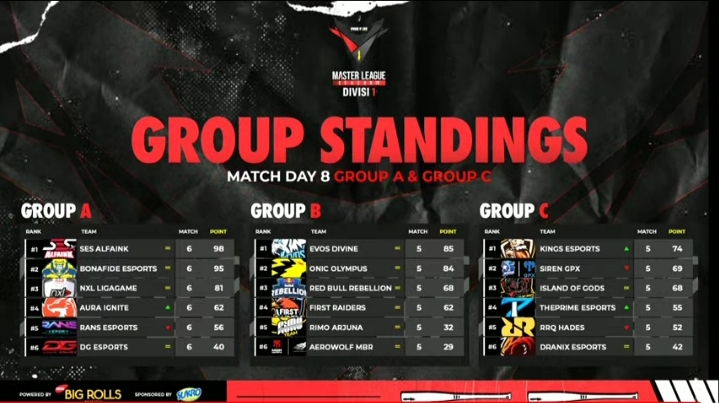 Unfortunately, the performance of the Siren GPX team was not good enough yesterday. Being in the lowest position in the Overall Standings, Siren GPX had to swallow a bitter pill and let it fall into the hands of the Kings Esports team to occupy the top position of the Group C standings.
Not only being able to get one Booyah in the fourth round, The Prime Esports also managed to show off on the eighth Match Day yesterday. Evidently, The Prime Esports with its full strength was able to lower RRQ Hades to position 5.
The competition for each team is not over yet, towards the last 2 weeks on September 18 and 19, 2021. Watch the struggle for 18 FFML Season IV Division 1 teams every Saturday and Sunday at 18.30 WIB on live streaming YouTube, Facebook Live, and Booyah Live FF Esports ID!
---
Don't want to miss a series of other interesting information about Free Fire? Don't forget to follow Tiktok, Instagram, Facebook, and YouTube from Booyah News!