Come on, don't miss the Top Up Event with Free Fire (FF) Pet Rumble Tickets as prizes, this will be a very interesting prize to get.
Because what we also know is that these latest events might make the players more curious and want to try.
If the prize is indeed interesting to get, of course it's no wonder that many players like all of these things.
It's just that this hasn't fully emerged, because there are still many other new events that must be tried.
Especially with the presence of the Free Fire x Street Fighter Collaboration, of course this is a pretty interesting event that you can join later.
From here we will also find out that there are many collaboration events that are present, so that they can be played later.
Especially for the Top Up Event with Free Fire (FF) Pet Rumble Tickets, you will definitely like the event too.
Curious? Let's see what the event is like.
Top Up Event with Prizes for Pet Rumble Free Fire (FF) Tickets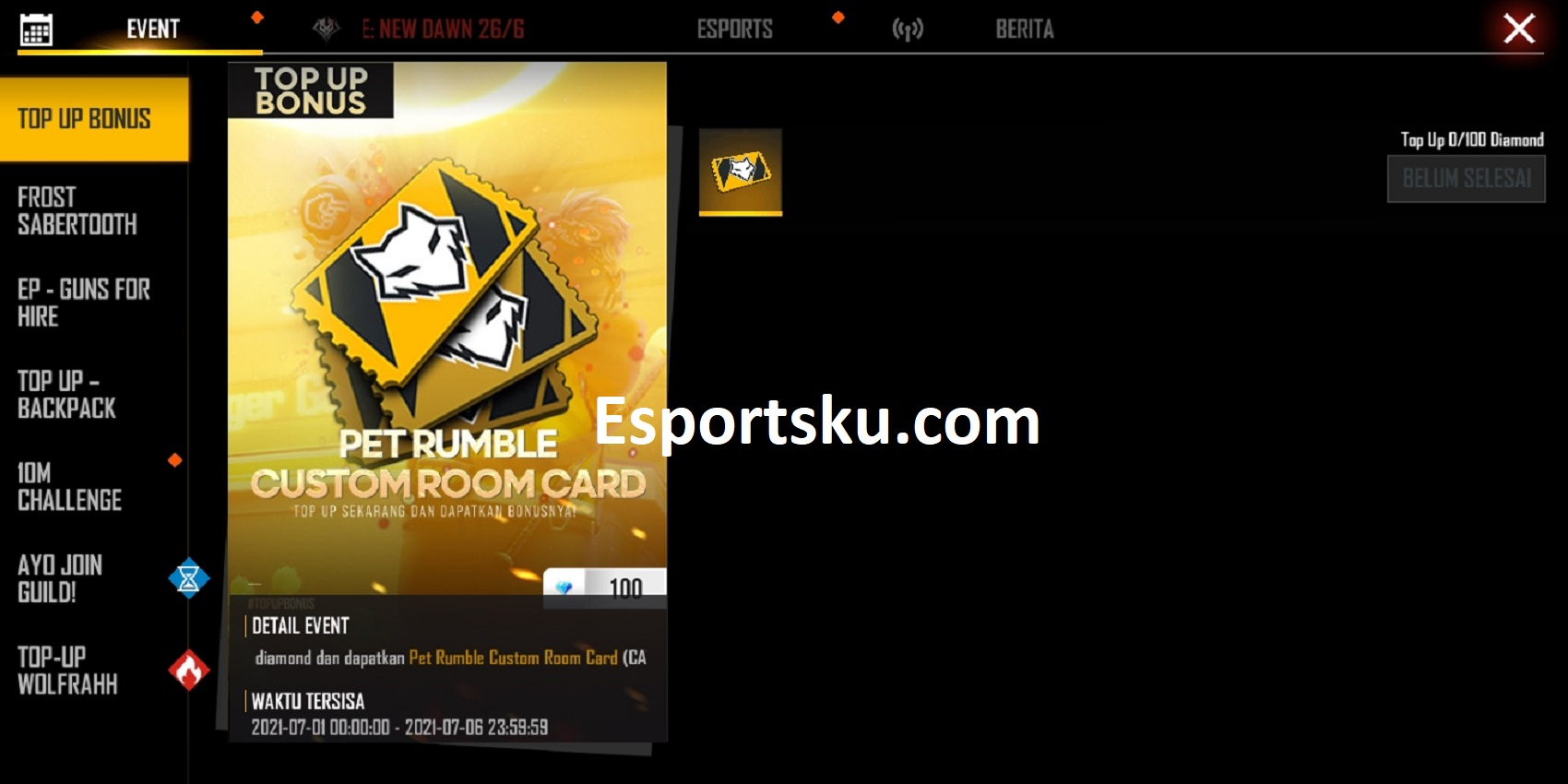 The Top Up that was presented at the beginning of this month is really cool, because you will get the main prize Ticket Pet Rumbel.
From here, of course, we really benefited a lot, because it explained the ticket prizes which were quite interesting.
So you will indeed receive a large total profit, when participating in an event like this to get the prize later.
The ticket for Pet Rumble itself, is indeed quite useful, because you guys can make Among Us Free Fire Mode with that too.
It's just that to get a ticket like this, it's clear you have to fill in the diamond first.
That's why you guys are really going to participate, events like this to be able to create an exciting mode when playing.
Especially if you later use the red Custom Ticket, surely you will try yourself How to Make Free Fire Brawl Mode which is very exciting.
Here's how to get the Pet Rumble Ticket, from the new event now.
First, log in to the Free Fire game, where you will get the event tab on the right.
After you enter the Event Tab, you can directly select the section called Event.
Here you will see what is called the Top Up Bonus, now there is the main prize for the Pet Rumble Free Fire Ticket which is quite interesting.
Therefore, you only need to Top Up 100 Diamond, in order to get the Ticket.
This ticket will be entered directly into the Custom Room system, so if for example you have completed it, you can immediately claim it.
By using a ticket like this, you can experience the Pet Rumble Mode for yourself, which can be set by itself too.
That's why you might be interested in some events like this, because from there, lots of prizes will appear.
Not only that, for the collection of several upcoming updates, you should also be able to have and use it when competing later.
From there you will still receive a variety of other new events, to be able to play quite well right now.
How? Have you got the Pet Rumbel Ticket or not? If not, let's just Top Up now.
After you already know the Top Up Event with Pet Rumble Free Fire (FF) Ticket Prizes, then things like this are indeed quite interesting to complete.
Of course, all the updates and new events that are present in this Free Fire game, are really many and you must be able to complete all of them.
Especially for the Rampage New Dawn Free Fire Web Event, here we will run out of time again to finish everything and it will be finished.