Hi Buddy Booyah!
Yesterday, a hot and fierce battle was presented by the twelve teams from POT A and POT B FFML Season IV Division 2. As if they wanted to focus on consistent points, the teams played quite patiently, and mostly maintained their position in a safe and effective place.
EVOS Immortal, managed to attract attention with its gameplay. Rasyah and friends managed to win 3 Booyah in a row last night! The dominance of other teams from POT B also felt the competition to win Booyah.
Also Read: Community Spotlight: Jayapura Free Fire Community
Also Read: ONIC.FELIX4YOU Share Your First Impressions Playing in FFML Season IV Division 1!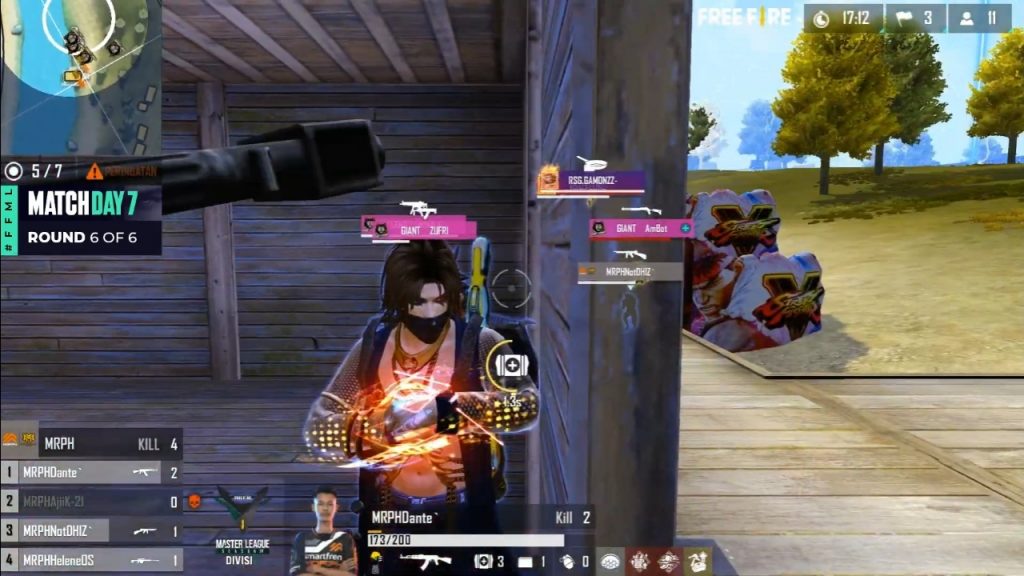 Until, 5 Booyah were secured by 3 teams from POT B! Only West Bandits Esports managed to secure Booyah in the heat of the match late game. The following is a list of teams that received Booyah in FFML Season IV Division 2 Day 7 yesterday.
Match 1 (Bermuda): West Bandits Esports
Match 2 (Kalahari): EVOS Immortal
Match 3 (Purgatory): EVOS Immortal
Match 4 (Bermuda): EVOS Immortal
Match 5 (Kalahari): The Pillars Gladius
Match 6 (Purgatory): Rosugo Esports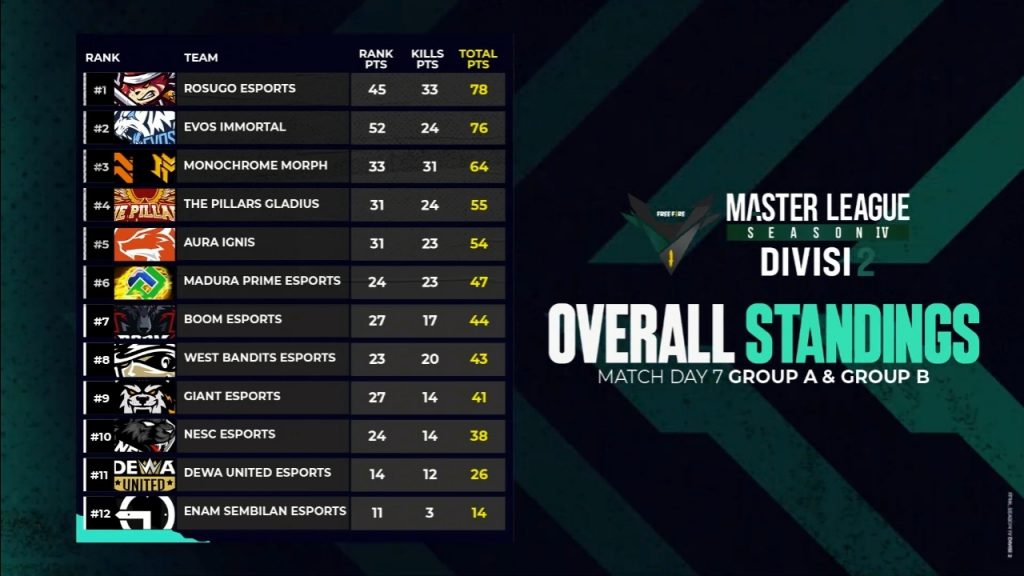 It turned out that, despite having achieved 3 Booyah in a row, EVOS Immortal had to settle for second place! Defeated by Rosugo Esports with a total of 78 points! Only 2 points adrift, EVOS Immortal apparently lost in the number of kills that made him have to accept himself in second position.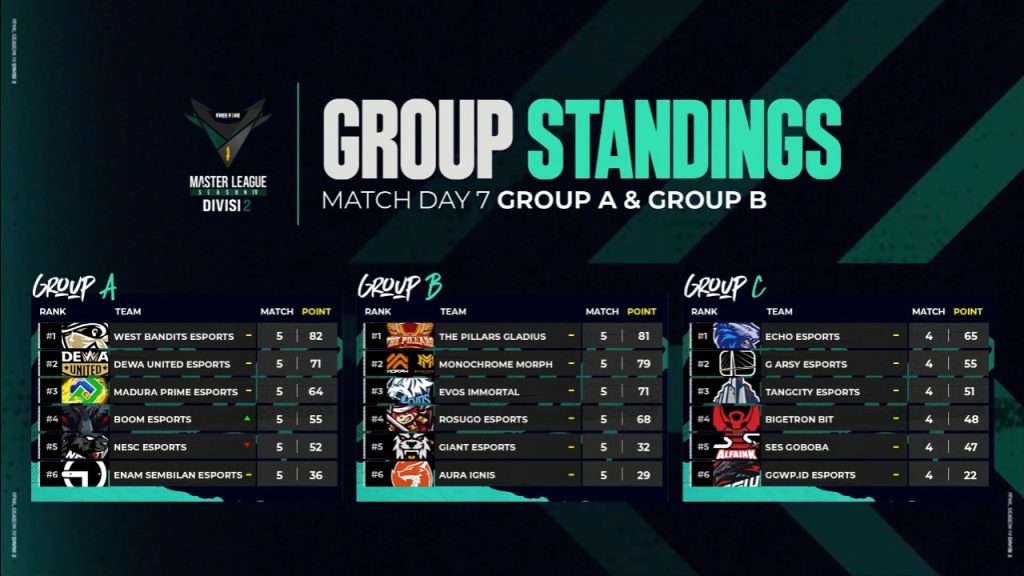 In POT A, West Bandits Esports and Dewa United Esports, who had a poor performance yesterday, are still comfortably sitting in the top 2 positions with a difference of 11 points. Then BOOM Esports, which managed to rise, was finally able to shift NESC Esports to fifth position in the POT A standings.
Switching to POT B, there is no change of position from the teams. However, the difference between the distance between each is getting smaller. From The Pillars Gladius at the top with Monochrome MORPH below, it's only 2 points away. Then from EVOS Immortal in third place to Rosugo Esports in fourth place, it's only 3 points away!
Tomorrow, Buddy Booyah will be presented with a battle from the twelve POT A and C teams! Watch the battle on live streaming FFML Season IV Division 2 in YouTube, Facebook Live, and Booyah Live FF Esports ID!
---
Don't want to miss a series of other interesting information about Free Fire? Don't forget to follow TikTok, Instagram, Facebook, and YouTube from Booyah News!