Hi Buddy Booyah!
Faded Wheel, is currently a part of Luck Royale that cannot be released in Free Fire. Buddy Booyah can find a variety of Gun Skins, Bundles, and even boxing skins in Faded Wheel.
His presence is indeed one of the things that Free Fire players have been waiting for. What's more, Faded Wheel Free Fire will soon have a new Gun Skin coming to Free Fire!
Also Read: FF 4th Anniversary Special Quiz Answer Leaked!
Also Read: 3 Mandatory Weapons That You Can Use with META Misha FF!
Curious what the Gun Skin looks like and what statistics are offered in the latest Gun Skin that will be present in the latest Faded Wheel FF? Check out this article for more details!
Thompson Thrash Metallic FF on Faded Wheel Free Fire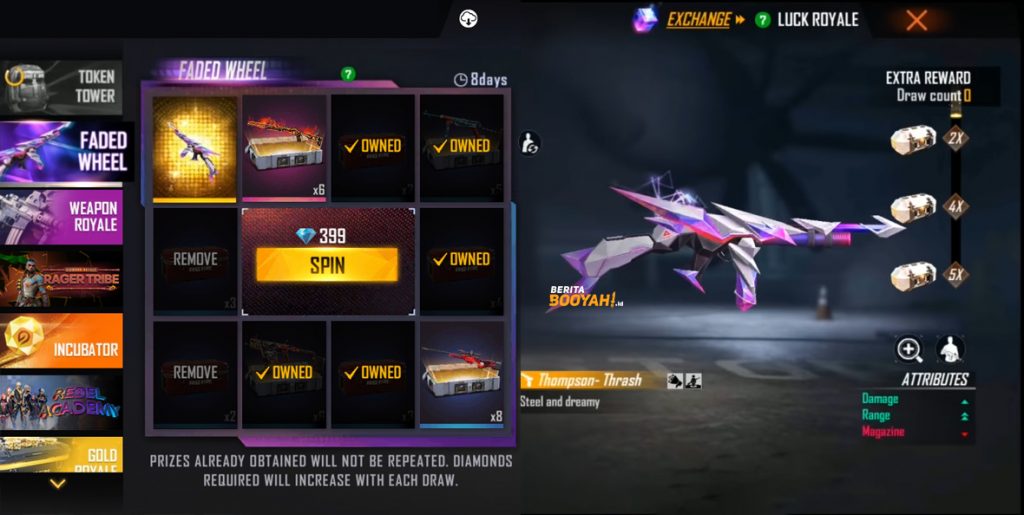 The newest Gun Skin that will come to Free Fire through Faded Wheel Free Fire is Thompson Thrash Metallic FF! Yep, this skin is one of Free Fire's fourth anniversary theme skins.
Can Buddy Booyah get it starting tomorrow, August 22, 2021 to September 4, 2021, the Thompson Thrash Metallic FF skin will be available on Faded Wheel Free Fire along with 9 other prizes. Even so, you can delete two unwanted gifts to make it easier to get this Gun Skin.
Like the previously released Faded Wheel, the price of the first Spin from Thompson Thrash Metallic FF's Faded Wheel is 9 Diamonds and will continue to increase along with the number of your Spins.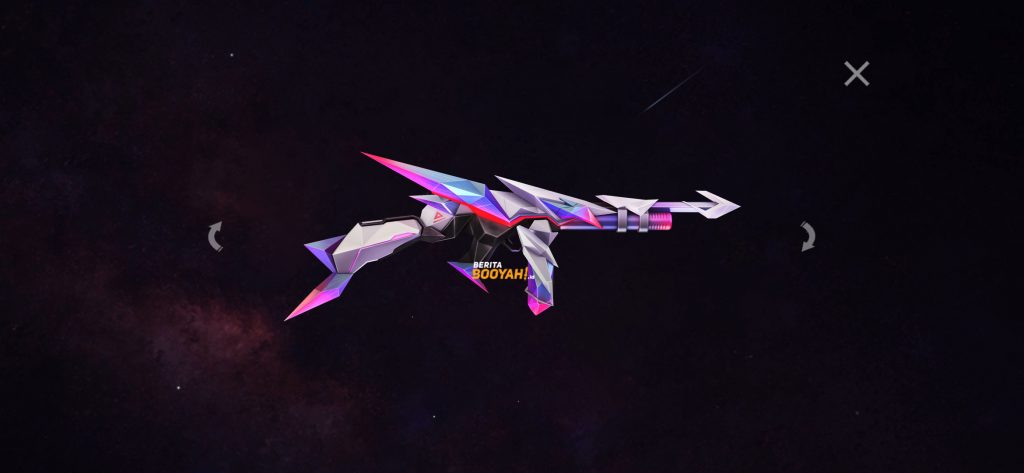 This means, if you are lucky, Buddy Booyah can have a Thompson Thrash Metallic FF with only 9 Diamonds. Meanwhile, here are the stats on offer on Gun Skin Thompson Thrash Metallic FF:
Range(++)
Damage(+)
Magazines(-)
What do you think, Buddy Booyah, with the statistics and appearance of this Thompson Thrash Metallic FF, are you interested in getting it on Free Fire? If so, don't miss it because this opportunity is only available for a limited time!
---
Don't want to miss a series of other interesting information about Free Fire? Don't forget to follow Tiktok, Instagram, Facebook, and YouTube from Booyah News!