Thompson Thrash Metallic Comes to the Latest Faded Wheel FF!
Every month, Free Fire (FF) always presents lots of exciting events that can be enjoyed by players.
One of the most popular events is the Faded Wheel where players can get cool prizes just by spinning.
Well, this time the newest Faded Wheel will present the main prize of the Thompson Thrash Metallic gun skin which has a very cool appearance.
Also Read: RewardFF2022 Com, Can You Get Free Fire Exclusive Items!?
For those of you who are interested in the gun skin, in this article we will discuss how to get it!
Thompson Thrash Metallic Faded Wheel FF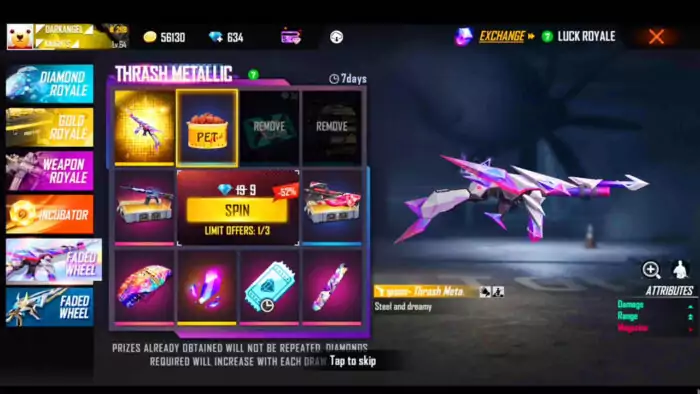 As reported by beritabooyah.id, this latest Faded Wheel event will take place on August 21, 2021
For those of you who have never played the Faded Wheel event, there will be 10 prizes offered, but before doing a spin, players must throw away 2 gifts of your choice.
After discarding the prize, you can then do a spin where the prize will be chosen randomly. The first spin will consume 9 Diamonds, but subsequent spins will require more Diamonds.
If you do 8 Spins, you are guaranteed to get the main prize of Thompson Thrash Metallic!
But if you're lucky, just one spin (or 9 Diamonds) is enough to get the main prize.
Also Read: Have a Thrash Metallic Backpack at the Fragment Royale FF Event!
Also Read: When is Free Fire (FF) 2021 Birthday? Turns out this date!
That's the way to get Thompson Thrash Metallic in the new Faded Wheel! Don't forget to visit SPIN Website for more information, and follow the account Instagram and Youtube we!