Hi Buddy Booyah!
It's only a matter of days before the 2021 Free Fire All Stars (FFAS) continental tournament, which will be held in Asia, EMEA, and America. Joining the Asia Series, Indonesia will fight against other Asian Free Fire teams such as Thailand, India, Bangladesh, and others.
Through the Free Fire Invitational Star Match tournament, Indonesia won 4 pro player who occupies the top pot standings and has the right to advance to represent Indonesia in FFAS 2021: Asia.
Also Read: These 3 Items Must Be in the Vault of Free Fire Players!
Also Read: Brasilia Becomes a Crowded Drop in FF? This is the reason!
Besides pro player, Indonesia also sent 6 well-known influencers who will fight with the fans pro player. Details, 4 pro player and 6 influencers will be merged and make 2 teams, each of which consists of 2 pro player and 3 influencers.
Using the name of Indonesian food, the first team is SATAY filled by DG.Abaaax, SES.Bara, Meri Olivia, Frontal Gaming, and Dimas FP. And the second team with the name INDOMEE, filled by IOG BION 09, DRNX.Garduuu, LetDa Hyper, Efdewe, and DJ Asep.
However, it seems that it is not only teams from Indonesia who use food as a team name. The other ten teams representing their regions also use their signature food names as team names!
In full, Buddy Booyah can see the names of the twelve teams that will compete in FFAS 2021: Asia below.
Indonesia: SATE team and INDOMEE team
India: DOSA team and SAMOSA team
Thailand: SOM TUM team and TOM YUM KUNG team
Vietnamese: team CƠM TẤM and team PHỞ
Pakistan: BRIYANI team
Bangladesh: HILSHA team
MCP: Durian team
Taiwan: BOBA team
Later, these twelve teams will be competed in 3 Free Fire modes, namely Bomb Squad mode which will be held on July 23, Clash Squad on July 24, and Battle Royale on July 25 and with a total prize of USD $ 10,000 per day for the winner. .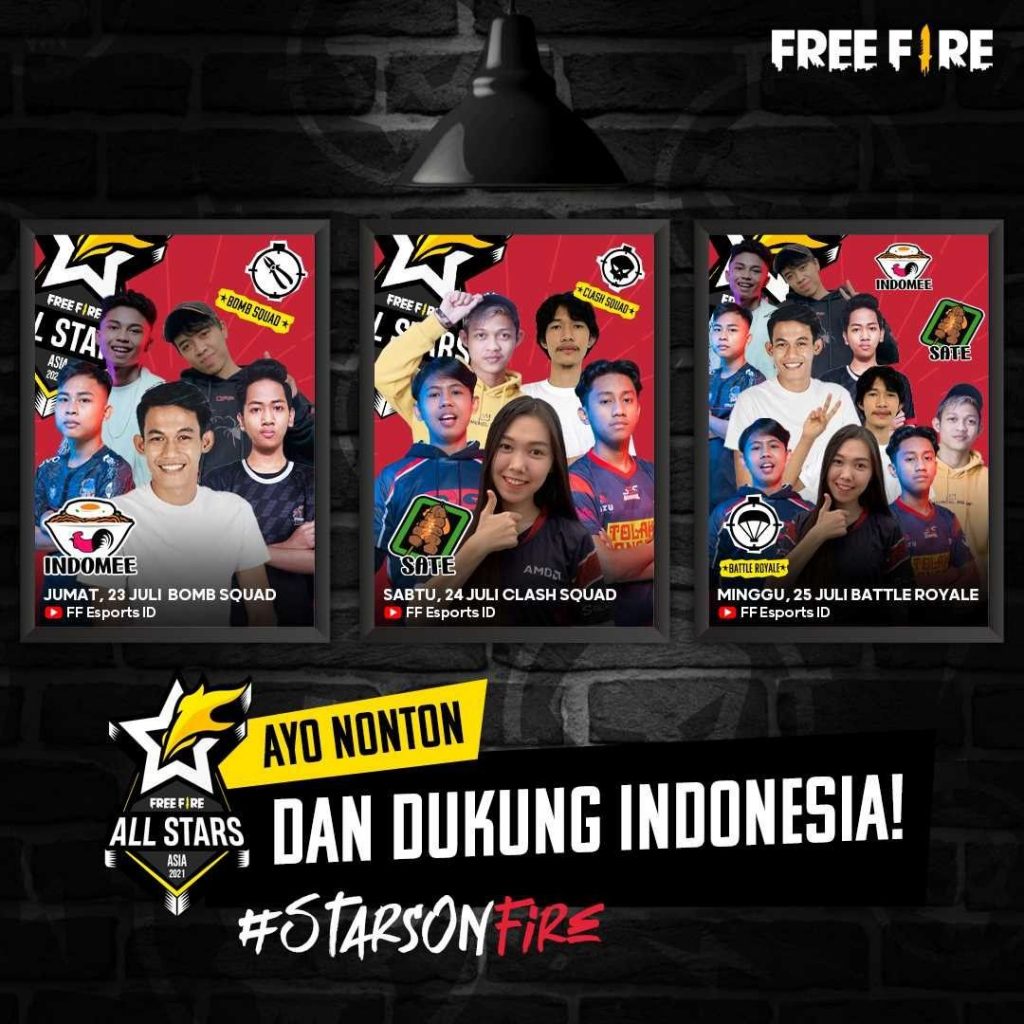 Indonesia itself will send the SATE team to fight in Bomb Squad mode, and the INDOMEE team in Clash Squad mode. So, Buddy Booyah don't miss watching live streaming the struggle of the two teams for 3 days at FFAS: Asia Series later!
---
Don't want to miss a series of other interesting information about Free Fire? Don't forget to follow Tiktok, Instagram, Facebook, and YouTube from Booyah News!