Hi Buddy Booyah!
Free Fire is one of the battle royale gamese which has released more than 20 weapons that players can use to fight in in-game. For strength, weapons in Free Fire are equipped with various statistics, one of which is armor penetration statistics.
Also Read: The Latest FF Top Up Bonus, You Can Get a Pet Rumble Custom Room Card!
Also Read: Like Down at the Factory Roof? Must Use These 3 FF Girl Characters!
Armor penetration itself is a statistic capable of breaking enemy armor. The power of this armor penetration is very overpower, especially towards the end games which had a lot of players who had high level armor.
For Buddy Booyah who wants to use weapons that have armor penetration statistics to make it easier to kill enemies, Buddy Booyah can listen to the discussion of 6 Free Fire (FF) weapons that have armor penetration from the following Booyah News!
credits
SKS is a Marksman Rifle type weapon that has Assault Rifle (AR) bullets to shoot at enemies. Just like other Marksman Rifle type weapons, the SKS is also automatically attached to a 4× scope if Buddy Booyah uses it.
Completed damage and range which is quite high, it turns out that SKS also has armor penetration, which is 46, you know! With combination damage and high armor penetration, SKS is able to make the enemy die from lack of HP and armor damage.
SVD
SVD is a Marksman Rifle type weapon that can only be found in Airdrops and Treasure Chests. Damage, rate of fire, as well as range height makes this one weapon suitable for long-range combat.
But it turns out, SVD not only has damage, rate of fire, and range you know, SVD also has a higher armor penetration than SKS, which is at number 67! With armor penetration figures that almost reach 70, SVD is able to kill fierce armor damage enemies.
Woodpecker
You could say, Woodpecker is the most powerful Marksman Rifle type weapon in Free Fire. Woodpecker has magazine, rate of fire, reload speed, as well as accuracy which is higher than the previous Marksman Rifle weapon.
But not only that, Woodpecker also has a very high armor penetration, at 75! This high number is very powerful to destroy enemy armor that is already white or level 4.
UMP
UMP is the only Submachine Gun (SMG) that has armor penetration. Not only have rate of fire, reload speed, and accuracy above 65, UMP also has armor penetration of 67!
With this high armor penetration rate, UMP can win battles with other SG and SMG weapons.
M1887
M1887 is a very famous SG type weapon and is often used by Free Fire players to fight. How not, the enemy can die just because of 2 M1887 bullets.
It turns out that behind the power of the 2 bullets, the M1887 has a high armor penetration and is not owned by other SG weapons, namely an armor penetration of 54!
M82B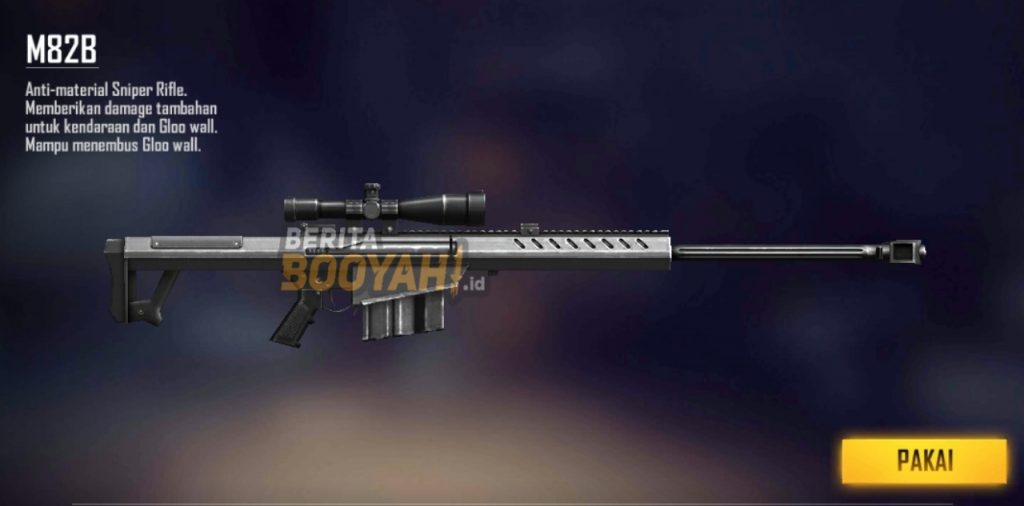 As Buddy Booyah knows, the M82B is a sniper weapon that has bullets that can penetrate Gloo Wall. And even when shooting at enemies behind the Gloo Wall, the M82B is still capable of delivering damage large ones above 70 even if the enemy is wearing level 3 armor.
The M82B's power overpower it turns out to be accompanied by the high penetration of armor owned by this sniper weapon, which is at number 67, a very large number for a sniper type weapon.
Those are 6 weapons in Free Fire that have armor penetration stats! Are Buddy Booyah interested in using the weapons above when playing later?
---
Don't want to miss a series of interesting information about other Free Fire? Don't forget to follow Tiktok, Instagram, Facebook, and YouTube from Booyah News!