You may have to know the total usage of Mr Waggor's Pet on Free Fire (FF), because there are quite a few that appear. Things like this also won't make you hesitate later to get this Pet, because we can find out the total player who uses it.
For starters, there are some things that you should be able to understand, why is this Pet finally one of the best-selling too. Maybe you will have a good chance later, so that later you have several opportunities to make it easier to win.
Moreover, for now we can know if there are Leaks of the September 2021 Free Fire Event, one of which is themed with a character who wants to Awakening. Maybe in the future the battle will be easier, if you have a goal to complete the Mission in the new Event.
Especially for now we can see the Total Usage of Mr. Waggor Pets on Free Fire (FF), maybe you don't think too. Because the total that appears in the use of Mr Waggor's Pet itself, has reached so many totals.
Total Usage of Mr.Waggor Pets on Free Fire (FF)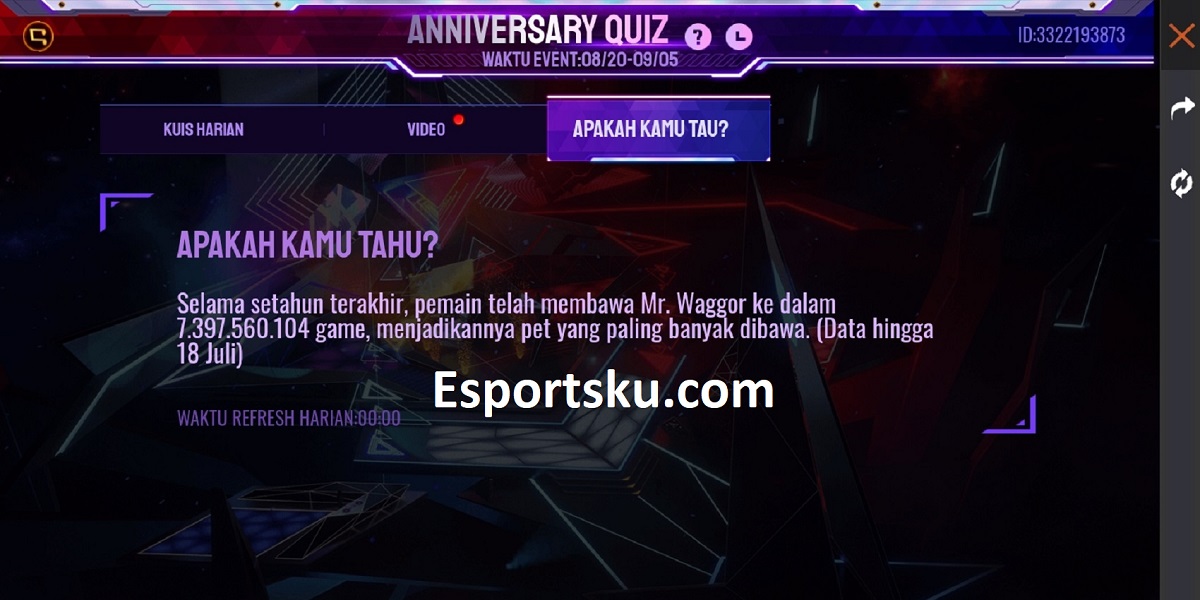 MrWaggor or as we know Waggor has been used by many and reached 7.3 billion users during his journey in the game. At first, if you want to know Mr Waggor is a pet with less interest, but now, finally, many of them are used when competing.
Just imagine that during the match, you always meet a Pet user named MrWaggor because of his skill. It's true that they are after this Pet Skill, whether using the Pet or not, there are also players who do this when playing.
The ability that this Pet gives is related to Gloo Wall, every few minutes Mr. Waggor will give the item. But there are some conditions before finding this item, because MrWaggor will only give it when there is no Gloo Wall.
That's why many use MrWaggor only at the Maximal Level, because he won't care about the gloo wall we have. The Max level of this Pet will give 2 Gloo Walls in a few minutes, then can be stacked until the 2 Gloo Walls are complete.
If you understand the mechanics of this Pet, it will definitely be easier to play it later. It's just that you yourself can't be careless, wait until this Pet gives you a Gloo Wall so that you will have more supplies later.
Even MrWaggor will also give you Gloo Wall from the beginning of the match, who is not lucky to try to use this Pet later. They will not find it difficult when facing enemies at the beginning of the match, because you can use this gloo wall immediately.
Pay attention to the right position when you want to install a gloo wall, this pet also takes time to refill. It's best if you don't make it difficult, save Gloo Wall so that Waggor can fill it more easily later.
Even though the total usage of this pet is already quite a lot, it looks like Mr.Waggor really has to get the latest Buff. Because filling Gloo Wall in approximately 2 Minutes is a strong one, it won't even be suitable for games.
At first I wanted to win easily but it turned out to be fatal, so that's the Mr.Waggor Pet that Free Fire players use the most now. You will probably like the Pet, even wear it during a match.
After you know the total usage of Mr Waggor's Pet in Free Fire (FF), you will indeed know that many players are using it. This will give you a chance to try it too, you just have to be able to use it as much as possible.
Then you can also find out How to Use Gloo Wall Free Fire, this condition is right to make you safe to play. You will not find it difficult when dealing with enemies later.
Keep visiting Kabargokil for the latest information, Follow our Kabargokil Instagram and YouTube news, too!