Hi Buddy Booyah!
The best performances were shown by the teams in the hot match of FFML Season IV division 2 yesterday. The revival of the burning spirit was even more pronounced, opening this week's Match Day 9 battle with tension and enough to amaze the audience with all the careful considerations from each team.
Today's match brings together the teams from Group B and Group C. Competing against each other for the best strategy, the teams seem to have fully mobilized their strengths, which will bring them to optimal points.
Also Read: Kings Esports Shares Powerful Tips to Win Clash Squad FF!
Also Read: Change Your Fate FF Event Leaks, There are Bundles and Elite Pass Discounts!
Evidently, there was no domination of the Group last night. This is evidenced by the even distribution of Booyah. The following is a list of teams that won Booyah in FFML Season IV division 2 Day 9.
Match 1(Bermuda): Rosugo Esports
Match 2 (Kalahari): Tangcity Esports
Match 3 (Purgatory): Giant Esports
Match 4 (Bermuda): AURA Ignis
Match 5 (Kalahari): The Pillars Gladius
Match 6 (Purgatory): EVOS Immortal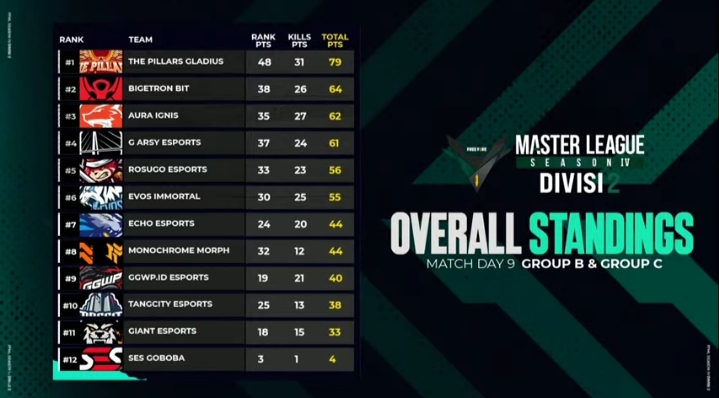 A beautiful game that won Booyah in the fifth round, was able to bring The Pillars Gladius to the top of the Overall Standings. With a total gain of 101 pounds, The Pillars Gladius has gone further and further strengthened their throne in Group B.
Even though they didn't have Booyah on Match Day yesterday, Monochrome Morph was still comfortably in second place. However, this convenience should make Monochrome Morph improve immediately.
Because the Rosugo Esports team, which has a 4-point difference, is enough to pose a real threat to Monochrome Morph. In addition, the success of getting Booyah in the last round, apparently could not make Evos Immortal maintain its position until it was replaced by the Rosugo Esports team.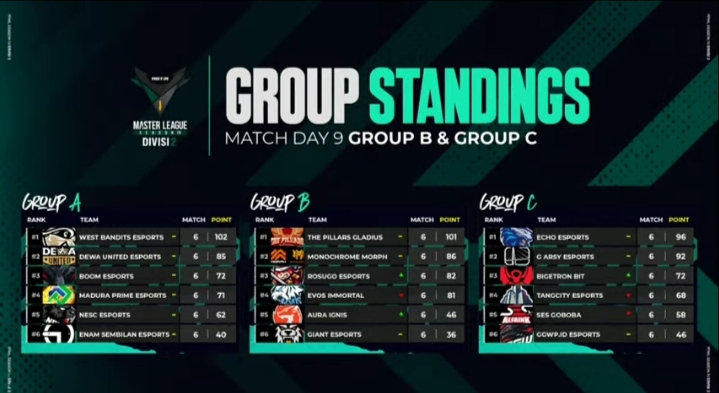 In Group C, despite not being able to perform optimally, ECHO Esports is still perched in first position. However, the position of Echo Esports was actually threatened by rival team G Arsy Esports, which was only 4 points apart.
Furthermore, the best performance of the Bigetron Bit team actually yielded very significant results. It is proven by the success of Bigetron Bit in removing two teams at once, Tangcity Esports and SES Gogoba who had to settle for 4th and 5th positions in Group C standings.
---
Don't want to miss a series of other interesting information about Free Fire? Don't forget to follow Tiktok, Instagram, Facebook, and YouTube from Booyah News!