You need to know the Pet Most Used by Free Fire (FF) players, because there is also an answer that you should know right now. A question that was present at the latest Free Fire game event, maybe you won't want to miss it either.
Because for now there are still some interesting events that you must try immediately, because of prizes and maybe you are interesting to try. You can also see all the correct answers for the 4th anniversary free fire
Yesterday we also just found out that the 4th Anniversary Song of Free Fire, is one of the special songs that is present at this event. Getting a gift like this, might give you a good opportunity for players who rarely top up.
Moreover, knowing the Most Used Pets by Free Fire (FF) players, of course this is an answer that you can have right now. So that later you can still get good prizes.
Curious? we see the explanation in this article now.
The Most Used Pets by Free Fire (FF) Players, Here's the Answer!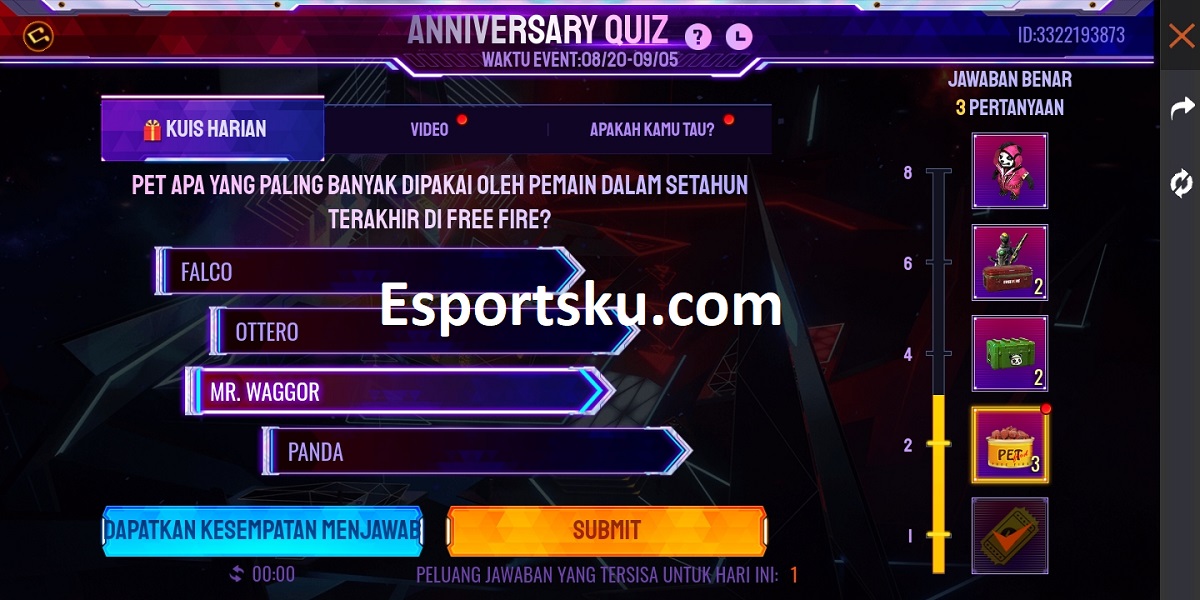 Question: What pet has been used the most by players in the last year in Free Fire?
Falco
Ottero
Mr Waggor
Panda
You have to answer a Pet named Mr Waggor, because from the Data section Garena provides that Pet has a lot of fans. Maybe you don't know how many total players have used him in matches, both skills or types of pets.
Even MrWaggor also always appears in Garena's special Video Events, Update Discussions or other things such as McLaren Collaborations. We can say that this Mr Waggor Pet has been used as a Free Fire player, reaching a total of more than 7 billion.
Of course, the big number has been calculated in all conditions, even all servers also have a totaled count. You may be interested in trying and owning this Pet, because there are several other additions that we can try.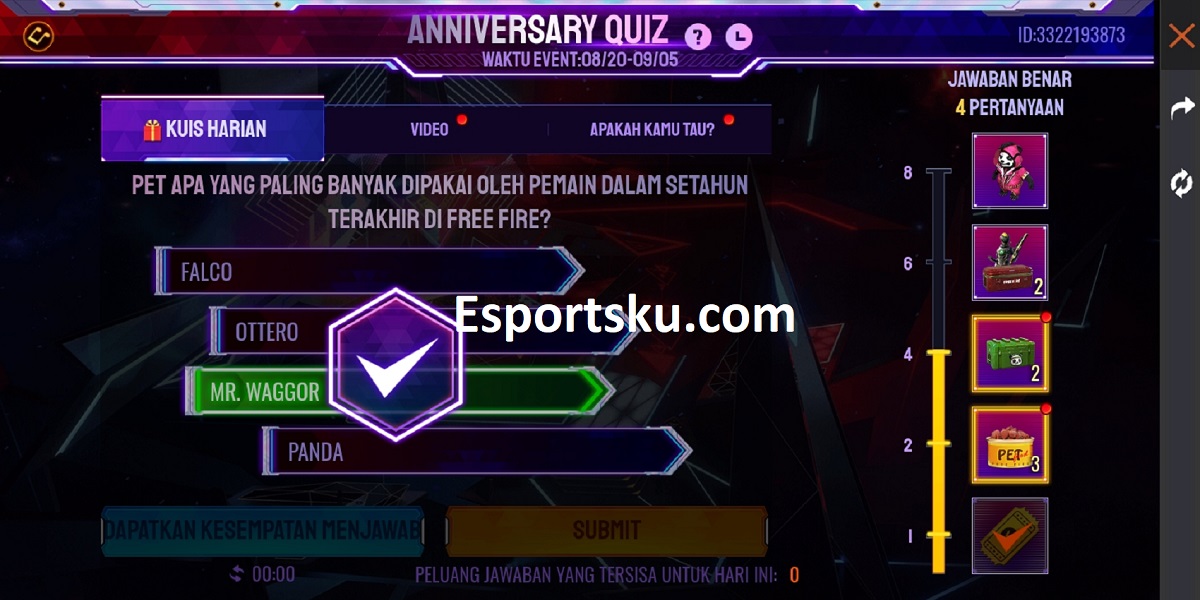 Even now, we can't doubt the ability of Pet Mr. Waggor, it's just that you have to be able to take advantage of opportunities. Mr.Waggor's pet is not for beginners, because indeed the Pet Skills that we can get will indeed increase rapidly.
So many people use it and have a total of 7 billion times, it is indeed evident from the use of the Skill that Waggor provides. You won't feel a lack of Gloo Wall, because the skill of this Pet will have the purpose of filling the item.
But there are a few things that you should pay attention to, this Pet will be able to fill the Gloo Wall at the beginning of the game. But after you have 1 Gloo Wall, Waggor will not give it first unless you are at Maximal level.
This is why Pet Waggor has the most fans and users now, because indeed the abilities and skills contained in the Pet are yes. Maybe if you understand the Skill, it won't be difficult to start and compete with Pet MrWaggor.
Well, because it's from the appearance section or the new bundle, maybe you'll be interested in having it and trying it. MrWaggor's pet is suitable for all characters, it's only up to us to use it to make it stronger.
After knowing the Most Used Pets by Free Fire (FF) players, just use the answer and maybe you will finish the event this time. There are many prizes that you might have to try, so that nothing is left out of this new event.
Moreover, there are a total of 12 Best Free Fire Pets, maybe you should also try and feel the skills of each of these Pets. Because there are some extras that you might like, when it comes to things that help to win later.
Keep visiting Kabargokil for the latest information, Follow our Kabargokil Instagram and YouTube news, too!