Hi Buddy Booyah!
Exactly August 19 yesterday, the FFML Season IV Division 2 performance entered Match Day 2 by bringing together 12 teams from POT A and C to elbow each other in the continuation of the Regular Season FFML Season IV Division 2.
You could say, Match Day 2 was one of the most interesting days with the war that took place in a total of 6 matches that were played. Dewa United Esports became one of the highlights because several times he was the third person in the battle.
Also Read: How to Get a Free Thrash Metallic FF Backpack at the 4nniversary Event!
Also Read: 4nniversary FF Event, Get a Free SKS Bumblebee Sting Gun Skin!
Indeed, you could say Match Day 2 was a pretty fierce battle considering that there were various debutant teams on the FFML stage and also teams that had just been relegated from Division 1.
The heat of the match on Match Day 2 FFML Season IV Division 2 was also proven by how no team won Booyah more than once. Compact, 6 Booyah are divided equally among 6 teams with the following details:
Match 1 (Bermuda): Madura Prime Esports
Match 2 (Kalahari): God of United Esports
Match 3 (Purgatory): G Arsy Esports
Match 4 (Bermuda): BOOM Esports
Match 5 (Kalahari): Tangcity Esports
Match 6 (Purgatory): GGWP.ID ESPORTS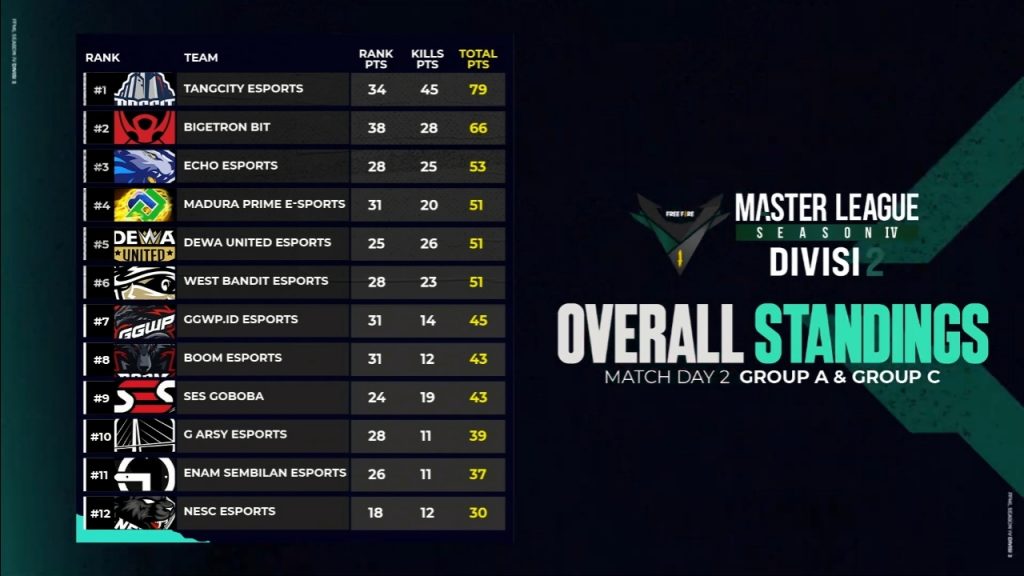 Had no kills in the first match, Tangcity Esports managed to go crazy in Mtach 5 and 6 with 1 Booyah and dozens of bagged kills. In total, the team that just set foot in the Free Fire Indonesia league tournament managed to collect 45 kills.
These results, of course, confirmed Tangcity Esports as the leader of Match Day 2 and POT C with 20 points. Meanwhile, interestingly, Dewa United Esports managed to secure 20 points in POT A even though on Match Day 2 they had the same points as West Bandits Esports thanks to the 1 Booyah that Ubeed and the team got in Mtach 2.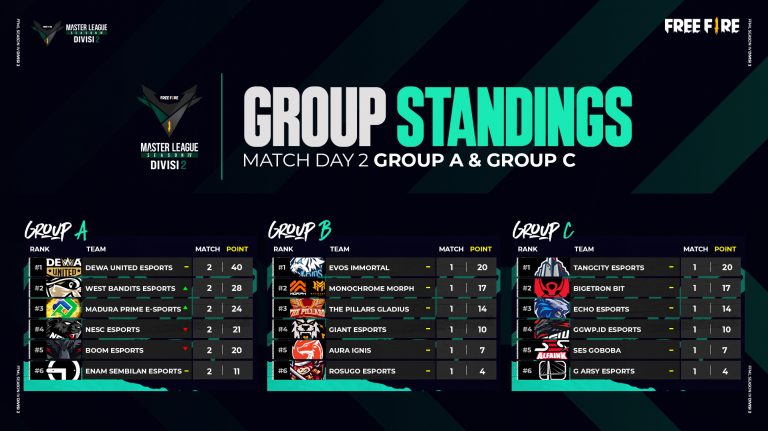 With the surprise that Tangcity Esports successfully presented on Match Day 2 FFML Season IV Division 2, the first week of FFML Season IV Division 1 is over and will enter the second week next week.
Watch the struggle of the eighteen teams to win the FFMl Season IV Division 2 YouTube, Facebook Live, and Booyah Live FF Esports ID every Wednesday and Thursday at 18.30 WIB!
---
Don't want to miss a series of other interesting information about Free Fire? Don't forget to follow Tiktok, Instagram, Facebook, and YouTube from Booyah News!