Originally posted on March 9, 2021 @ 1:09 PM
Leaks that enter a game become important things and information that we can try to do. Especially for the FF Star Gazer Diamond Royale Free Fire Bundle Leak, it is reported that it will appear soon on all of the servers of this bundle.
But it's still in a form called Leak, so you can't be sure if for example it will be fully present or not. Because if it's a leak, it will definitely change on every current server.
There are quite a lot of updates provided in the Free Fire game itself. So you can try it too, just like playing in the Free Fire 2021 Super March Event now. Because indeed at this event there are many new prizes.
All of that is given nicely to the players, then know if there is a FF Star Gazer Diamond Royale Free Fire Bundle Leak. Of course, with the presence of this leaked Bundle, you might be interested in having it.
Star Gazer Diamond Royale Free Fire FF Bundle Leaks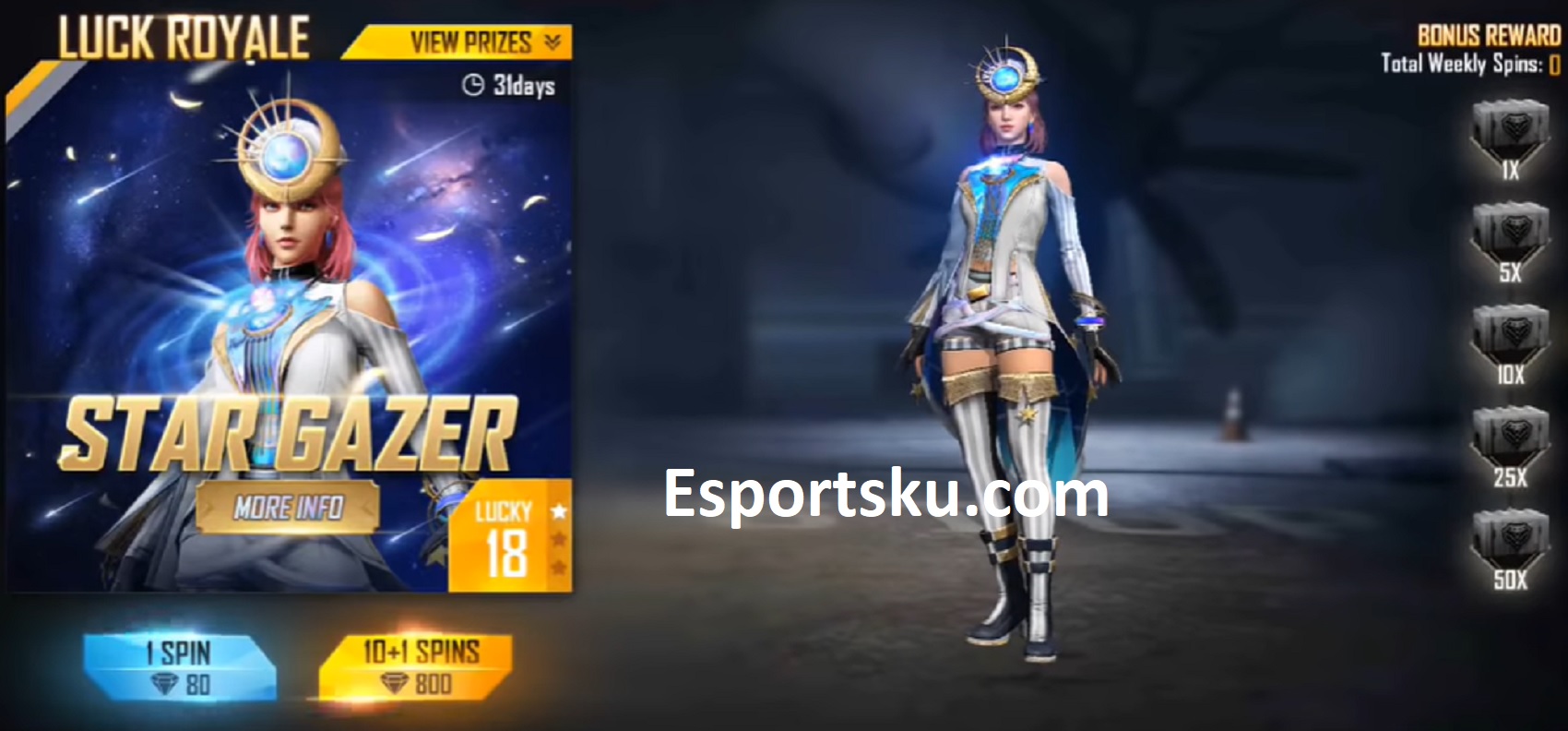 For the latest information this time, we will present another new bundle called Star Gazer. Yup, from the leaks that are present at this time, it has become part of the news that spreads on external servers as well now.
So it's not surprising that for example the leaked bundle that will be available for Diamond Royale Free Fire, indeed in the future it will bring quite interesting things. So that all of you might be interested in something like that.
Because indeed what we know for now, is a Bundle of the Sky theme that can be obtained. If you see, the appearance in this latest Bundle, is indeed very colorful and interesting for us to use when playing later.
On the head there is a crown with the shape of the Moon and the sun, and there is a blue crystal in the middle. This shirt looks like a mixed blue and white costume, in the middle it looks like a blue crystal.
Then this bundle gives a star effect that is in the clothes, crown and middle part of the Bundle user itself. Pants like he wears shorts or skirts, have a white color and match the clothes he is wearing.
Then for the Kebawa section he wears socks that are quite high and shoes that come in the form of high heels as well. This bundle is indeed from the leaks that it will be present at Diamond Royale, but we'll just have to wait and see what event Garena will give it to.
That way we can only wait and see what Garena will present on the current Free Fire Indonesia server. Because it's a good Diamond Royale bundle, so now just prepare a lot of Diamonds.
The problem is that once Spin requires 80 Diamond 1 Spin and 800 Diamond 10 Spin. But that's the price of the leak, if the real price at the time of release will be different from the one present in this leak.
By knowing the FF Star Gazer Diamond Royale Free Fire Bundle Leak, then you will be interested in owning the new bundle. Because the appearance and if you look at it too, is one of the coolest parts of the bundle.
Especially for now, the Latest Update OB26 Free Fire is indeed an interesting choice for us to try. Don't miss everything that Garena has to offer, because it's really pretty good for us to try the new features.
---
In order not to miss all the latest update information from the Free Fire game, you can Follow Instagram now. Because this will give you new information every day, so you can find out quickly too.