Now you can know the 4nniversary Free Fire (FF) Special Lone Mission, because there is a Free Royale Ticket that we can get later. Maybe using the gift, you can use it and immediately have the main Royale prize.
Moreover, for now we can also see that there are also many other prizes, so that later you don't feel bored to play. Because of these new items, we can indeed get them when we complete the mission as well.
Then his presence on the 4nniversary Free Fire Event Schedule now, there are indeed many cool prizes that you can get. Prizes and skin items from here do have completely different levels.
Maybe you will also be interested in knowing the Special Lone Mission 4nniversary Free Fire (FF), because you can get free Ticket prizes. Even if you use the gift, there might be many more things we can find.
Check out the explanation directly in the article now.
Special Lone Mission 4nniversary Free Fire (FF)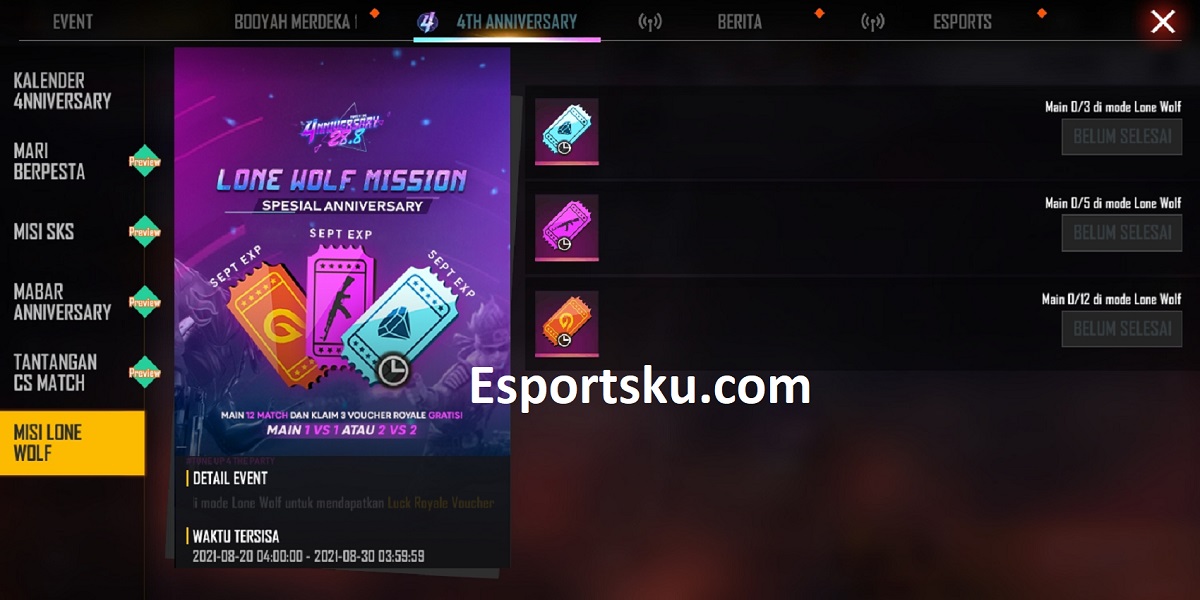 This event period will take place from 20 – 30 August 2021.
You can login first into the Free Fire game, so you can find and follow the course of this latest event.
First, check the Missions in the Event Tab on the right, to be precise from the 4th anniversary of Free Fire.
Later you will see what is called the Milestone Wolf Event, click on it and make sure to observe firsthand the mission that we must complete.
Here your task only needs to play lone wolf mode 12 times, in order to get 3 Free Royale Tickets.
You can play in 1 vs 1 or 2 vs 2 Mode, because the theme in this mission is the Lone Wolf only.
It doesn't matter if you lose later, because it only tells you to play and not win in the Mode.
If you feel that the mission has been completed, you can just accept the prizes that were in the event tab earlier.
This ticket can be used directly by the player, because it has a expiration time as well.
At this event, all players can get many new opportunities, so that they will have various opportunities for prizes. Because right now there are several other dancing events, so that you can join the mission.
This Lone Wolf mode provides many prizes that are quite interesting, then just finish playing right now. Make sure you can win or lose, because that will only count when you play the mode.
There are even several stages before you get a Royale Ticket at this Event, you have to know so you don't get it wrong later.
Play 3 Times Lone Wolf: Ticket Diamond Royale
Play 5 Times Lone Wolf: Ticket Weapon Royale
Play 12 Times Lone Wolf: Ticket Incubator Royale.
Every prize that is present at this event is indeed good, just take advantage of it and have a profitable gift right now. Maybe you will not feel bored, when you have participated in an event like this.
While still using the 4nniversary Free Fire Theme, you must immediately have it from all the existing mission events. Make sure every prize you get this time, you can follow all of them.
After knowing the Special Lone Mission 4nniversary Free Fire (FF), then we can immediately start to collect the Ticket Royale that is here. Maybe every gift that you use, can increase the Hockey chance when Spin.
Then don't miss out on How to Get a Metallic Free Fire Thrash Backpack now, because it's free and includes the newest gifts. We will get many other prizes, when participating in the current event in the Free Fire game.
Keep visiting Kabargokil for the latest information, Follow our Kabargokil Instagram and YouTube news, too!