Hi Buddy Booyah!
Various Bundles on Free Fire have been released with various themes in them. Each Bundle also has its own uniqueness which can also be obtained in various ways in Free Fire.
One of the Free Fire events that often brings new Bundles to Free Fire is the Mystery Crate FF event. For Buddy Booyah who can't wait for this event, Mystery Crate will be coming to Free Fire soon!
Also Read: FF 4th Anniversary Special Quiz Answer Leaked!
Also Read: Players' Silly Behavior When Using M79 on Free Fire! Ever Experienced?
Introducing the Sonictroop Bassrock FF Bundle, curious about what the latest Mystery Crate Free Fire leak is like? Check out the following article to find out more about how to get the Sonictroop Bassrock FF Bundle at the Mystery Crate event!
Sonictroop Bassrock FF Bundle in Mystery Crate
As previously mentioned, this Mystery Crate event will soon be coming to Free Fire. More precisely, the Mystery Crate Free Fire event which brings the Sonictroop Bassrock FF Bundle is present from 24 to 30 August 2021.
To see the complete list of the latest Mystery Crate events on Free Fire, here are the conditions for the latest Mystery Crate event to have the Sonictroop Bassrock FF Bundle:
The event starts from August 24, 2021
You can get the main prize, namely the Sonictroop Bassrock Bundle and other interesting items by opening the Box.
You can set the price of the Diamond you want to open the Box by clicking/draging the yellow gauge as shown above.
The higher the Diamond price you put, the higher the chance to get the main prize.
You will definitely get the main prize if you put 600 Diamonds.
If you have got all the main prizes, then you cannot open the Box again.
You can see all the prizes in the prize list. You will get other prizes if you fail to get the main prize when opening the Box.
The prizes you get will go directly to the Vault/Collection.
In this event, Buddy Booyah is free to determine how many Diamonds you want to enter with a range of 6-600 Diamonds. Of course, the more Diamonds you get, the greater your chances of getting the main prize.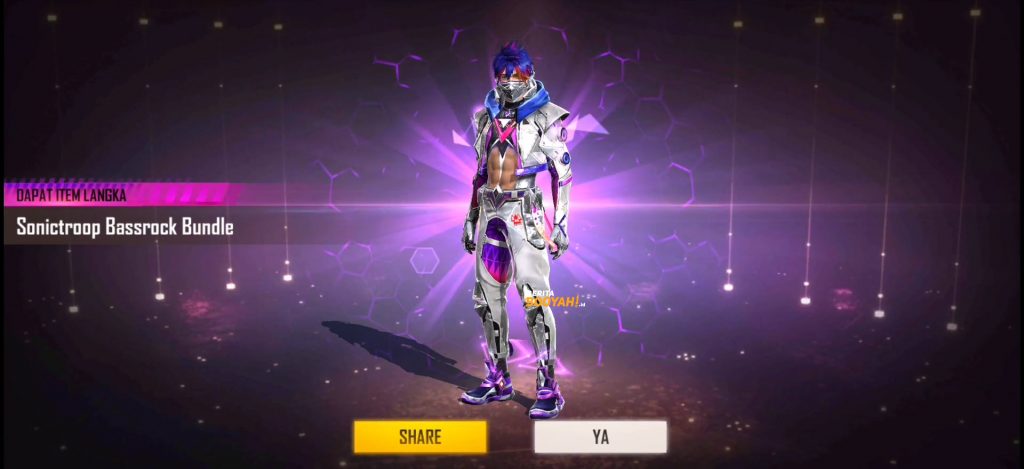 The Sonictroop Bassrock Bundle is one of the main prizes in this latest Free Fire Mystery Crate. Buddy Booyah later can also get 4 other main prizes that can be obtained randomly.
How, are Buddy Booyah interested in getting the Sonictroop Bassrock FF Bundle and also various other prizes in the latest Free Fire Mystery Crate? Do not miss!
---
Don't want to miss a series of other interesting information about Free Fire? Don't forget to follow Tiktok, Instagram, Facebook, and YouTube from Booyah News!