Hi Buddy Booyah!
Before doing update patches, Free Fire regularly releases Advance Server FF which contains updates new that will be released in updates Upcoming Free Fire Live Server. And in September today, Advance Server Free Fire is back!
There are many updates new features as well as feature updates on Advance Server FF this September, one of which is the new Lobby Chat feature! What is Lobby Chat? Is it very interesting? Let's see the discussion from Booyah News below!
Also Read: Treatment Gun Get Revamp on Advance Server FF September, So What's It Like?
Also Read: The Best Underworld Gun Skin M1887 Rapper Free Fire (FF)? This is the reason!
New Features Advance Server FF September, Lobby Chat!
In Advance Server FF September this time, there is a new feature, namely Lobby Chat! Lobby Chat will bring up a chat bubble that Buddy Booyah or teammates send in the Chat Room in the lobby, without having to open the Chat Room.
As in the picture above, the chat that Buddy Booyah sent will be able to be seen without having to open the Chat Room feature. A chat bubble will appear above the head of the character used by Buddy Booyah or teammates who sent the chat.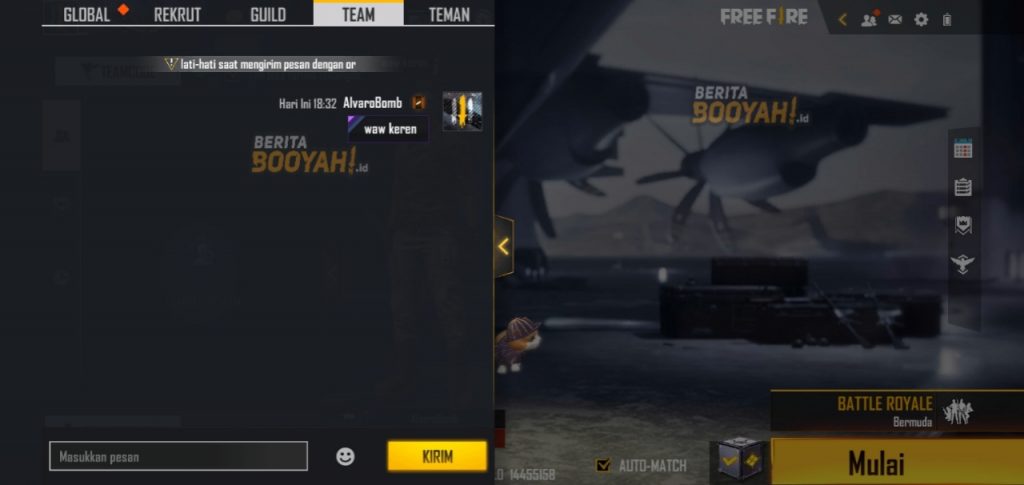 This feature only applies if Buddy Booyah plays in Duo and Squad, and sends chat in Teams. If Buddy Booyah sends a chat to Global or a friend, the Lobby Chat feature will not be active showing Buddy Booyah's conversation.
What do you think, Buddy Booyah? Will the presence of this new feature make Buddy Booyah's conversation at the Free Fire Lobby more exciting?
---
Don't want to miss a series of other interesting information about Free Fire? Don't forget to follow TikTok, Instagram, Facebook, and YouTube from Booyah News!