Hi Buddy Booyah!
Diamond ROyale is one of the Luck Royale presented in Free Fire. Diamond Royale promises various bundles that Buddy Booyah can get by doing Spin in this Luck Royale.
Usually, the bundle in Diamond Royale Free Fire will change at a certain time as will happen tomorrow. Yep, tomorrow there will be a new bundle in Luck Royale Diamond Royale FF.
Also Read: The Combination of Andrew's and Shani's FF Skills, Can It Strengthen Armor?
Also Read: A series of Ways to Avoid Enemy Attacks When Playing Free Fire (FF)!
The new bundle is the Snappy FF Bundle! Curious about the look and also how to get the Snappy bundle in Diamond Royale Free Fire? Let's see the following review!
Snappy Free Fire (FF) Bundle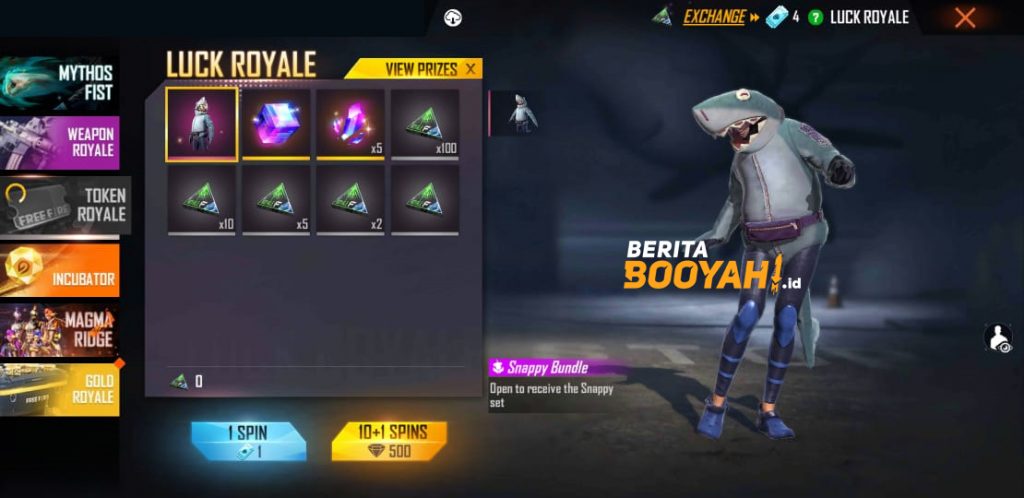 Snappy Bundle will be the newest bundle in Diamond Royale Free Fire (FF). More precisely, starting on July 8, 2021, Buddy Booyah can get this Snappy bundle through Luck Royale Diamond Royale.
Replacing the Mr. Nutcracker FF, as usual in Diamond Royale, Buddy Booyah can spin using Diamonds or Diamond Royale Vouchers.
price list
1x Spins: 50 Diamond/1x Diamond Royale Voucher
11x Spins: 500 Diamond/10x Diamond Royale Voucher
The difference that Buddy Booyah can feel from the Diamond Royale bundle Snappy FF which has a shark-like appearance with the previous Diamond Royale is that the prizes are getting smaller. In total, there are only 8 prizes that you can get, including the Magic Cube and Token Royale.
For the Royale Token itself, if previously Buddy Booyah could exchange it separately, later in this Snappy Diamond Royale bundle, there will only be one option, namely the bundle.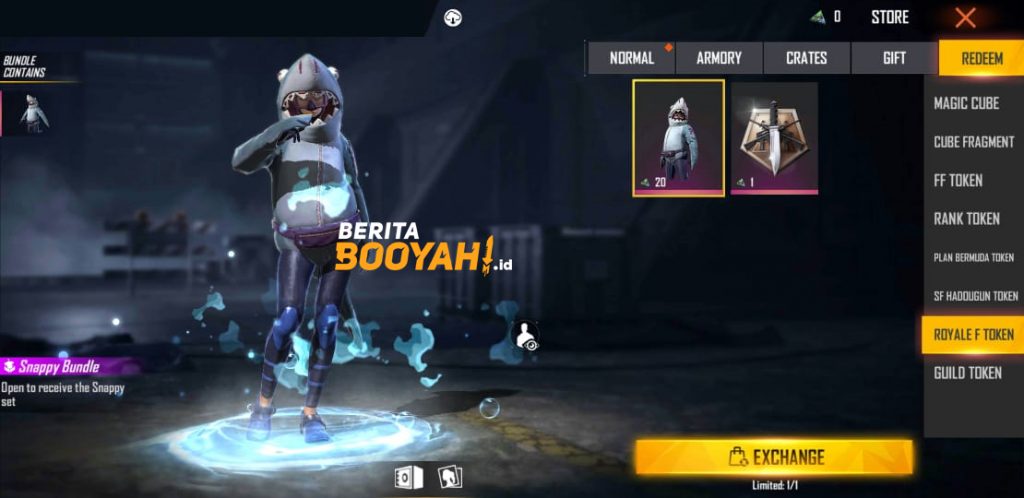 Even so, the price for exchanging Token Royale with the SNappy FF bundle is arguably getting cheaper because Buddy Booyah can get the bundle by only exchanging 20 Royale Tokens.
What do you think about Buddy Booyah himself with the appearance of the Snappy FF bundle as a new bundle in Diamond Royale Free Fire? Don't miss out on getting it!
---
Don't want to miss a series of other interesting information on Free Fire? Don't forget to follow Tiktok, Instagram, Facebook, and YouTube from Booyah News!