So it turns out that there is a Ruthless Jinx Free Fire (FF) Bundle Leak, where it is one of the very interesting interesting items.
Because we know that the bundles presented in this game are really cool and we can get them now in several ways.
The updates that appear in this Free Fire game, indeed provide a variety of the latest things that are quite interesting for you to use later.
In addition to update events like that, you can find out the 20 Coolest Skins on Free Fire that are now available.
However, for the various upcoming bundle update leaks, you really have to wait for it now.
Just like the New Leaks of the Free Fire x McLaren Bundle, where it will be an interesting thing that we can get in the next update.
Especially for the Ruthless Jinx Free Fire (FF) Bundle Leak, there may be many players who want to know this.
Ruthless Jinx Free Fire (FF) Bundle Leaked
In the event update that appears in the Free Fire game, you also have several opportunities to see the latest upcoming Ruthless Jinx Bundle.
Of course, with the presence of a Bundle like this, it will indeed make your appearance look cooler when used.
The Bundle that is present for the female character is really very interesting from the appearance of the Bundle given.
With things like this, it's not surprising that you will like things like this.
The newest Bundle, called Ruthless Jinx itself, is indeed very interesting to use when competing later.
Because in terms of appearance, we can see that the Bundle has several motifs and patterns that are very cool to look at.
For the head first, where this new character Bundle will use a headband like a crown with a diamond attached.
Then if the hair part is elongated white, with some shiny purple shades on the hair.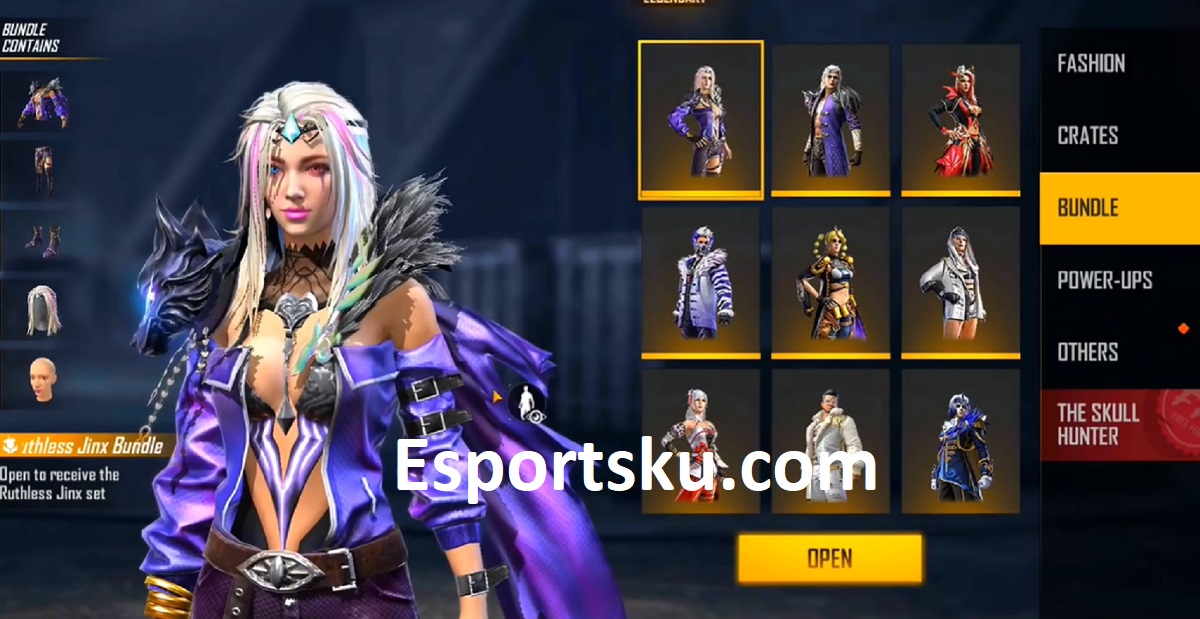 Her face also underwent a pretty cool change, to be used on all female characters in this Free Fire game.
Gives Red and Blue Eyes, as well as giving news that this Bundle was once white but was affected by the power of Evil.
Until the bundle was born, at a glance we see the Eyes given to Ruthless Jinx, yes.
His clothes are shiny purple, and in the middle of the body there is a symbol that might be the Curse of the Ruthless Jinx.
On the shoulder you will see a wolf that has turned violent, because of the power of this latest Bundle as well.
Then there's a scarf or a slightly longer piece of shirt, on the back of Ruthless Jinx right now.
The pants are indeed short, but there are hooks between the stockings or shoes that make this bundle even more interesting to wear.
Not only that from top to bottom too, the shoes used are not too disappointing for later use.
This new bundle is still a leak, it's not known when you can get it because it still can't be explained at all.
Especially with the presence of such a Bundle appearance, are you interested in getting it later?
We can't tell you how to get it, but you can wait and we will continue to provide updated information later.
After getting the Ruthless Jinx Free Fire (FF) Bundle Leak, it's time for you to get ready to collect money to top up this cool bundle.
Because what we know is that if you get the Ruthless Jink Bundle, there are indeed some good things that you can receive later.
Where right now there is also a Way to Get a Free Magic Cube on Free Fire, for you to use it quite well.
Especially for now, you will have a good opportunity in this event.