You have to know the results of FFML Season IV Day 10 Division 2 Free Fire, because there is a Fierce Battle Between Teams which is quite exciting. If you see the team competing on Day 10 live, of course you will have a lot of exciting things that can look even better.
Of course there are some things that the player might be able to use, so that there are no more things that are missed in things like this. The match that we watch will show which team has won, even in what rank.
Now if you miss it, you have to try How to View FFML Free Fire Match Results, because this will show the match link. So that you don't pay attention to some of the previous events at all, you can finally watch the re-watch alone or with friends.
Then now there is a Result of FFML Season IV Day 10 Division 2 Free Fire, the Fierce Battle Between Teams finally broke out. Maybe it's one of the most exciting things, because the battle makes everyone more excited.
Results of FFML Season IV Day 10 Division 2 Free Fire, Fierce Battle Between Teams!
This match takes place from September 16, bringing together Division 2 from Groups A and B to compete for the highest Points. Of course, the match ended up giving excitement to the audience, it was even clear who won.
For the results that occurred in FFML Season IV as well, we can find out that the Evos Immortal Team provides the strongest competition. Even other teams don't want to miss this, because Division 2 has quite a few strong team names.
Several times they fought and faced strong enemies, but it seemed that Team Evos still managed to win several matches on Day 10. Their strength, which was always under optimal condition, finally managed to show the best performance as well.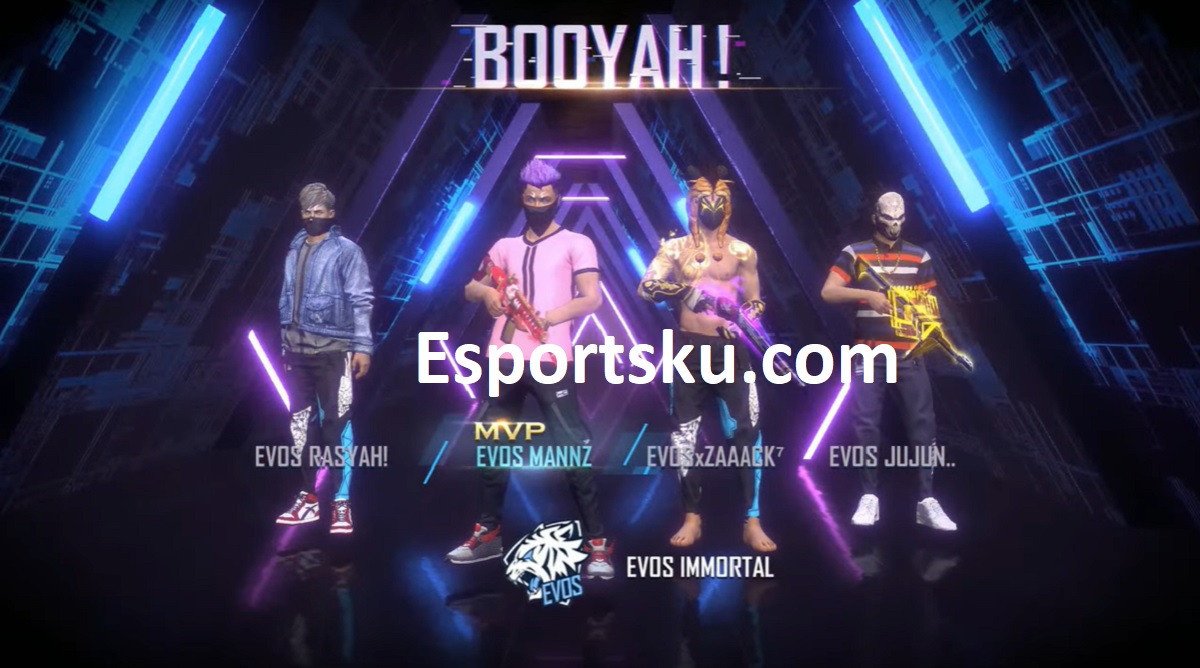 Booyah who was present on Day 10 was successfully controlled by 3 by Evos, of course this is what made Evos Immortal the strongest team at that time. We really can't take the Evos team's style of play to be trivial, even in Group 2 it is also the most successful.
You can also know Booyah who managed to appear in the FFML Season IV Day 10 Division 2 Free Fire Result Match, Fierce Battle Between Teams! so that no information is missed.
Match 1: Evos Immortal
Match 2: Madura Prime Esports
Match 3: Evos Immortal
Match 4: Evos Immortal
Match 5: The Pillars Gladius
Match 6: Rosugo Esports
Thanks to getting this satisfying result, of course, the Evos Team managed to get the First rank on FFML Day 10. The points this team earned were for PTS Rank 42, Kill Point 33 and the total was 75.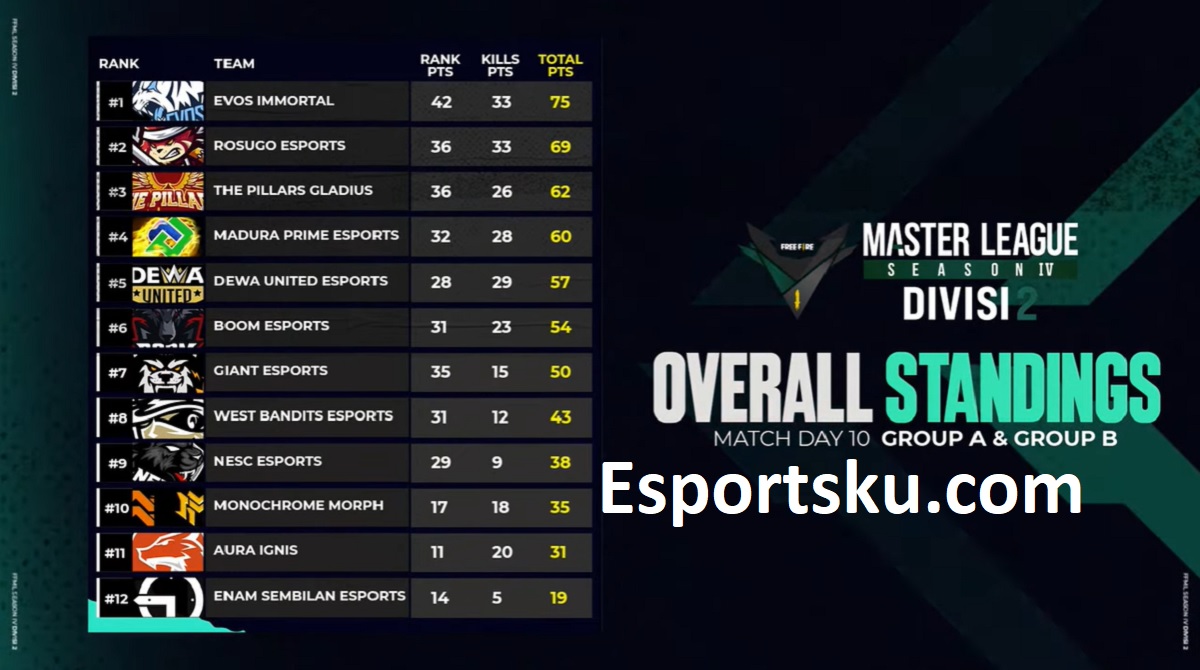 Then followed by Team Rosugo who got 69 Points and The Pillars Gladius 62, of course this is one of the really exciting things. If you often see FFML Matches, you must continue to support the winning team so that they win.
Get Group A and B Team Points according to their current ranking, for Group A Madura Esports managed to move up to 3rd position and move Boom Esports. Then from Group B Evos managed to reach the second rank and unfortunately Monochrome Morph had to go down to Position 4.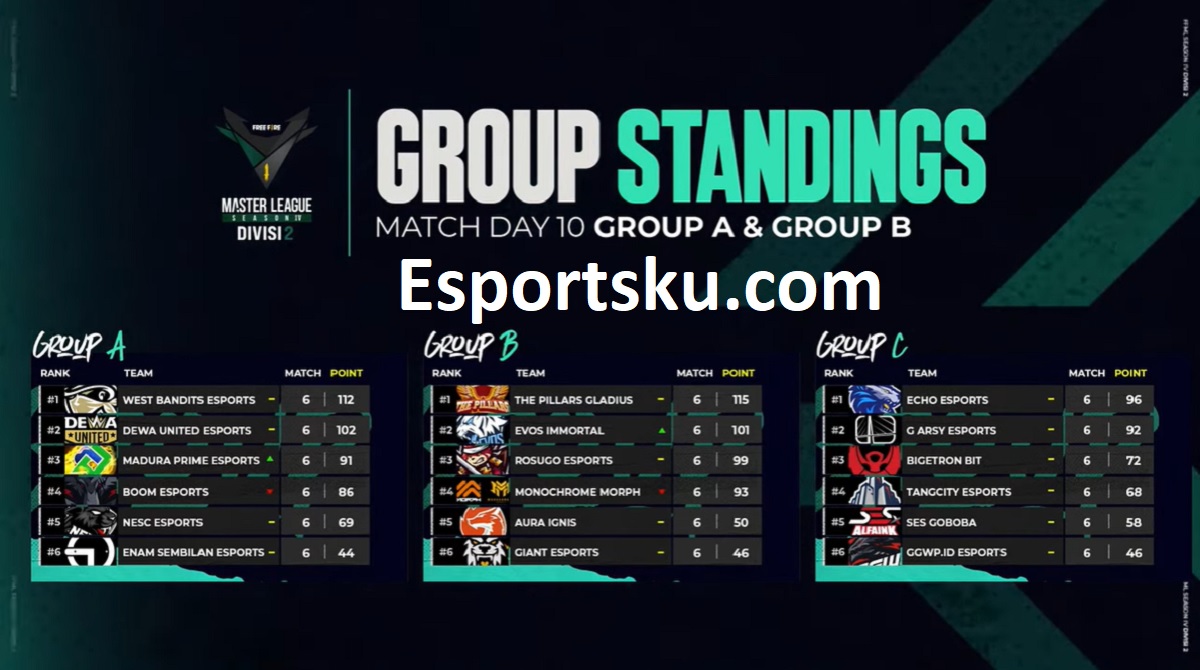 All of this is still temporary, we'll just have to wait for the arrival of another FFML full of fun. Since this match is still going on, you have to know that and watch it if you want.
After knowing the results of FFML Season IV Day 10 Division 2 Free Fire, the Fierce Battle Between Teams, the total gains have also been seen. Of course, more and more exciting matches are appearing here, let's continue to support the mainstay team to win.
Then you also have to know how to register for the newest Free Fire Community FFIM, because this is one of the right choices. Will not rule out, if later your team will have a glance at it too.