Hi Buddy Booyah!
As the name implies, community tournaments are Free Fire tournaments that are presented and organized by the community. Not limited to a certain area, community tournaments can be held anywhere.
One of the community tournaments that just ended is the Offline Cikarang tournament. Presented with the format offline followed by 144 participating teams, in the Grand Finals there were 12 of the best teams competing with each other.
Also Read: Awesome Ground Punch FF Emote Can Be Owned in Free Fire's New Top Bonus!
Also Read: MP5 Spinning Bird FF, New Gun Skin in BullsEye Free Fire!
Here are the 12 teams that made it through to the Grand Finals Offline Cikarang which was held on July 4, 2021 yesterday:
NOD FANTASY
UNITED ARMY
RAGNAPRIDE
SHUT UP
HK MR ID NOID
STAYSIP BEKASI
CLAUD'S GIRLFRIEND
ESPORTS ZONE
BLACKSTORM X MALIGNANT
INA STAR MERON
TAREK SES
With a total prize of 12 million rupiah, this Offline Cikarang tournament is becoming more challenging and also increasingly fierce in competition, including those presented in the Grand Finals round.
In a fierce battle, finally the RAGNA PRIDE team managed to come out as the champion of Offline Cikarang after securing 2 times Booyah and also collecting 74 points.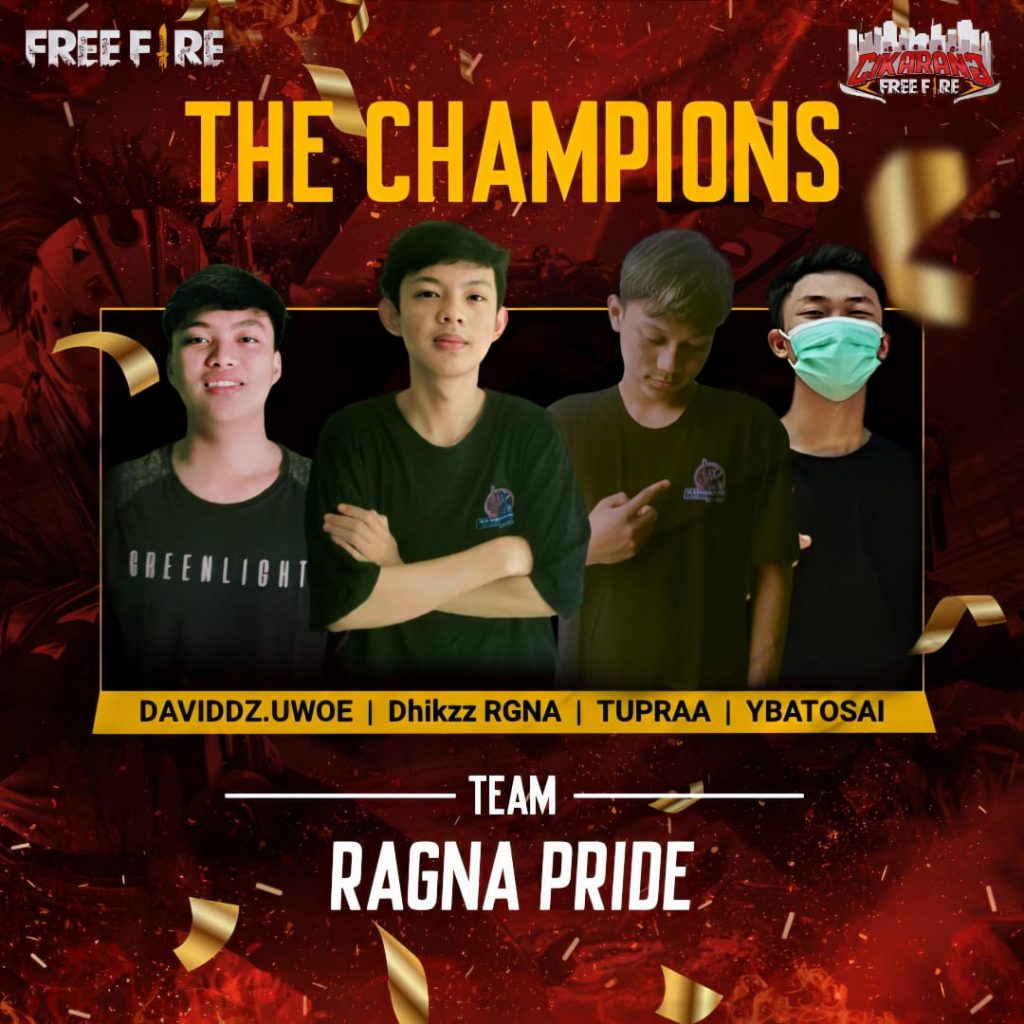 Meanwhile, in second and third positions were ZONE ESPORTS and STAYSIP BEKASI teams who had a total of 65 and 61 points, respectively. This result marks the end of the Offline Cikarang tournament. Congratulations to all the teams that have competed and also the king in Offline Cikarang this time!
---
Don't want to miss a series of other interesting information about Free Fire? Don't forget to follow Tiktok, Instagram, Facebook, and YouTube from Booyah News!