Hi Buddy Booyah!
After the MCL-FF Wining Spirit Car Skin was released some time ago, this time Free Fire has released another MCL-FF series vehicle skin. MCL-FF Cyber ​​Neon, has been here since yesterday and can be obtained through the Diamond Top Up bonus.
As an exclusive skin for the FF X McLaren collaboration, MCL-FF Cyber ​​Neon also has a distinctive look with increased stats. Through this skin, Free Fire also introduces new attributes specifically for vehicles in Free Fire.
Also Read: Pet Dash, New Entertainment Mode on Advance Server FF September!
Also Read: Drop Part Feature, Easily Dispose of Unnecessary Items in Advance Server FF September!
Based on this, this time Booyah News would like to present a discussion about the advantages of the MCL-FF Cyber ​​Neon Car Skin in terms of the statistics offered. For more details, Buddy Booyah can see the following review!
MCL-FF Cyber ​​Neon Statistics Details
The dominance of purple with bright pink accent inserts makes this skin look quirky. Not only a matter of appearance, the statistical increase presented is also no less interesting.
Top Speed ​​(+)
Handling(+)
Durability(-)
Skin MCL-FF Cyber ​​Neon is a skin for Sports Car, which is the fastest vehicle in Free Fire. An increase of one Top Speed ​​point on this skin is enough to take you darting around Bermuda while rotating.
The highlight is the presence of a new statistic, namely Handling. Simply put, Handling is the level of the vehicle's ability to turn. This statistic is directly related to the steering of the vehicle, which means that it makes the vehicle easier to steer and control when turning.
On the other hand, the reduced Durability makes the use of this skin slightly weaker and easier to damage, even when it comes to receiving a hard impact from an obstacle. Especially when you meet an enemy, of course this skin becomes soft food to shoot at.
Effective Statistics Combination?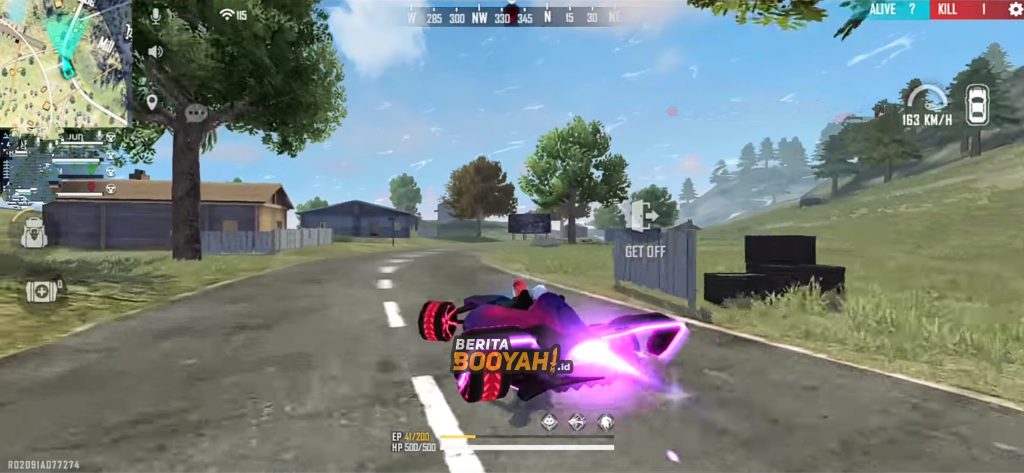 It's interesting to see the combination of Top Speed ​​and Handling attributes on this skin. Even at high speed, players will find it easier to control the Sports Car while trying to avoid obstacles. It looks like MCL-FF Cyber ​​Neon is the answer for a skin vehicle that is agile to rotate in difficult places, or is used to apply Misha's META.
However, the reduction of Durability needs more attention. Even though he only lost one point, Dya can't stand this skin, it's certainly not too strong. Make sure not to force the use of this skin in a risky place, because at any time it can become a turn back point for the enemy.
That's the discussion about MCL-FF Cyber ​​Neon. What do you think, Buddy Booyah? What is this one skin vehicle worth it to own?
---
Don't want to miss a series of other interesting information about Free Fire? Don't forget to follow TikTok, Instagram, Facebook, and YouTube from Booyah News