Hi Buddy Booyah!
Various ways can be done to get a bundle on Free Fire. One of them is through the Faded Wheel event which is one of the Luck Royale available in the Free Fire game.
Soon, Luck Royale Faded Wheel will have a new bundle called Phantom Microzark Bundle Coming FF! Yep, this Bundle will replace the Evo Gun MP40 Predatory Cobra.
Also Read: Gloo Wall Technica FF, Free Fire's Latest Top Up Bonus Leaks!
Also Read: Peak Day Moco Rebirth, there will be a Buff and Discount for a series of Luck Royale FF!
Phantom Microzark FF Bundle on the Latest Faded Wheel
The Phantom Microzark Bundle, is a partner of the Cosmic Teleportia Bundle that Booyah Buddy can get on the latest Luck Royale Faded Wheel after the MP40 Predatory Cobra FF.
More precisely, the Phantom Microzark FF Bundle will be released on Faded WHeel starting tomorrow, September 18, 2021. Besides the main prize, Buddy Booyah can also find various other prizes.
As usual, Faded Wheel will tell Buddy Booyah to remove two unwanted gifts which of course can increase Buddy's chances of getting the Phantom Microzark FF Bundle at a cheaper price.
Later, the Spin in the Faded Wheel will be rewarded with 9 Diamonds and will increase along with the number of Spins. This means Buddy Booyah can get a Phantom Microzark FF Bundle at a price of 9 Diamonds if you are lucky.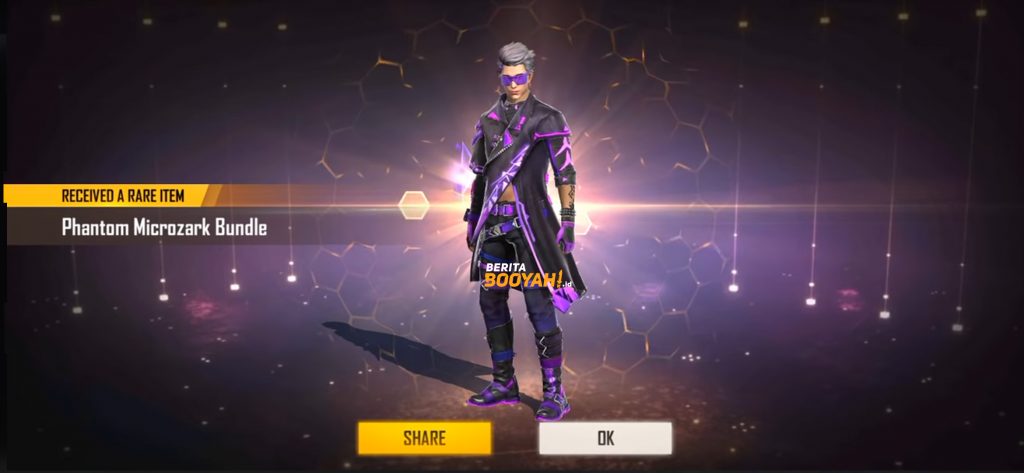 Meanwhile, the Phantom Microzark Bundle itself is a bundle that carries purple and black colors in the bundle. What distinguishes it is the gray hair color which makes it quite striking.
Are Buddy Booyah interested in getting the upcoming Phantom Microzark FF Bundle on Free Fire's newest Faded Wheel starting September 18, 2021?
---
Don't want to miss a series of other interesting information about Free Fire? Don't forget to follow Tiktok, Instagram, Facebook, and YouTube from Booyah News!