Originally posted on February 4, 2021 @ 4:11 PM
It's not a HOAX anymore! Official FF Free Fire x Attack On Titan Collaboration will be coming soon on all servers. Of course, this is the most surprising collaboration, because what we know was that it was just a hoax.
But because there is new information at this time, we will be even more excited to be able to follow and try the latest collaboration. Don't let you guys miss it, all the excitement from this collaboration event in the update in the coming month.
There are still many other new information that is present in this Free Fire game, such as one of the Latest Dragon Ball Z Collaborations which will reportedly appear soon. That way we benefit, we will get interesting things that are quite useful.
After all, from the new information now, we have to know that for example from the 20 OB26 Free Fire Updates there are indeed quite amazing things, right. Do not let you miss all this information, because indeed we will get a pretty big profit.
Just like from the information about the Official FF Collaboration Free Fire x Attack On Titan. So you will have one more chance, to look cool with this collaboration event. Check out the explanation directly, in the article below, yes.
Official FF Free Fire x Attack On Titan Collaboration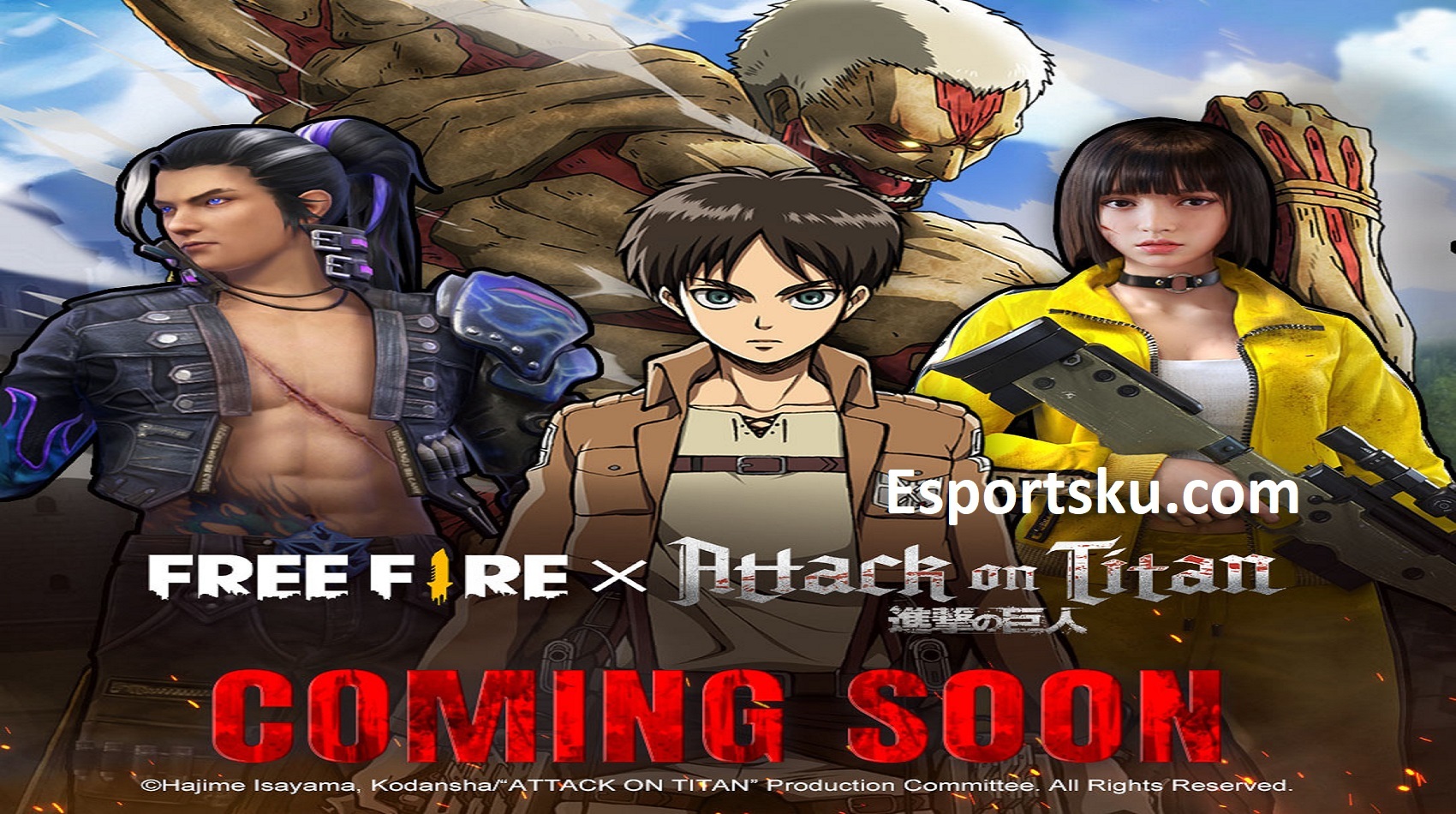 It's true that it started with Jokes and Hoaxes, in the end everyone was shocked after hearing this new information. Where the Free Fire game will do one of the collaborations with Anima Attack On Titan later.
Well, we also know that this collaboration is going to be the best in the game. Even this Free Fire Global Collaboration, will indeed bring big profits for players right now, right?
Not only that, we can also find out some explanations directly given by the Garena Free Fire Fanspage regarding this latest information.
"Hey Survivors!
[OFFICIAL GLOBAL COLLABORATION ANNOUNCEMENT]
The Global Free Fire and Attack on Titan collaboration is officially launched!
Cooperation with manga publisher Kodansha Ltd. This is dedicated to all lovers of the world's most famous Battle Royale game and Japanese anime series. Collaboration with Attack on Titan can be enjoyed by Free Fire players in March 2021 through the presence of various costumes, exclusive in-game items and other surprises.
Get ready you Survivors to fight the Titans together, with Eren Yeager, Mikasa Ackerman, Levi Ackerman and Armin Arlert!"
So there is a possibility that Titan and the characters in the new info will soon be present in this Free Fire game. Even you guys are also reportedly going to fight the Titans, in the latest modes in this game.
Of course we are waiting for all these new updates, in March to come. Kabargokil will also continue to provide new information to all players, so that they know what is presented in the latest update of the Free Fire game.
Don't miss this most lively collaboration, in the update that will be brought up by Garena soon.
Also Read: Groza FF Weapon Becomes Meta Free Fire Overpower
Also Read: Leaked Roma FF Gold Royale Bundle on Free Fire
Also Read: How to Get FF Day Of The Dead Free Fire Mask
Also Read: Surfboard FF Skin in the Shop Free Fire x One Punch Man
After seeing the Official FF Collaboration Free Fire x Attack On Titan, you will definitely be even more excited to play the game. Don't ignore it and miss it, new items and events in this new collaboration.
Moreover, what we know now is that there is an M4A1 Free Fire Incubator Leaked Event that will be presented by Garena soon. Don't let this one miss you, all the new updates that are ready to be present in the game, right.
---
Information from the Free Fire game will always be updated, so you have to follow the news on Instagram right now. So you don't miss all the new info, from Free Fire, which is still updated every day.