Hi Buddy Booyah!
The presence of the Free Fire Advance Server is an opportunity for players to try out various in-game updates that will be presented in the near future.
In addition to bringing updates to the features in the Free Fire Game, Advance Sever FF July also presents the latest Pet. The pet is named Sensei Tig, who is a Tiger.
Also Read: Fantastic Comeback Brings INDOMEE to Win FFAS: Asia Seris Day 1!
Also Read: Aerowolf Pro Team Collaborates with MBR Esports Goes through FFML Season IV!
So, how is the complete appearance and skill of this Tig Sensei pet? Below, Booyah News has prepared a full review especially for Buddy Booyah. So, take a good look!
Sensei Tig, New Pet Advance Server FF July!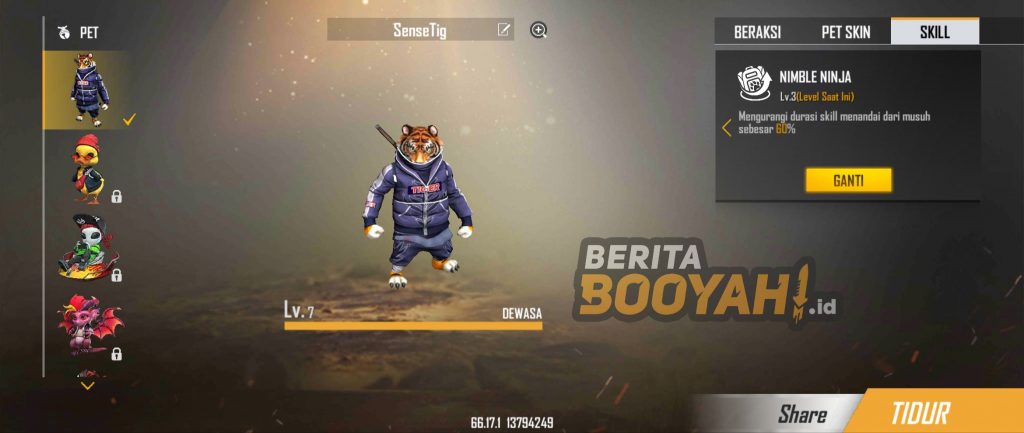 Pet Sensei Tig is a pet that adapts the shape of the Tiger. Sensei Tig comes with a unique and slightly fierce look, a thick jacket and a Samurai behind his body, which illustrates that Sensei Tig is a Ninja.
Sensei Tig has a skill called Nimble Ninja. This skill can reduce the duration of the detection skill used by the enemy. So, enemy marker skills that hit Buddy Booyah can disappear faster.
For a full review of Sensei Tig's Nimble Ninja pet skill, the following Booyah News presents the details.
Level 1: reduce the duration of the marking skill of the enemy by 30%
Level 2: reduce the duration of the marking skill of the enemy by 40%
Level 3: reduce the duration of the marking skill of the enemy by 60%
It could be said, that Tig's Sensei Skill was quite overpowered. Because the marker skill is one of the most used skills by Free Fire players. According to Buddy Booyah, will the Shensei Tig pet be the target of players when it is released on the Live Server later?
---
Don't want to miss a series of other interesting information about Free Fire? Don't forget to follow Tiktok, Instagram, Facebook, and YouTube from Booyah News!