Hi Buddy Booyah!
Pet is a pet that can be brought by the player to accompany him to play. Like characters, it seems that the Pets in Free Fire also have features skills. Not much different from the character, skills Pets are also different from the others.
Until now, Free Fire has had more than 10 Pets which of course already have skills and can be used by players. Players can take advantage of skills of a Pet to further maximize gameplay which is played.
Also Read: Jeep Vehicle Skin – Thrash Goth FF Becomes a Prize in the Latest Top Up Bonus!
Also Read: Coming soon, Get to know What is CS Cup Mode on Free Fire (FF)!
Not only skills, it seems that Pets in Free Fire (FF) are also equipped with features emoticons. Players can use emoticons Pets at the push of a button emoticons which has been available. Pets can also show behavior automatically when kill or use Medkit.
Of the many pets available, it seems Mr. Waggor became a popular Pet in the last year and is often brought by players when playing. So, what is the specialty of Mr. Waggor so that makes it popular? Let's find the full answer in the following Booyah News review.
Mr. Popular Waggor Pets Last Year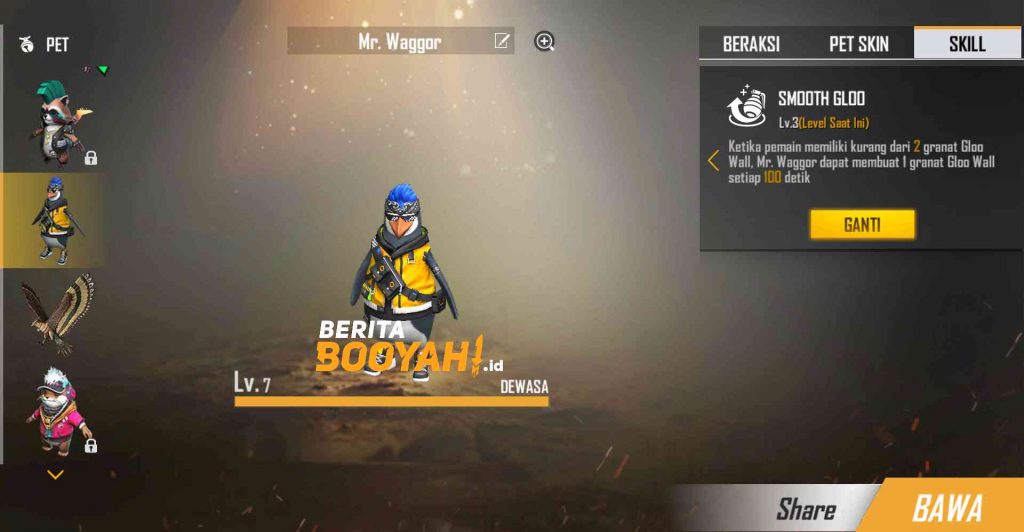 This one pet comes with a shape resembling a penguin. Comes with skills Smooth Gloo made Mr. Waggor able to provide up to 2 Gloo Walls at max level for players when they don't have Gloo Walls.
Skills which is owned Mr. Waggor This is quite needed when playing. The reason is, most likely the player will run out of Gloo Wall while playing because it has been used. As is skills Mr. Waggor brought, of course, players will not worry about running out of Gloo Wall.
As we know, Gloo Wall items are indeed very important in the game. These items can be used by players to protect themselves from enemy attacks. That is why skills from Mr. Waggor much needed when playing.
Skills owned by Pet Mr. Waggor considered more useful when compared to skills Another pet. Most players need more Gloo Wall supplies to be able to win the game against enemies.
---
Don't want to miss a series of other interesting information about Free Fire? Don't forget to follow TikTok, Instagram, Facebook, and YouTube from Booyah News!