MP5 Spinning Bird & Grenade Hadouken Coming to Bullseye FF!
This July, Free Fire (FF) has presented a major collaboration with Street Fighter V.
With this collaboration, Garena has presented lots of cool events with really cool Street Fighter-themed prizes.
Also Read: Neymar Streaming Play Free Fire (FF)? Is it true?
One of the newest events that will be coming is the Bullseye event, and the two main prizes from this event are the MP5 Spinning Bird and the Hadouken Grenade.
For those of you who are interested, here is everything you should know about the latest Bullseye event!
Latest BullsEye FF Event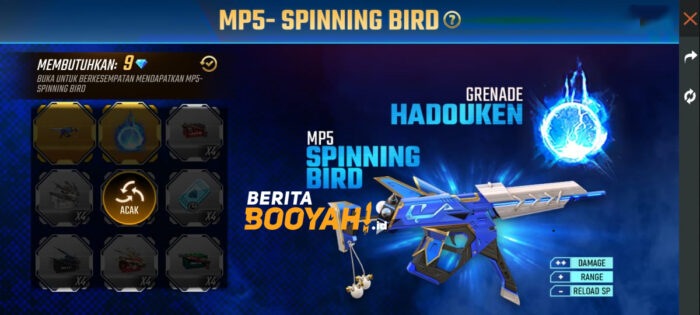 As reported by Beritabooyah.id, the latest BullsEye FF Event will take place on July 6, 201, here's how to play:
Players must shoot the target (reward) in this event, and there will be a total of 9 targets that you can shoot.
Basically to shoot is the same as doing spins in other FF events where prizes are randomly selected.
The first shot or spin will require 9 Diamonds, and the number of diamonds required will continue to increase.
If Spinners are lucky, you can get the main prize of MP5 Spinning Bird or Grenade Hadouken in the first spin.
That's the way to get the MP5 Spinning Bird & Grenade Hadouken Present at the Bullseye Free Fire (FF) event!
Also Read: SF Tool APK Download Free Fire (FF), Free VIP Skin?
Also Read: 1 Million Free Fire (FF) Accounts Have Been Banned For This Reason!
Don't forget to visit the SPIN Website for other latest updates, and follow our Instagram and Youtube.