MP5 Mr Nutcracker Present at the Bullseye FF August 2021 Event!
The last time Free Fire (FF) presented a BullsEye event was in July 2021 when they were running a collaboration with Street Fighter V.
A month has passed, now the event is back with very cool prizes.
The prize for this latest Bullseye event is the MP5 Mr Nutcracker which has the appearance of a toy gun.
Also Read: Leaked Free Fire Update (FF) August 2021 Release Date!
For those of you who are interested in this gun skin, we will discuss how to get it!
How to get Mr. Nutcracker MP5 at the BullsEye event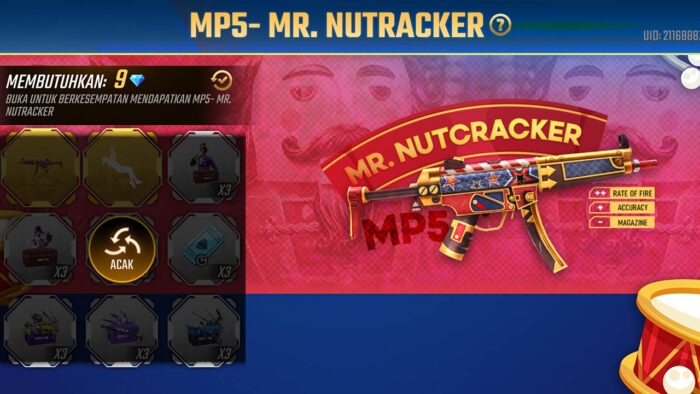 The new BullsEye FF event has arrived on August 2nd, and the way to play this event is very simple!
Players must shoot the target (reward) in this event, and there will be a total of 9 targets that you can shoot.
This event is practically the same as doing spins in other FF events where prizes will be chosen randomly.
The first shot or spin will require 9 Diamonds, and the number of diamonds required will continue to increase.
If Spinners are lucky, you can get the main Mr Nutcracker prize in the first spin.
Also Read: Leaked Gold Royale Free Fire (FF) August 2021, Persian Theme?
Also Read: 3 New Weapon Attachments Present in Free Fire (FF)!
That's information about the MP5 Mr. Nutcracker who was present at the BullsEye FF event in August 2021! Don't forget to visit the SPIN Website for other latest updates, and follow our Instagram and Youtube.
source link