Hi Buddy Booyah!
Various Gun Skins in Free Fire have been presented with various themes and appearances. Not only that, Gun Skin in Free Fire also has additional statistics that can help your game.
Good news for Buddy Booyah, lovers of MP5 weapons on Free Fire, one of the MP5 Gun Skins with the name MP5 Mr. Nutcracker FF is coming soon to Free Fire and can be obtained through the BulssEye event!
Also Read: Muzzle for FF Shotgun Weapons Present in the August Free Fire Update!
Also Read: Jota Get Buffs in the August Free Fire (FF) Update!
Curious as to what Free Fire's newest BulssEye event is to get Mr. MP5 skin. Nutcracker FF? The following is Booyah News, which has a special leak for Buddy Booyah!
MP5 Mr. Nutcracker FF BullsEye Free Fire
MP5 Mr. Nutcracker Free Fire (FF) is a Free Fire Gun Skin which has the same theme as the Mr. bundle. Nutcracker, the bundle that was ever present in Luck Royale Diamond Royale.
Will be attending the BullsEye Free Fire event, Buddy Booyah can get Mr. Gun Skin MP5. Nutcracker FF starts on August 2, 2021. Meanwhile, the provisions of the latest BullsEye FF event are as follows.
The event starts from August 2, 2021
Use Diamond to shoot the target. In total there are 9 targets that you can shoot.
You can get the main prize, namely MP5 Mr. Nutcracker FF on the first guess or will definitely get it on the last (ninth) guess.
Apart from MP5 Mr. Nutcracker FF, you can get other interesting prizes for every shot.
The prizes you get will go directly to the Vault/Collection.
MP5 stats Mr. Nutcracker Free Fire (FF)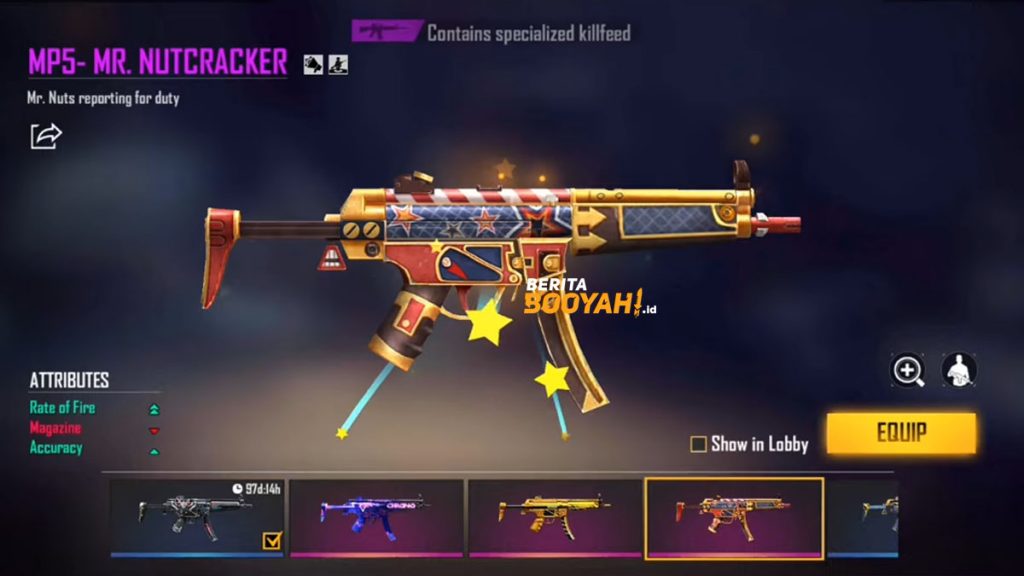 The following are the statistics that Buddy Booyah can get when using Gun Skin MP5 Mr. Nutcracker Free Fire (FF):
Rate of Fire(++)
Accuracy(+)
Magazines(-)
What do you think about Buddy Booyah himself with the statistics offered on the MP5 Mr. Nutcracker Free Fire (FF)? If you like it, don't miss the latest BulssEye event coming tomorrow!
---
Don't want to miss a series of other interesting information about Free Fire? Don't forget to follow Tiktok, Instagram, Facebook, and YouTube from Booyah News!