Moco Rebirth FF Event Can Get Pan Moco Month for Free!
For those of you who are currently looking for lots of free gifts, now is the right time to complete missions at the Moco Rebirth event.
Because in this latest event, Free Fire (FF) has brought a lot of exciting missions with lots of prizes.
Also Read: Agent Hop's New Rabbit Pet is Coming to Advance Server FF September 2021!
Well, one of the prizes that Spinners can get at this event is Pan Moco Month which has an animated Moco face in the pan!
Pan Moco Free FF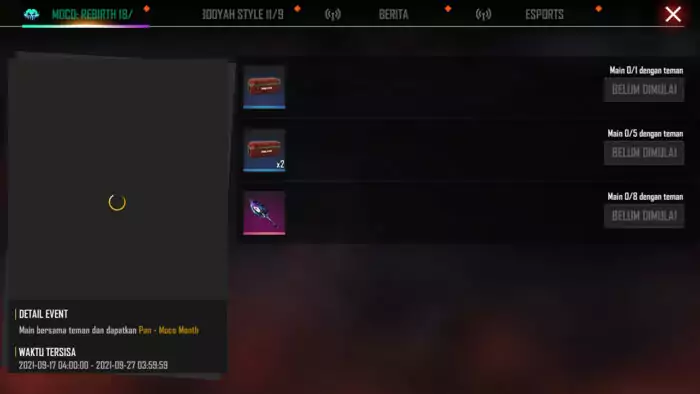 Spinners can earn pan Moco Month by completing the available Moco Friends missions from September 17 to 26, 2021.
The missions that are completed are very easy, players only need to play Battle Royale or Clash Royale game modes with your friends.
So all you need to do is invite your friends to play in a Duo or Squad team and complete the mission together.
Here is the list of rewards in the Moco Friends mission:
Play 1x with friends: Ottero Box
Play 5x with friends: x2 Ottero Box
Play 8x with friends: Pan – Moco Month
Also Read: Moco's Wings Parachute Skin Comes Free at the Moco Rebirth FF Event!
Also Read: Moco Rebirth FF Event Presents MAG-7 Hurricane Free Delivery!
It's easy isn't it? That's the way to get Pan Moco Month at the Moco Rebirth Free Fire (FF) event! Don't forget to visit SPIN Website for more information, and follow the account Instagram and Youtube we.