MLBB Hero The Most Chaotic Buff According to EVOS Antimage, Not a Tank Hero!
Buffs are very important in this meta because most junglers are Assassin heroes. Talking about it, of course you also agree that being bullied by buffs is a bad thing.
In addition to making old buffs, levels are likely to be left behind. But of course it will be very good if you are the one who can riot the enemy buff, this will make your team able to excel while the opponent jungler lags behind.
And related to this recently, one of the strongest offlaner/exp laners in Indonesia, namely EVOS Antimage in its latest YouTuber video with the theme Recipe Dr. Maxhill, he shares one of the most violent heroes with a buff complete with the build and gameplay to maximize it.
The Most Riot Mobile Legends Hero Buff Antimage version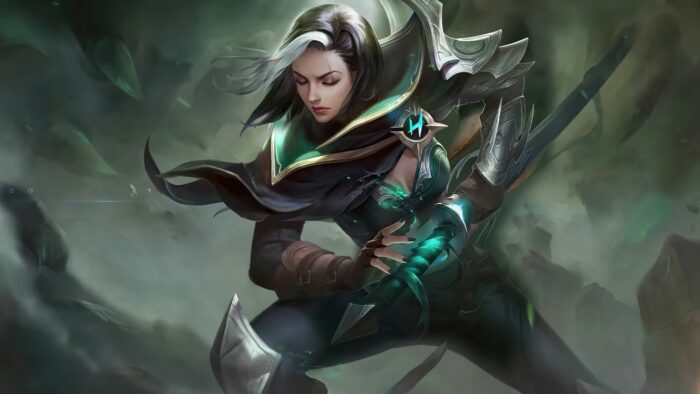 He is the Benedetta hero Assassin who is currently trusted to fill the exp lane or gold lane in Mobile Legends, this hero has several advantages and these points are prioritized by Antimage so he is mentioned as the most violent buff hero.
Benedetta Hero Meta Tier A (Balance) Not too OP but not weak
Benedetta Has a Strong Passive Where She Can Quickly Dash And Cut Creeps/Minions
After that, Benedetta in Early can also directly Destroy the Enemy Buff by using his passive skill and skill 1
Benedetta will also be very strong against supports (meta two supports) because she has a complete dash skill
READ ALSO: Leaked Hayabusa Mobile Legends New Skin, When Will It Be Released?
Build Benedetta version EVOS Antimage
Next is the build, here are the build recommendations from EVOS Antimage for Benedetta.
---
Cheap MLBB Diamonds

---

Warrior Boots
War Ax
Bloodlust Ax
Bruteforce Armor
Hunter Strike
Dominance Ice/Immortality
For the first three items, it can be said as a core item, because even though Benedetta is an Assassin, she has more skills like a Fighter, therefore it is often used in sidelane and is very strong with War Ax (modern Fighter items) and Bloodlust Ax because it requires regen.
The next three items can have various options but Antimage emphasizes that it must be a defense item (usually Bruteforce Armor), if the opponent is a burst mage hero, you can use Athena's Shield and if the opponent is a hero like Chang'e, Radiant Armor is good.
Next is Hunter Strike, for additional movement speed to target soft support heroes in the backline such as Pharsa, Yve and others.
The last item is optional but usually Dominance Ice because most Fighters nowadays have strong regen such as Thamuz, Lapu-Lapu, Yu Zhong and others. Immortality to be thicker and can come back to life.
Spell and Emblem Benedetta MLBB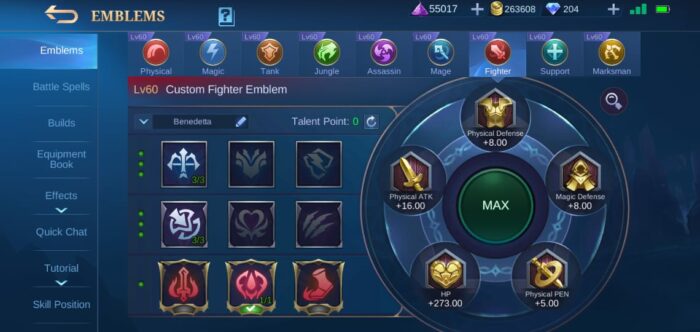 Spell: Execute
Emblem: Festival of Blood (Fighter)
Recommended Talent: Physical Attack +12.00, Physical Penetration +6.00
READ ALSO: Moskov Mobile Legends Epic Moskov Mobile Legends Revamp Skin Appearance and Gameplay Leaks!
Thamuz Antimage Gameplay Tips
Some tips are expressed by Antimage when playing Thamuz as follows:
Benedetta's passive spam to quickly get to the lane and be able to cut the minions.
If you can cut the minions and destroy the enemy's red buffs.
Don't force the buff, just riot.
Objective, riot Buff, clear lane quickly so that you can join the teamfight first than the opponent's offlaner.
If the situation is balanced, the main objective is to have a new split push to join the teamfight before the opponent's offlaner.
Use Ultimate to get behind the opponent's incer support but don't do it if it's covered by his teammates.
Don't rush into the back because Benedetta doesn't have a large burst of damage that instantly kills the opponent, in contrast to Alice, who can have a big burst when she goes back.
Benedetta is indeed an easy hero in the backline but only to mess up, not kill the opponent right away.
Well, that's the most riotous Mobile Legends hero buff version of EVOS Antimage, along with build items, emblems and spells that you can follow according to conditions. And of course gameplay tips for playing Benedetta in the current meta. For more details, you can check the video below.
READ ALSO: The Most Effective MLBB Roger Counter Hero Rows 100%, Will Not Use!
Don't forget to visit the SPIN Website for other latest updates, and follow our Instagram and Youtube.