Hi Buddy Booyah!
Gloo Wall is one of the most important items when players play. Not a few players are fighting over Gloo Wall with their fellow teammates to make this one item selling well among players.
Thanks to its use, Gloo Wall is able to provide direct protection for players who use it. This is what makes Gloo Wall items the most sought after by players when playing.
Also Read: The First Gun Skin, This is the Reason You Should Have a Mini UZI Lethal Finstooth!
Also Read: New Name, This is RANS Esports Target in FFML Season IV Division 1!
Players really need Gloo Wall for their survival in order to win the game. This time, Berita Booyah will share a tip to maximize the use of Gloo Wall. Check out the following method.
Mr. Waggor
Become a Pet that is classified as widely used and a favorite among players. Blessing skills which he brought, Mr. Waggor capable of dealing up to 2 Gloo Walls at max level. Mr. Waggor will only generate Gloo Wall if the player has no Gloo Wall at all.
As is skills With the pet, players will not worry too much if they run out of Gloo Wall while playing. The reason is that it will automatically get 2 Gloo Walls from the Pet it carries, namely Mr. Waggor.
Robo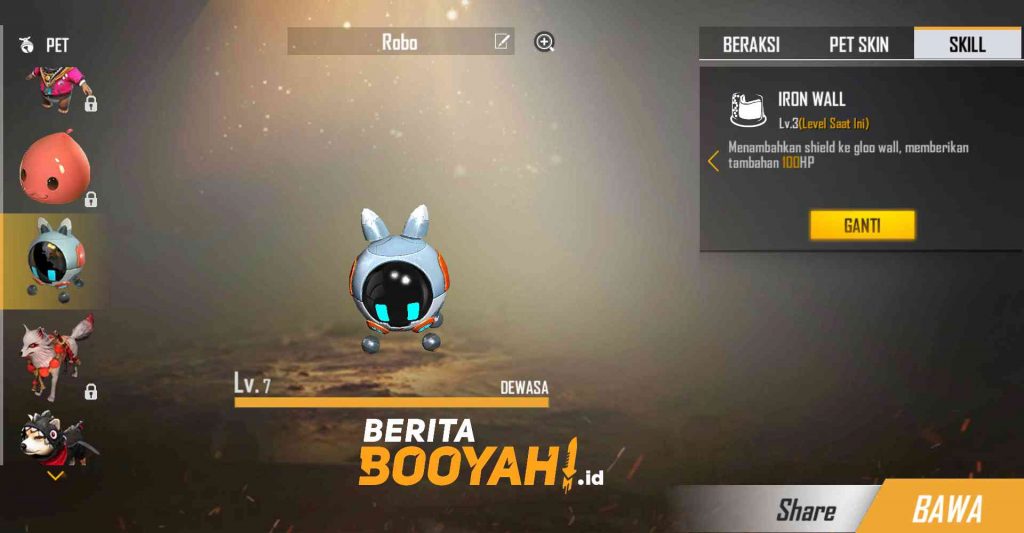 Robo is a Pet that can be considered a ball-shaped robot. This one pet has skills able to give additional HP to shield or protector, namely Gloo Wall. With Buddy Booyah bringing this one Pet, later Buddy Booyah will have a stronger defense.
Later, the Gloo Wall that Buddy Booyah installs will be more difficult to destroy by the enemy, especially if the enemy is in a very far distance. It takes extra effort to destroy the player's Gloo Wall carrying skills Pet Robo.
Beaston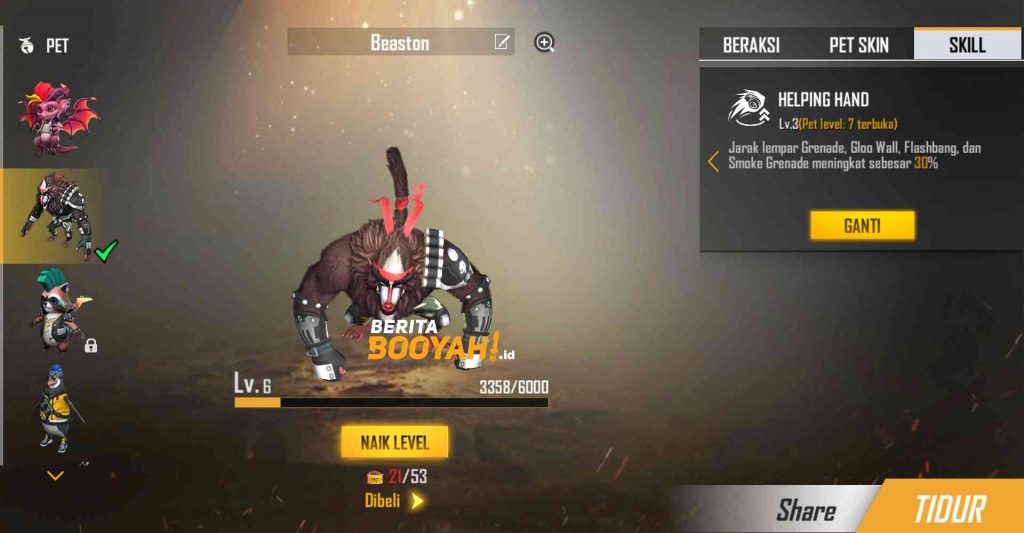 A pet in the form of a gorilla comes with a skills able to increase the throwing distance of Grenades, Gloo Wall, Flashbang and Smoke Grenade. That way, Buddy Booyah can more easily reach farther places to use Gloo Wall.
By bringing skills Pet Beaston Buddy Booyah can be easier to close a teammate who knock and its position is far from Buddy Booyah. Blessing skills Beaston Buddy Booyah will be faster to reach teammates who are knock.
---
Don't want to miss a series of other interesting information about Free Fire? Don't forget to follow Tiktok, Instagram, Facebook, and YouTube from Booyah News!