Know that Mad Stranger Bundle Free Fire (FF), is present in the shop which of course you can buy using Diamond when it's released.
Because for now, there are still many great opportunities, for players who really want to take part in this cool event.
Especially with the presence of several new events that will come, of course, will make the players more excited later.
Because they will get a lot of free gifts, if they succeed when completing the Mission of the event that is being presented, yes.
Especially for now regarding the Free Fire Eid al-Adha event, where you will find lots of missions and cool prizes that can be obtained.
Now by taking advantage of all these things, you can just take advantage of all the prizes that you get.
One of them is Mad Stranger Bundle Free Fire (FF), let's find out if it's available in the Shop right now.
Mad Stranger Bundle Free Fire (FF)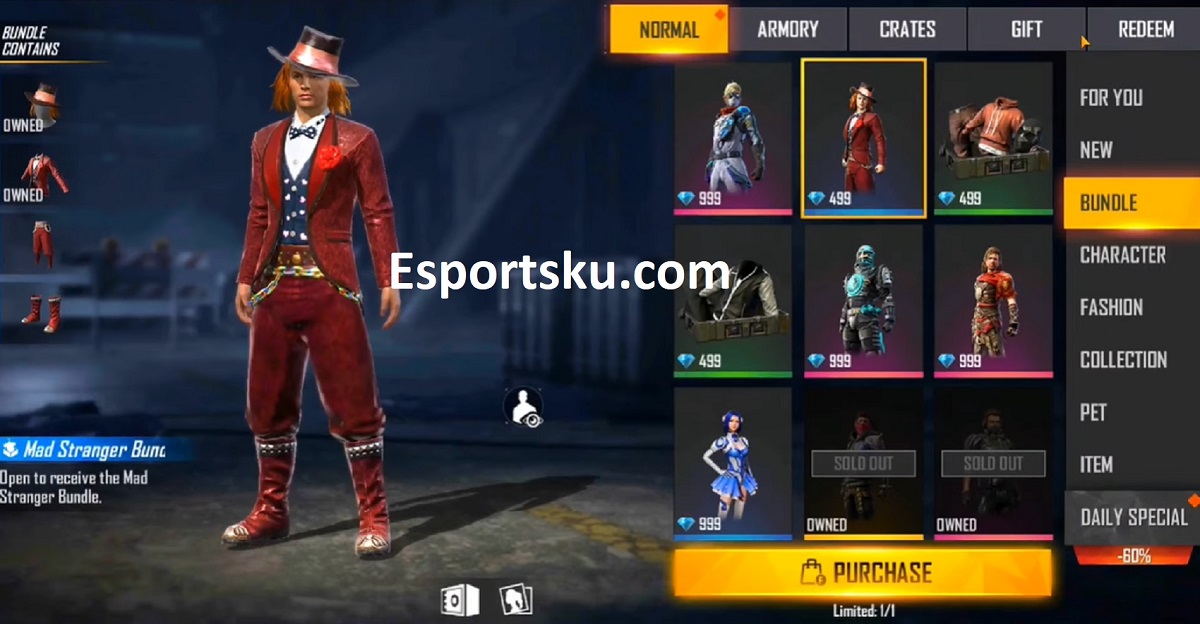 So for now, Mad Stranger Bundle, will indeed make us all cooler when competing against enemies.
Where this is one of the Bundles that is not in the Shop on the Free Fire Indonesia Server, but on the external Server it is still there.
Of course, something like this is indeed a very good clue, where the Mad Stranger bundle has the possibility of being released in Indonesia.
So that way you might be interested, to also get the bundle that looks like this, huh.
To be able to get this Bundle, you have to wait for it on the Free Fire Indonesia Server or an upcoming event.
After that, those of you who have entered this game, can directly select the section called Shop.
If you are already in there, then you select the Bundle section which is on the right.
Then you can see the sale of the Mad Stranger Bundle at the very top.
This bundle has a Blue level, so it can be said that it will not exceed the price of 600 Diamonds for you to own.
Then after you take out the Diamond to buy the Bundle, then just have the bundle item.
Those of you who have bought it later, can directly check into the Vault to use the bundle.
Where from above he wears a magician's hat, and hair with orange time that is shaped like ordinary people in the Circus.
Then the Clothes section of the Bundle as well, we can see that it is a Red Jacket and the interior of the Love Shirt and also the Bow Tie.
The pants do look big, then the belt from this Bundle is shaped like a gold chain and is accompanied by the given red color.
Then the Big Boots, similar to the shoes used by Clowns when they act in the Circus.
Even so, this cool bundle seems much cooler and has nothing to do with Circus or anything funny.
His name is Mad, this already shows that he is easily angry or has high emotions.
So what if you just wait, until this Bundle comes to the upcoming Free Fire shop?
It must be very interesting isn't it, to try it.
It could be that later, this bundle is presented for free at the event that will be released.
After learning about Mad Stranger Bundle Free Fire (FF), those who don't currently have it can get it right away.
Surely with the cool and simple Bundle, it can be used for quite exciting battles for you to do.
Not only that, try How to Get a Free Free Fire Magic Cube to be able to use it as a condition for future Bundle redemptions.