Originally posted on March 11, 2021 @ 6:46 PM
After knowing a lot of the latest things in the update now, then we also have to know what will be coming next. Because what we can now know is the new Leaked Weapon Royale M14 Egg Hunter Free Fire.
Where this is a skin that is quite interesting for this type of weapon, even those of you who like to use weapons like this, just can't miss the opportunity to be able to have lots of interesting prizes from this.
Especially with the presence of the 2021 Free Fire Super March Event, all of you will never run out of prizes for the event. Because what you will receive and get, are very profitable gifts.
Especially for now the Leaked Weapon Royale M14 Egg Hunter Free Fire, maybe you should also know and just follow the new updates that will be presented in this Free Fire game for the future.
Leaked Weapon Royale M14 Egg Hunter Free Fire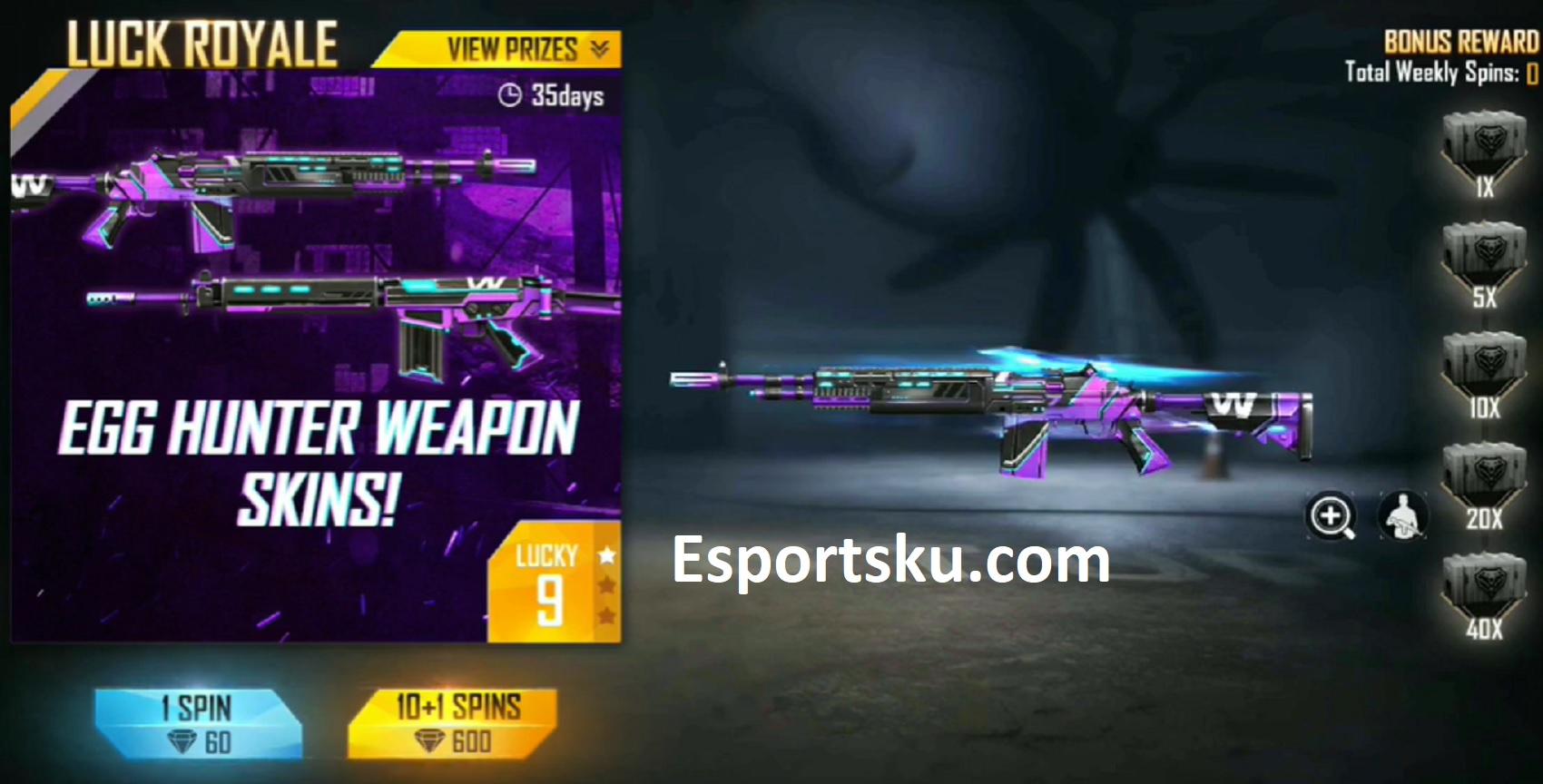 For the leaks that are present this time, it turns out that they are indeed present in the latest item in the Luck Royale Free Fire feature. Where part of the Weapon Royale Feature is now, there is a new Skin that will appear later.
Well, of course, from the latest leak of the M14 Egg Hunter, of course it becomes one of the main skins presented in the Feature Prize, right. Maybe with the presence of the Weapon Royale M14, it will help you to become more interested.
The skin that is presented has a theme which reportedly will appear in April 2021. Because there is an Egg written on it, it means marking a quite festive Easter Day in that month as well.
This event is likely to have lots of cool prizes, so maybe you will be interested in trying it. The skins that are present are not only 1, but 2 of the same theme with different types of weapons.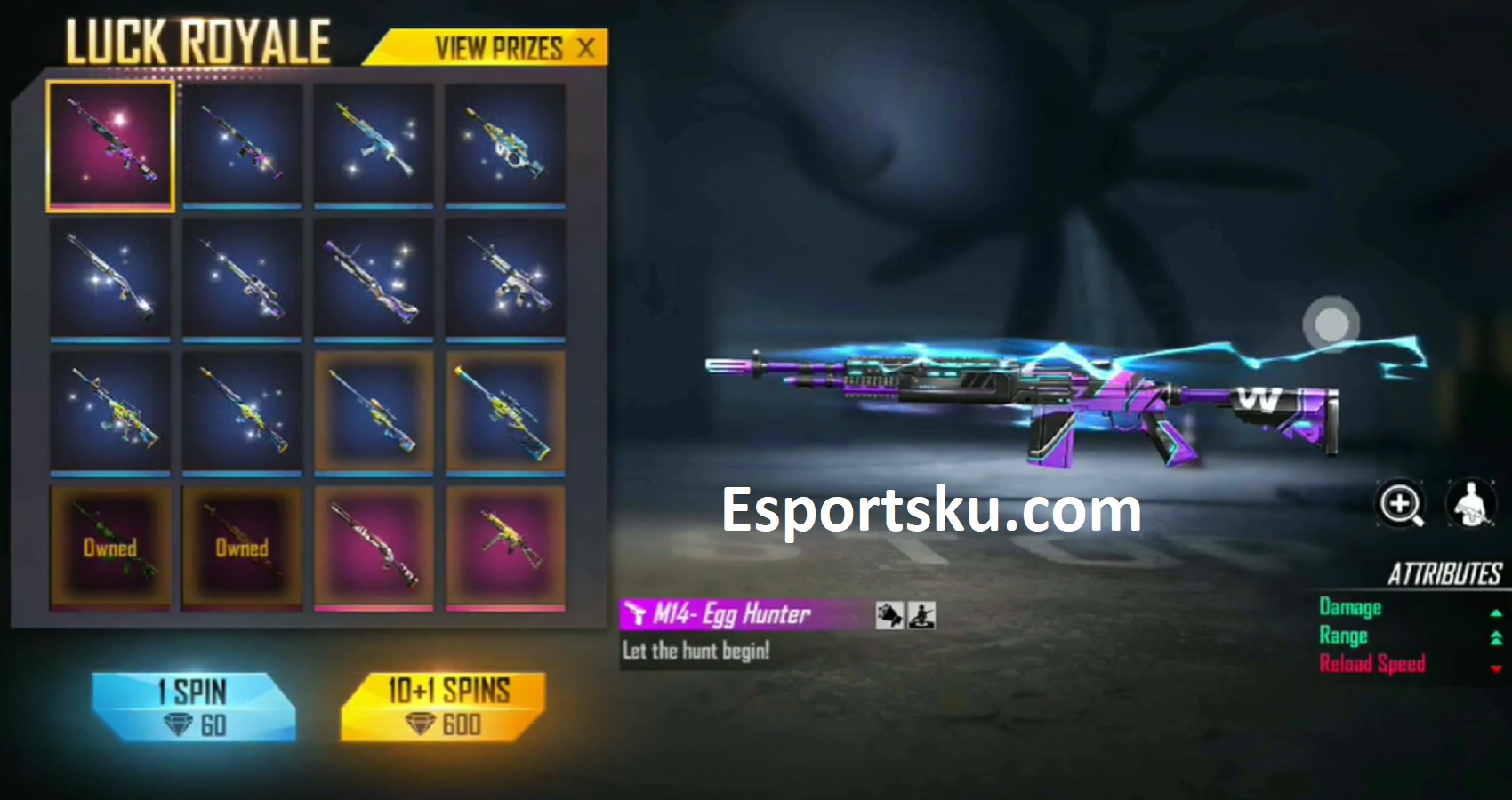 Because Parafal Weapons will get a Skin with an Egg Hunter theme, yes, the only difference is that M14 has an Electric Effect and the color of the new Skin is indeed better to use when competing and in the Lobby, right.
However, for Parafal itself, the skin that is presented, has more black and colored colors on the back, although not too much. Both of these skins are present in the weapon royale feature, so if you want to have one, you have to Spin.
In this feature we still have the same total Spin as before, where you have to do Spin 1 time with 60 Diamonds and also 600 Diamond for Spin 10 Times. Of course all of you, really don't want to miss this opportunity.
Maybe those two skins will be the best recommendations so you can get them now. Just wait for it to appear on the Indonesian server, after that you can only have this Skin and use it later when you are competing.
The power given by the two new Skins is indeed quite large and strong enough for you to try.
By seeing the Leaked Weapon Royale M14 Egg Hunter Free Fire, we who are M14 weapon users may be interested in having this Skin later. Surely with this skin's cool appearance, many players will be interested in getting a spin in the weapon royale.
Then don't forget that when you compete later, you have to use the Free Fire Defender Role to make it even easier. Defeating the enemy is not a problem, because you can use it and win later.
---
So you don't miss any new info from this Free Fire game, it's not wrong if you follow Instagram directly now. Because it will help you to keep up to date with new updates from the Free Fire game that will be coming soon.