Originally posted on March 11, 2021 @ 1:06 PM
The systems and features provided in the Free Fire game now, there are indeed a lot for us to use. There's even more Special Leak Royale Facepaint Free Fire (FF). That way, you can get a face tattoo gift from here.
So for now we can find out if for example the event that we will get now is indeed quite good and interesting. Even those who were present at that time, were a cool Event Royale for you to use right now.
So, for that, you might have to know what the Luck Royale Free Fire feature is like. So that later you can take part in the event prizes that are present on the Indonesian Server, so that it can be even more enjoyable to play later.
Moreover, for the latest information on the Facepaint Free Fire (FF) Special Royale Leak, then you might be interested in this latest Royale when it is released on the upcoming Indonesian server.
Leaked Special Royale Facepaint Free Fire (FF)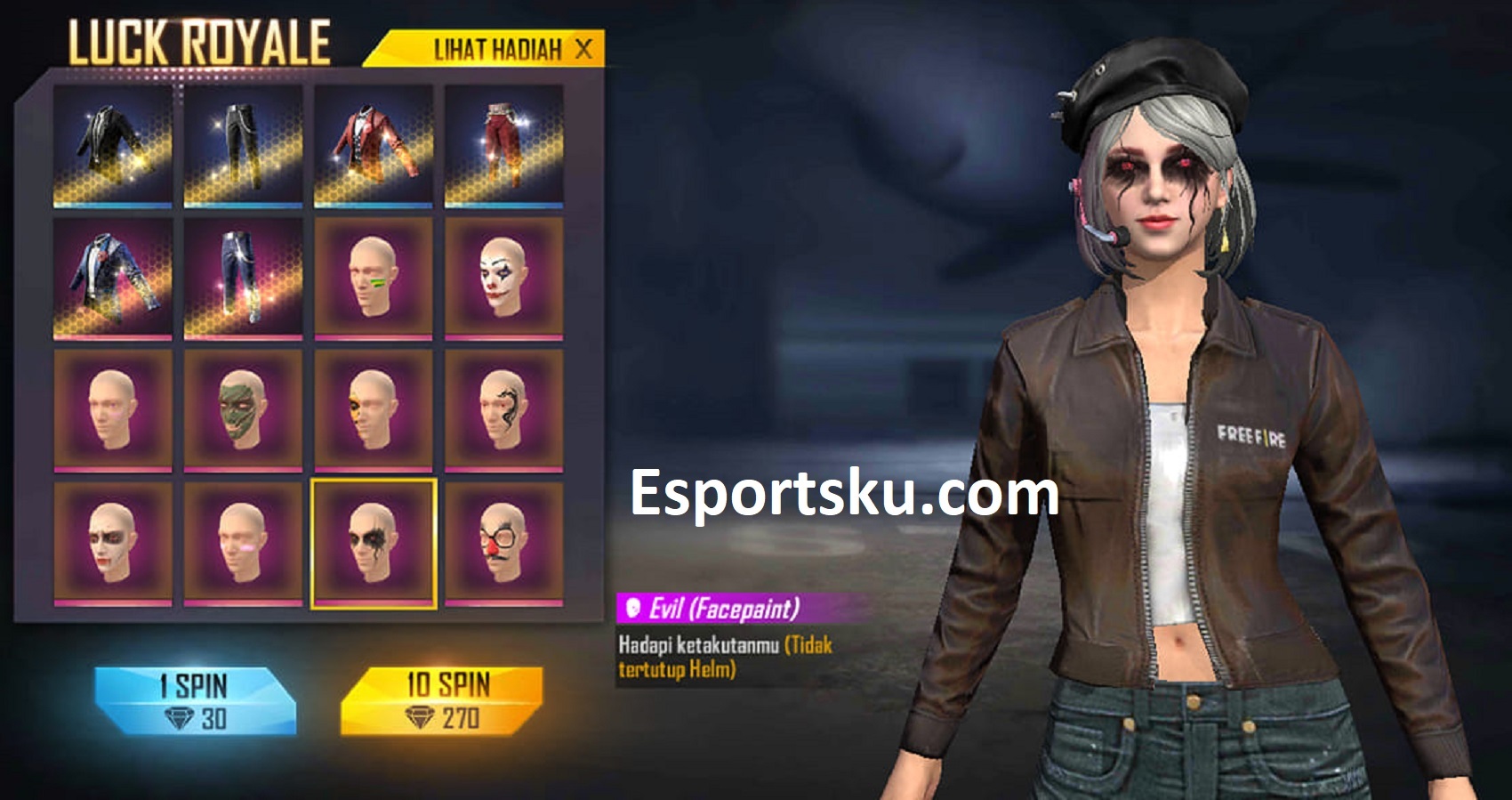 So on external servers, the updates provided are indeed much faster, where the Special Royale that is present on the server is indeed quite unique in its prizes. Where from this Special Royale Leak, you can get Facepaint.
Yup, so it's a Free Fire Special Royale Feature, where the prize we can get is Facepaint in large quantities, right. If it's to be present on the Indonesian server, we can't really know how to get it.
But maybe later there will be similarities with events like this, so it won't be so difficult to get Facepaint that is presented from the Special Royale Free Fire game.
Even to get the Skin too, it's quite easy and we can follow some of the ways and a little explanation of this Special Royale as well. That way, in the future you might know immediately and it's easy to follow the event.
Here it's almost the same as Royale in general, so you have to Spin using Diamonds and get the Prize too.
In this Royale, the prizes that we can get are various, you can first get a shirt and pants. Then the prize that dominates the most is Facepaint.
The price of the spin that you do at this event is also of course easier. 30 Diamonds for 1 Spin and 270 Diamonds for 10 Spins.
The Royale event is already present on external servers, so we can only wait for its presence in Indonesia.
In the latest event in Luck Royale, the prizes that we can get are indeed quite a lot and you really have to wait for this to come.
The presence of leaked royale events like this will indeed be the most awaited thing. So all of you should be able to try all of this, and we also have to be prepared and just follow the Event that is given from Garena for all players on the Server.
Let's just wait, yes, Royale Facepaint is present on the Indonesian server, there will definitely be one. It just takes a long time.
After all the Facepaint Free Fire (FF) Special Royale Leaks, maybe those who know something like this will really be interested in getting the Facepaint Skin that is given directly to the special Royale, yes later.
Especially for the current Free Fire Spin Hockey Tips, it is an important part for us to try now. Because later you can get the main prize in the event if you use tips like these.
---
Every day there will be new information given from Free Fire, if you don't want to miss this, then you can directly follow Instagram. That way every day you will know, interesting information that we can know clearly.