It turns out that this is a Leaked Vector Aquablaze Wrath Free Fire (FF) Skin, one of the Skins will be coming soon to the Indonesian server. Of course, this is one part that is quite interesting, so that later you won't miss some cool gifts that we can use.
Especially when it comes to the problem of the new update that will be released this time, there are quite a lot and surely many are waiting for it. Because now there are more interesting things that are present in the game, maybe you are also aware of things like this too.
As happened in the Moco Rebith Free Fire event, of course it is one of the right choices for you to get later. Because we might not want to miss it, because there are still some things that you must pay attention to before joining this event.
Then a Leaked Vector Aquablaze Wrath Free Fire (FF) Skin appears again, one of the Skins that players may be waiting for. Because Vector's weapon when using the Skin, fighting power is neither difficult nor understated.
Leaked Skin Vector Aquablaze Wrath Free Fire (FF)
In this new leak, Vector's weapon will receive a new skin called Aquablaze Wrath. Of course this appearance will not disappoint, especially if you have already managed to get the Skin when it is released into the game later.
Now, this skin is different from some previous updates, yesterday's FFWS Vector Free Fire example only had 1 type of shape. But for the new one now, it has 2 different Color Angles and will change according to the Weapon Slot.
The leak shows 2 skins from smoldering red and cooling ice, later if the player enters Vector in Slot 1, the color is Red. But if you enter this weapon in Slot 2, it will immediately experience a cold blue ice color change.
This is one of the best skins, maybe it will sell well if it is released on the Indonesian server because of the unique color slot. But some say that later Vector Weapons have 2 different Skins, it's just that it can't be proven and for now it's new.
The two elements are opposite, but if you use it, it will probably be one of the most feared combinations of enemies. The additional stat on this weapon also has an important point, you can make it easier to do Rush when facing strong enemies.
For Stat Damage + and Range ++, a noticeable improvement for players' convenience. However, the Reload Speed ​​section has a reduction, you have to be careful when reloading.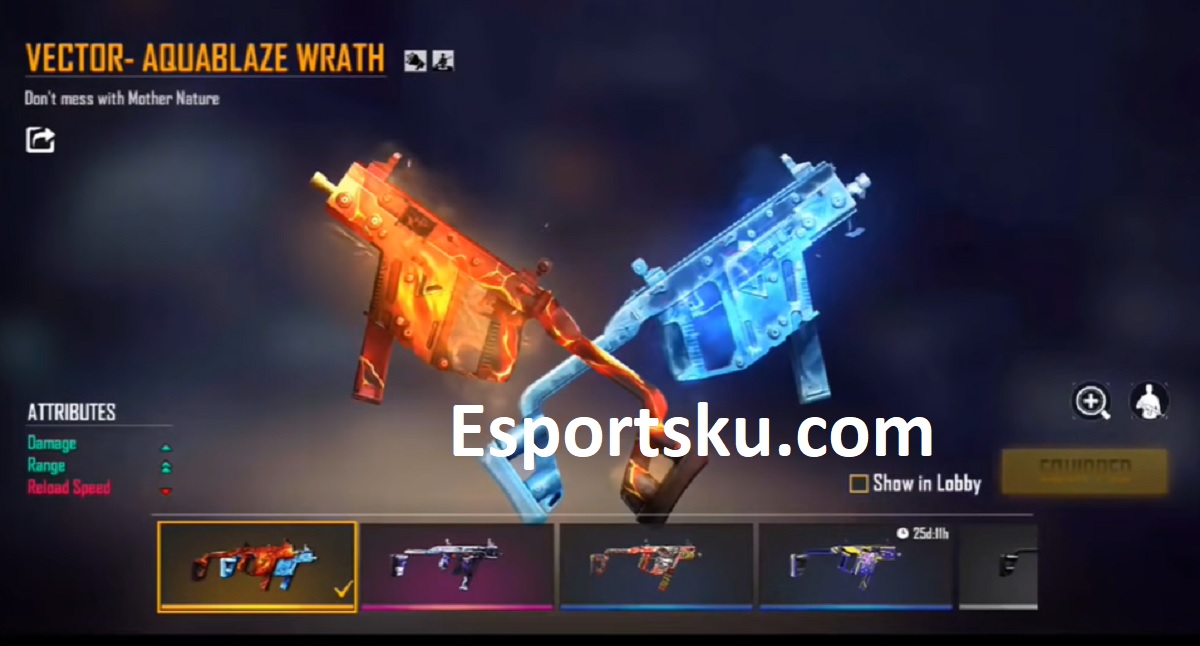 No one knows when this skin will be released, but hopefully the Indonesian server will be faster. Because of the appearance that appears, it gives a different impression when you use it in the game later.
Maybe it will be present as a Limited Skin too, we will wait for the update that will come soon. Because for this Vector Skin, it will appear before the latest Patch update appears.
Just study the use of Vector Weapons more deeply, so that later using this Skin does not make you die with the enemy.
After knowing the Leaked Vector Aquablaze Wrath Free Fire (FF) Skin, then just take the opportunity from now on. We collect money first before the skin is released, after it appears, we can directly gacha to get it and use it immediately.
Surely later the appearance of you using weapons, will feel more confident than before. Even to try Tips on Using All Free Fire SMGs, of course this is quite an important part.