So now there is a Leaked Parafalse Red Fury Free Fire (FF) skin, of course the users of these weapons should know right now. Because the weapons they use will have cool fire skins, they can even be present for free through a new event.
You may be interested to know what will be coming soon, because if there is such a thing as a leak, it will be released soon. Of course, things like that you should know now, so that you don't miss anything at all.
Especially for the so-called Tips for Using Free Fire Parafalse Weapons, maybe you will find it easier to fight the enemy. Then you can also take advantage of better game conditions, if you use this weapon and compete later.
Then there is news from the Leaked Parafal Red Fury Free Fire (FF) Skin, which means you must have this Skin if you want to look stronger. Because there are several things that make us interested, to get this Skin when we compete later.
Leaked Skin Parafal Red Fury Free Fire (FF)
You should know that now a new Leak of the Parafal Red Fury Skin will be coming soon, maybe you should know what it looks like first. Because this is a normal skin, but it has a look that is no less cool than the epic version.
Of course, the shape of Parafal is still the same as usual, it's just that the color and pattern of this weapon has undergone a nice change. Even later you will have several opportunities, if indeed this Parafal Skin will be released on the Indonesian server.
If you can see that the Parafal Skin has a dark blue base color from front to back. But for the red one, it is a Tribal or Fire Theme that we can see from the Edge, even to the middle of the body of this weapon Skin.
Is one of the other normal skins of parafalse weapons, you might be interested and curious to try it now. Because it is one of the most powerful weapons in the Free Fire game, if you really can use Parafal as well as possible.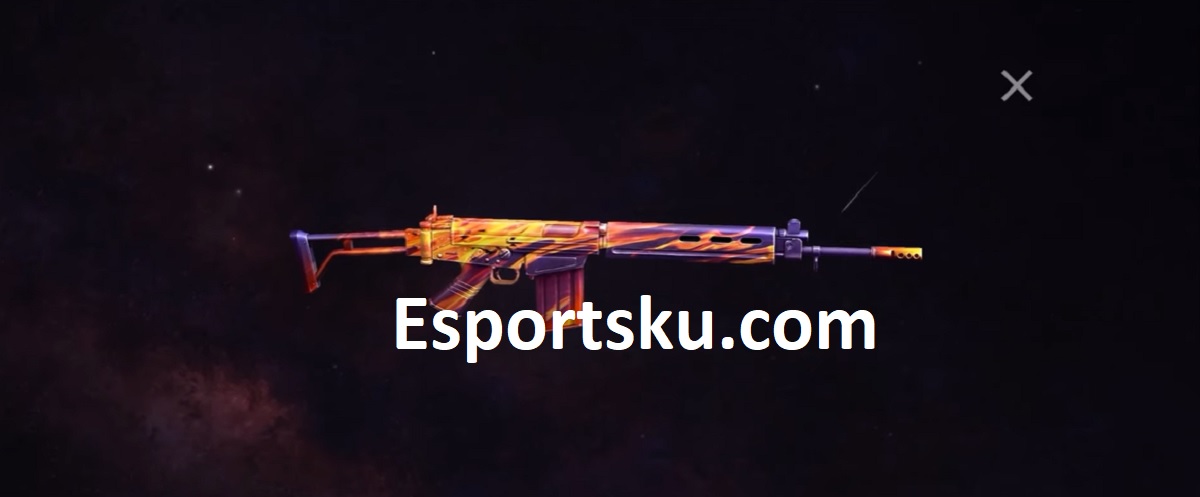 It's just that right now you have to know a few things, if indeed Parafal Red Fury still can't we know what to do. But chances are you will have all of them later, we just hope for the newest Event Mission in the Free Fire game.
Not only that, this skin increases the stat part that is quite important in Parafal and reduces the most important part now. Later additions will appear in the Range + and Accuracy + sections, but unfortunately the Magazine section has to decrease – when you use it.
Even so, it won't have much effect if you reduce the Magazine, you can still use it strongly and very dangerously. Even for now we will also know, if indeed this weapon Skin is quite strong now.
How do you like to use Parafal weapons? do you like and are interested in having the appearance of a skin like that? Just wait, because there is a possibility of a release soon.
After knowing the Red Fury Free Fire (FF) Parafal Skin Leak, you know what will be released in this game soon. There are still many great opportunities, for those of you who want to receive a variety of cool items from this game right now.
Because you will also know How to Get the Bassrock Free Fire Amplified Bundle, of course, the gift which is a free bundle we cannot miss at all.
Keep visiting Kabargokil for the latest information, Follow our Kabargokil Instagram and YouTube news, too!