Bocorang has just returned to the free fire community recently, which is reported to be a leak for a skin.
The reported skin is a skin for a weapon called Korg which will be coming soon.
it's true that at the time of the collab event with street fighter, there are currently a lot of updates for skins etc.
and for the visual itself, this Korg Merciless Necromancer skin is more or less like this.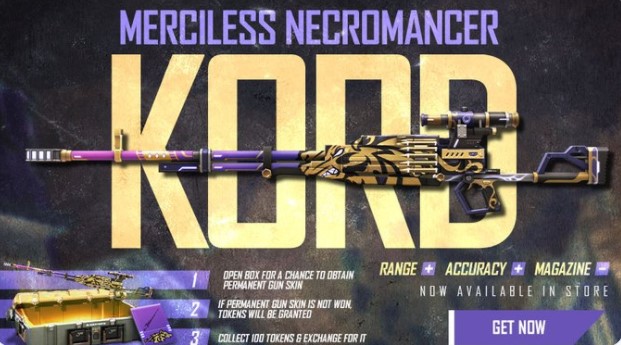 This skin itself can be considered a common skin because it only has 1+ for stats.
Meanwhile, the necromancer skin itself may be available for all weapons, not only Korg.
but for when we still don't know for sure because only the Korg skin has been seen for now.
Meanwhile, for how to get it, booyah friends can exchange 30 diamonds to open the crate.
and when opening the crate you can have the opportunity to get this skin or tokens that can be exchanged for this skin as well.
the tokens also vary from 1 to a maximum of 4 tokens can be obtained when opening the crate.
and when the token is enough you can immediately exchange it for this skin permanently.
and for the necromancer bundle itself, it is predicted that in addition to having a skin weapon, it also has skin items, emotes, and also a gloo wall.
if you guys are interested, you can open a crate for this skin from now on before this skin changes to another bundle in the shop.
because this skin itself, although not an event skin, still has the opportunity to change to another skin or bundle.
Source by [author_name]