Let's take a look at the Leaked Aug Cosmic Free Fire (FF) Skin, a new Skin that of course you have to get because of the pretty interesting shape. Then if for example the skin is also present for free, maybe this makes players interested in having it too.
Because right now, various events are indeed present in the Free Fire game, of course you also have to be able to enjoy them first. Then there are also some additions from other events that we might be able to get, when you complete the mission now.
Especially for How to Get the Free Fire Amplified Bundle, one of the main prizes that did appear in this latest event. Because every item or gift that you can get, it's quite a lot and impressive for us to collect.
Then for the presence of a Leaked Aug Cosmic Free Fire (FF) Skin, we may be curious about what it looks like and looks like.
Just look at the leaked skin in the current article.
Leaked Skin Aug Cosmic Free Fire (FF)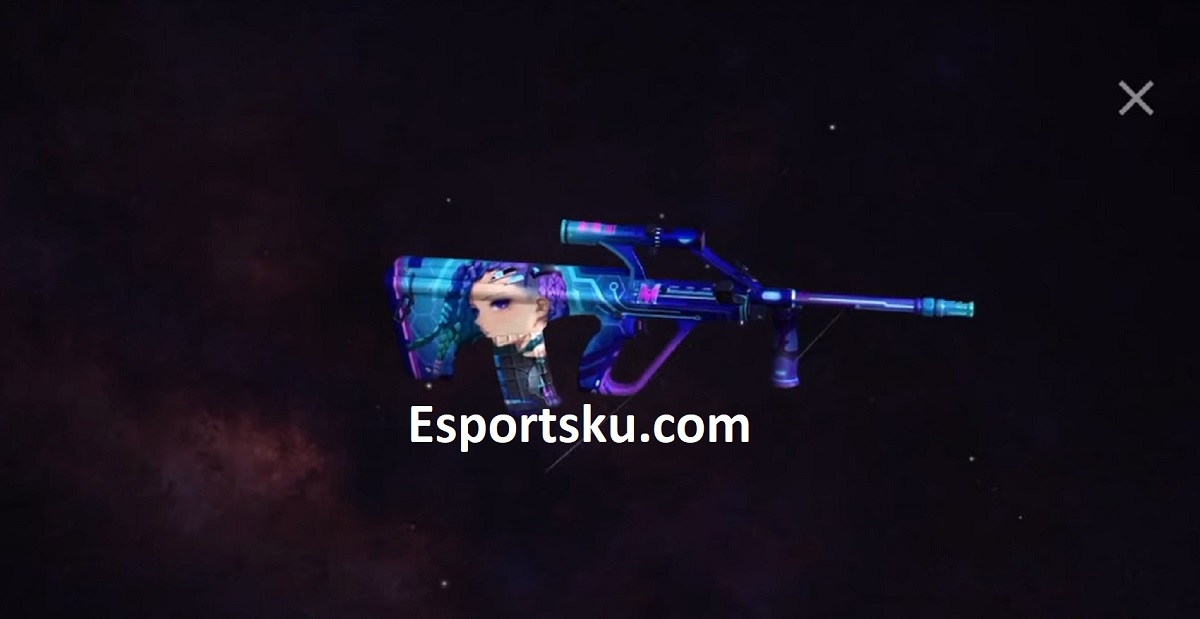 Aug weapons will reportedly get a new skin called Cosmic, maybe you will be interested in the presence of the new Aug. Of course, if you are connoisseurs and users of this weapon, you probably won't want to miss the opportunity to buy it.
However, how to get this Skin Backpack is not yet fully visible, but the shape or color of the Ski has been shown as well. The appearance of the new AUG skin is Blue, then has the addition of the Moco character as a character paint.
Then another additional appearance is only the purple color remaining, then some lines from Neon and Electro appear on this new Skin as well. Maybe you are interested in using the Cosmic Aug, because it is one of the new Skins that we can get.
The theme of this skin is related to the latest Moco Awakening Free Fire, but the release date or other things have not been leaked yet. Just enjoy this brief information first, because this Rare-type Skin also has additional overpowered Skills.
When you use Aug using the Cosmi Skin, it will add Damage and Armor Penetration + which is quite useful. But unfortunately the Magazines that we receive will be reduced -, should be able to make things better using this skin.
Then this Aug has a new addition to the Kill Announcement and you can reportedly use it in the game Lobby. Just wait for the presence of this AUG Skin on the Indonesian Server, even though it's been a long time but we have been waiting for it.
Now there are still a few things that you must pay attention to first, before you can master the game using Aug weapons. That's the leak that you can see from the AUG Weapon that has the newest skin, just wait until all of this comes into the game.
Use Tips on Using AUG Free Fire Weapons now, so that later you can face all enemies using only one weapon. Moreover, it is helped by the weapon's stat, making it stronger and not easily defeated.
Just wait for the release time because it won't take long, moreover there is a new Free Fire Drone Backpack Skin Leak too. Maybe this is related to the Bundle or the latest Cosmic event later.
After knowing the Aug Cosmic Free Fire (FF) Skin Leak, is anyone interested in getting this skin later? Reportedly, one friend will also appear, along with the new Spas 12.
Because there is also a Spas12 Cosmic Teleport Free Fire Leak, one of the same Skin Themes as this latest Aug Skin Leak, too. If you like it, just wait even if it's a little longer.
Keep visiting Kabargokil for the latest information, Follow our Kabargokil Instagram and YouTube news, too!