It turns out that there is a Leaked Face Paint Vampire Free Fire (FF), which is one of the upcoming Fashion items.
That way, don't be surprised if you will later get a Cowo character item, for the new update that will come.
There are still lots of other new and interesting updates, all of which are present in the current Free Fire game.
Of course the presence of an update like this, players will go through the game and other excitement that is much longer than before.
Moreover, you also know that Face Paint Loot Crate in Free Fire, has indeed become one of the things that can be put to good use.
The appearance of your character's face later, will be cooler when we apply the Face Paint.
But now there is something new where the Leaked Face Paint Vampire Free Fire (FF) is indeed very interesting to try too.
Curious? let's see the leak here.
Leaked Face Paint Vampire Free Fire (FF)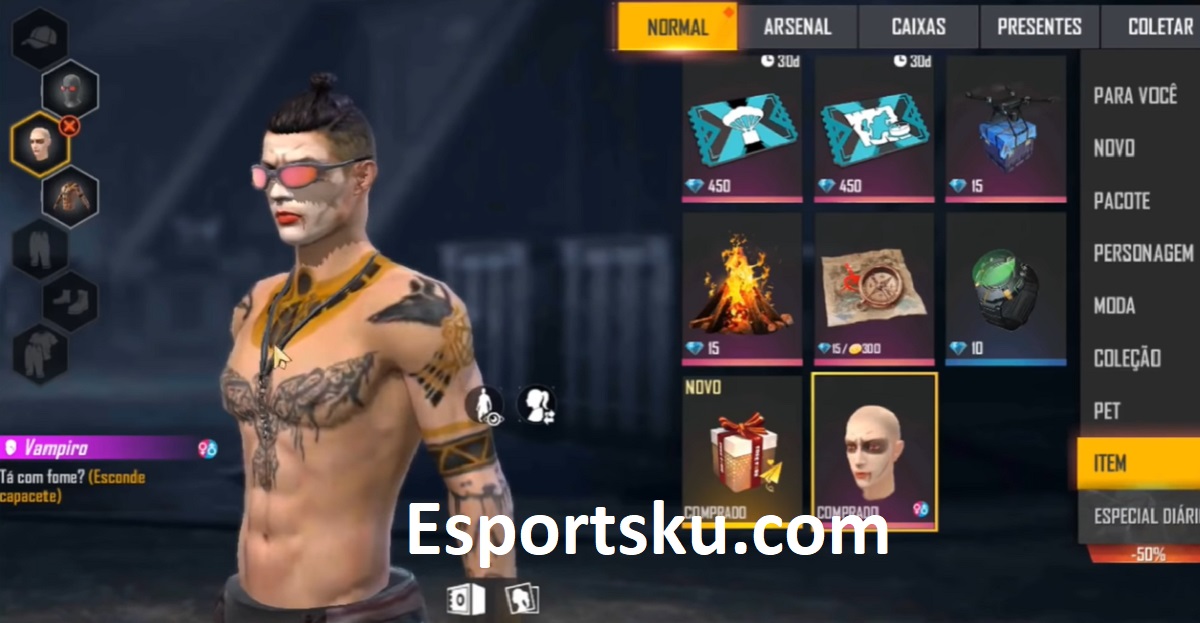 Face Paint is one of the Fashion Items in Free Fire, so that later you can change the make up of your character's face.
Whether it's a girl or a boy, the new face paint for Vampire right now is the thing you have to wait for the most now.
The appearance of Face Paint is quite interesting, because it can also be used on Girls or Boys when it is obtained later.
Especially from news about leaks like this, you might be interested and like to use the Vampire Face Paint directly.
Because for Face Paint Flags in Free Fire only, it is still one of the mainstays of players to use now.
But the new Skin from Facepaint Vampire like this, can you get it from what kind of events and missions will it be?
It's easy to possibly get, so you just wait for the new event and receive some other new updates at this time.
Because the update about Fashion in the Free Fire game, it usually will appear because of the Bundle too later.
Especially for now, there are still some interesting prizes that we can get in the update now.
In this latest Face Paint appearance, you could say your character's face will turn pale white.
Not only pale, but in the eye section there is a circular black color and fairly red eyes.
Hugs from the Eyes for Face Paint like this, indeed describe people who are angry or upset.
Not only that because on his mouth too, there was a spot of blood that the vampire drank.
You can see the Vampire's teeth from here, although it's a little faint and not clearly visible, huh.
we don't know how this can be obtained, but there is news that it must go through Free Missions or Bonuses that will occur.
What do you think about this Face Paint Update? of course it fits perfectly with the Vampire Bundle that you will use later.
It is also reported that if Bundle Ryu Free Fire x Street Fighter also, give one of the Special Face items with the Ryu theme.
Maybe later there will be many other cool Face Pants, to enter this Free Fire game and be obtained by all of you later.
How? Are you already with this latest Face Paint for Vampire?
After knowing the Vampire Free Fire (FF) Face Paint Leak, with a Skin Face like this it will definitely be very interesting to try later.
With the presence of Update items like that, it will indeed make you also definitely like all of these things.
Especially with the presence of How to Get a Free Magic Cube on Free Fire, it's fast and easy for you to do now.