Be aware of the Leaked Elite Pass Season 40 Free Fire (FF) Bundle, maybe this will make you err and finally buy the feature. Because this latest Bundle appearance is a must have, yes, it will definitely be cooler if you have it.
Maybe you will also be interested in trying some of these new events, so you don't feel bored for a long time playing the Free Fire game later. If there are some things that might feel difficult too, it won't take long because you guys will also get over it pretty quickly.
Moreover, from several ways to get the Bassrock Free Fire Amplified Bundle, maybe one of them we can finish very quickly. It's just that looking for tokens or other things, you can do it very easily from here.
Then in addition to the prizes from the event, there is also a Leaked Elite Pass Season 40 Free Fire (FF) Bundle that you might like in this game too.
Leaked Elite Pass Season 40 Free Fire (FF) Bundle Leaks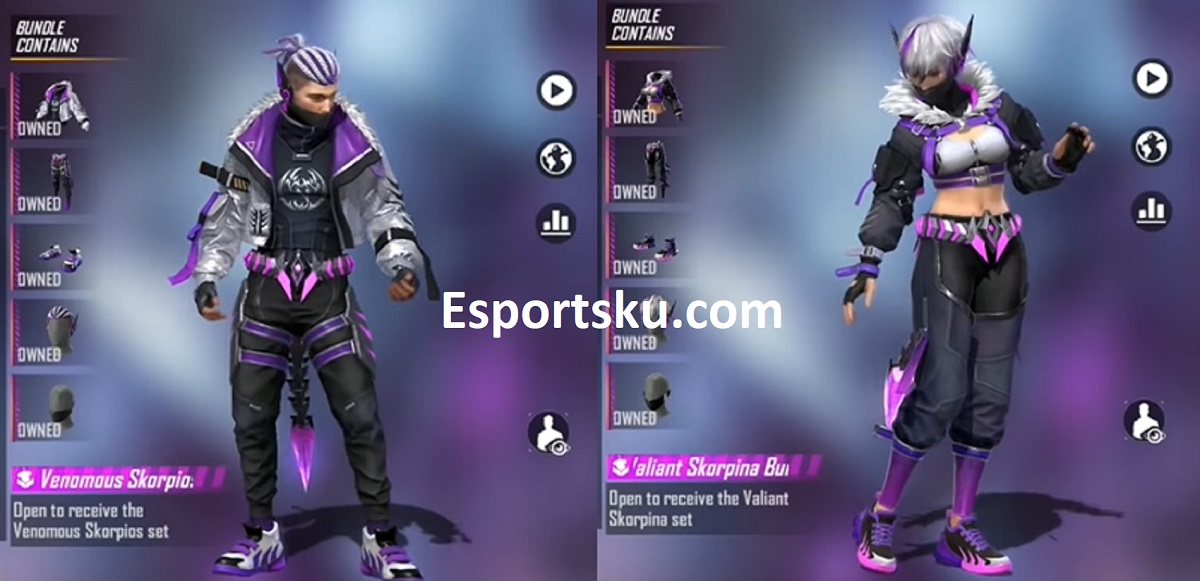 Elite Pass season 40 has 2 Bundles named Venomous and Valiant Scorpion, they are both like experimenters. Of course that's what will make you interested, to have a cool gift bundle like that.
Soon it's true that the Elite Pass will be coming soon, even you should know that the Bundles that are coming will all look cool. Then there are some new things, for you to see from the Elite Pass Season 40, which turns out to be a special Bundle that already exists.
Maybe you will also feel happy, when you have these two Bundles and use them when competing later. The appearance of the new Bundle is indeed cool, but it's up to you whether you want to have it or not, because this is through the Elite Pass.
For Venomious Scorpion, this bundle has a sleek look on the hair and also and on the head he wears a mask. The shirt this character uses is a Silver Jacket, then inside is a Black Shirt.
The appearance for this Cowo is quite impressive, then we can also see the character of Cewe in that regard. Maybe this Valiant Bundle looks Ordinary, but it can actually give Effects and looks much cooler than the usual Bundle.
The girl's hair is white and has purple spots, then her clothes are also part of the Black and Silver Jacket. The pants don't have any additional special effects, but this Bundle combination when we use it can be the best.
If you like it, of course, just prepare the money first to buy it, because this Bundle can only go through one way. At the initial leaks that you see, maybe everything looks interesting for us to try to have.
Especially if you know about a new Bundle like this, one of the best opportunities that we can use right now. Maybe there are some other additions, such as a cool Bundle to add an interesting impression of this Elite Pass Bundle.
Understand firsthand how to get a Free Free Fire Elite Pass, so that later for Season 40 you can have it without paying. But the method must also use luck, I hope you can.
After knowing the Leaked Elite Pass Season 40 Free Fire (FF) Bundle, maybe you will like it and use the Bundle. Because the new appearance of this bundle can also look very different, but you have to make the most of it.
Then, for the Elite Pass Season 1 – 40 Free Fire, maybe you should know, so you know what has come now. In the future, you will not miss the new Season of the cool Elite Pass.
Keep visiting Kabargokil for the latest information, Follow our Kabargokil Instagram and YouTube news, too!