There is a Leak of CBF Football Loot Crate Free Fire (FF), maybe this is one of the parts that you have been waiting for the most. The prize from the loot crate is also a Jersey Shirt that is related to Collaboration, maybe you will like it soon if you can.
Then we also still receive lots of new events that might be cool, even interested in the future too. Because you still have a few chances to complete missions, so you can get lots of prizes that are present at the in-game event right now.
Joining a Booyah Style Free Fire event right now is one of the right choices for you to try right away. There are even some interesting things that you can try, when you experience the event yourself that gives you lots of prizes for you to get.
Including the Leaked CBF Football Loot Crate Free Fire (FF), maybe this will be included as one of the new items that will be present. Because of the prizes that we can get and Garena's special offerings, we will give players the opportunity to have them too.
Leaked CBF Football Loot Crate Free Fire (FF)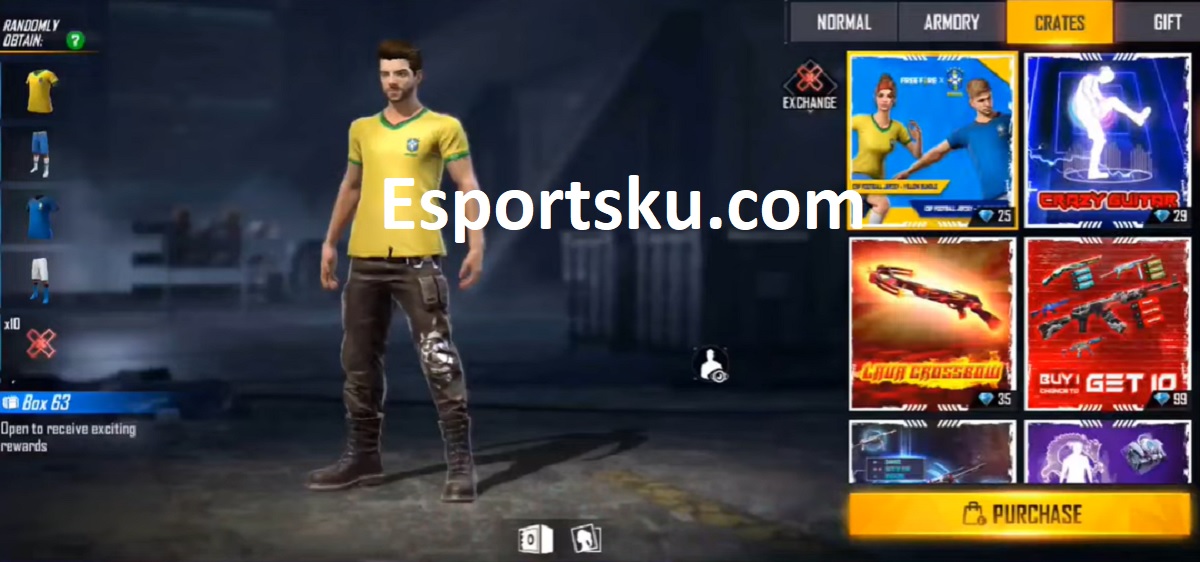 The new Loot Crate which has the name CBF Football is now quite interesting, even you will be happy to have it now. But because the Indonesian Server hasn't been released at all, maybe you should hold on to it until it really comes.
Yesterday we also found out that there is a Free Fire x CBF Football Collaboration which is a Sports Team from Brazil. Of course that's what makes players able to get new items, the name is CBF Football Loot Crate which has a pretty interesting Jersey shirt prize now.
Maybe this will be included as one of the interesting skins, so that later you can get lots of interesting prizes. In fact, there are still several other prizes that we can get, when buying and opening the Loot Crate in the game later.
Because there are some of the best possibilities for each player, if they really want to have a lot of prizes in this new Event. Well, maybe later on our Indonesian server, we might also know how to get it, just like what we gave.
First, the player must first enter the game Shop, then he can immediately get a lot of prizes.
Then you select the section called Crate, to see if this item has been released or not in the Free Fire game later.
Then look at the top item and if it does appear it means just buy it.
On external servers, it comes at a fairly cheap price, but if the Indonesian server is 40 Diamond, yes.
You will have a great opportunity to get this prize and also an exchange Token.
If you manage to get the Jersey, you can directly check the Vault section, but if you don't use the Token.
Exchange the Code that you get from this Loot Crate, to get the Jersey and use it right now.
There are many events that will be present in the Free Fire Indonesia game, each player must also prepare and participate in this event. Also later you can have a good chance, in order to get the reward later.
What do you think about Loot Crate like this? must be good and really mandatory for you to collect right now.
After knowing the Leaked CBF Football Loot Crate Free Fire (FF), then this is an opportunity to immediately have it when it's released. It's up to you whether you want it or not, because this Jersey shirt prize is indeed quite interesting for us to get later.
Especially now that we know Hockey Tips for Opening Crate Free Fire, the chances of getting a prize are greater if you use this. Because the opportunity to get even better prizes, will appear when it's like that.