According to the news, the Latest Griffin Royale Free Fire (FF) Leak will be present, one of the Spin Features that may sound interesting. From here we will have the opportunity, so we can succeed in getting lots of interesting and cool weapon skin prizes right now.
Because indeed what we know is that the events that are present in this game also have several missions that you must complete immediately. Because the event will definitely provide prizes, even free weapon skins that you may need to try in the game now.
Especially at the Booyah Style Free Fire Choose Free Weapon Event, one of the events that will make players choose Free Skins. Even though it will only last for 4 days, this Skin like this will allow all of you to have it without being missed.
Especially now that there is the Latest Griffin Royale Free Fire (FF) Leak, maybe it will appear in a new event that will come. We'll just have to wait for his presence, maybe you will also be interested in trying this Royale.
The Latest Griffin Royale Free Fire (FF) Leaks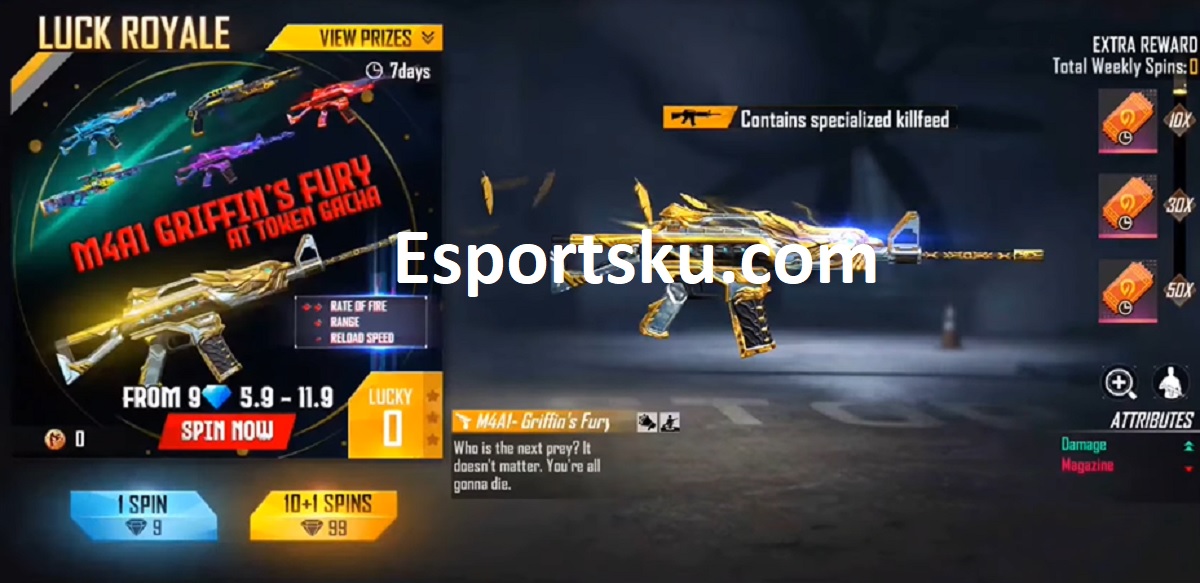 For the presence of a new leak this time, Griffin Royale is indeed similar in function to Weapon or Diamond Royale. Those of you who want to get the main Griffin weapon Skin prize, of course we can get it through the Event Royale that appears.
Since there were multiple chances of every player wanting to have it, they would definitely have a chance to get this reward. Moreover, there are several things that we might be able to do, when this Royale really comes to the Indonesian Server.
Yesterday we also found out that Griffin's Weapon Skin Entered the Free Fire Shop, but only through the Weapon Loot Crate. But this is related to Luck Royale, entered in the Gacha System like a feature that has appeared before as well.
Maybe you should also know, actually apart from getting through this Royale, there will be prizes that we can exchange for the skin. But it's still the same, you have to go through Spin first to be able to get exchange items which we will use later too.
Because for the spin method, you can also immediately know now so you won't be surprised at the price once you spin it later.
Those of you who are already in the game, can directly select the section called Luck Royale.
After you have selected the section, then just select the section called Griffin Royale if there is one.
Later you will be given 2 Spins 1 time 9 Diamond and 10 times 99 Diamond only.
But remember that this is a price that is still in the form of a leak, the possibility on the Indonesian server is different again.
The prizes we can get are Griffin Tokens that you have to exchange and Griffin weapon Skins.
When you get the Skin gift, just select the section called Weaponary to check it.
Now if you always get Tokens, then just exchange them in the Shop and maybe you will get a much better Skin.
We don't know when this will be available on the Indonesian server, but we players can only wait until that happens. Because every new thing or update in the game, sometimes there are fast and slow arrivals.
After knowing the Latest Griffin Royale Free Fire (FF) Leaks, you might be interested and want to try it too. But keep waiting patiently, until the Indonesian server is indeed released in Luck Royale.
Moreover, to use Free Fire Spin Hockey Tips, maybe the opportunity to have it will be easier and very fast. It depends on your Hockey too, good luck getting it after the first spin.