Hi Buddy Booyah!
As one of the melee weapons The most favorite available, the presence of the latest Katana skin on Free Fire is of course quite eagerly awaited by players every time it is released.
Good news for Buddy Booyah, one of the Free Fire Katana skins will be released on Free Fire Indonesia. The skin is none other than the Katana Legendary Cobra Free Fire (FF) skin.
Also Read: Besides MCL-FF Winning Spirit, this is a new skin for the Free Fire X McLaren collaboration!
Also Read: Use This Row of Weapons to Push Ranked Season 23 Free Fire (FF)!
Will be present through the Summer Spin event, here's how to get the Legendary Cobra FF Katana in the Summer Spin Free Fire event!
Katana Legendary Cobra FF in Summer Spin Event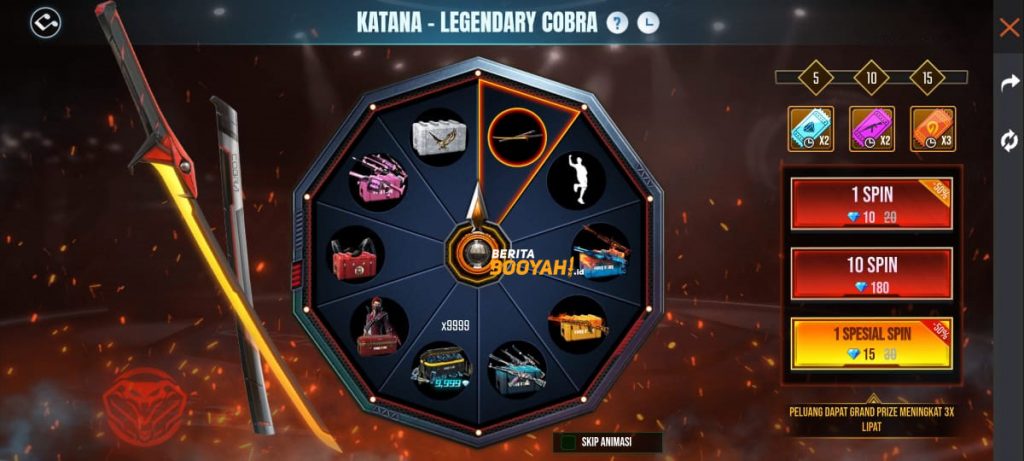 Katana Legendary Cobra FF is a Katana skin that actually came to coincide with the Operation Cobra event some time ago. However, in Indonesia, this skin will only be out in the near future.
Buddy Booyah can have the Katana Legendary Cobra FF in the Summer Spin event from September 3 to 9, 2021. More details, here are the conditions for the Summer Spin event to get the Katana Legendary Cobra FF.
The event will take place from 3 – 9 September 2021.
Get a chance to win the jackpot, namely the Katana Legendary Cobra FF and 9,999 Diamonds by doing a Spin.
Diamond Price per Spin:
-1x Normal Spin: 20 Diamonds
–10x Normal Spins: 180 Diamonds
-1x Special Spin: 30 Diamonds (chance to get 3x the grand prize)
You will get a 50% discount for the first 2x normal spins and 2x the first special spins
The prizes you get will go directly to the Vault/Collection.
Just like the previous Summer Spin event, Buddy Booyah can get 9,999 Diamond prizes as one of the prizes besides the Legendary Cobra FF Katana. In addition, every 2 times the first Spin, Normal Spin and Special Spin, Buddy Booyah will now get a discount.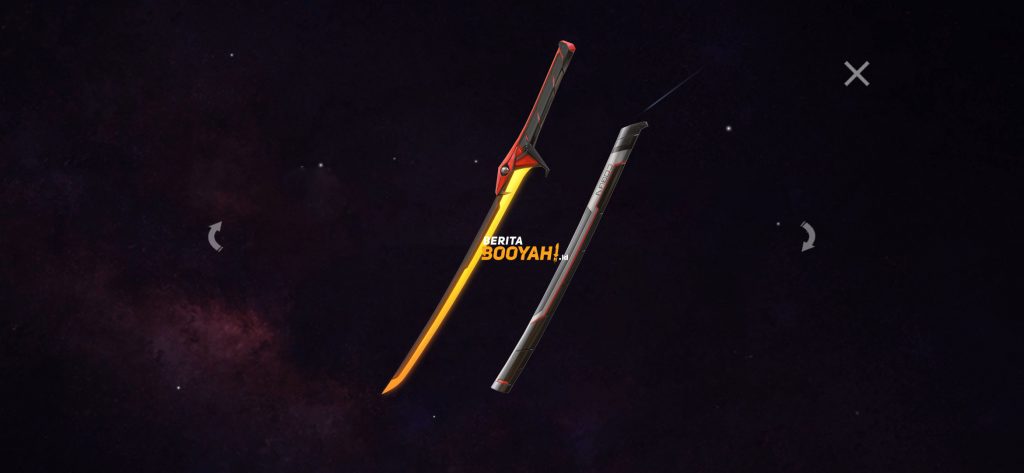 The Katana Legendary Cobra FF itself has a pretty interesting appearance. As the name implies, Buddy Booyah will find a cobra that is the motif of the handle of the Katana skin that will be present tomorrow.
How, is Buddy Booyah interested in getting the Legendary Cobra FF Katana skin on Free Fire? If so, don't miss out on getting a Katana skin that is no less cool than the other Katana skins!
---
Don't want to miss a series of other interesting information about Free Fire? Don't forget to follow Tiktok, Instagram, Facebook, and YouTube from Booyah News!