Hi Buddy Booyah!
Various Gun Skins are in Free Fire at the moment. Even so, did Buddy Booyah know that there are some Gun Skins in Free Fire that don't have additional stats. Most of these Gun Skins are Skins for Melee weapons.
One of the popular Melee weapons in Free Fire is the Katana. The presence of the Katana FF skin is always awaited by Free Fire players every time. And soon, one of the Katana skins named Kata Cyber ​​Bounty hunter FF will come to Free Fire!
Also Read: Free McLaren Racing Overalls FF Bundle at Free Fire x McLaren Event!
Also Read: Opened Today, Here's How To Download Advance Server FF July!
Curious how to get this Free Fire Katana skin? Through this article, Berita Booyah will present a leak on how to get the Katana Cyber ​​Bounty Hunter Free Fire (FF) skin!
Katana Cyber ​​Bounty Hunter FF Summer Spin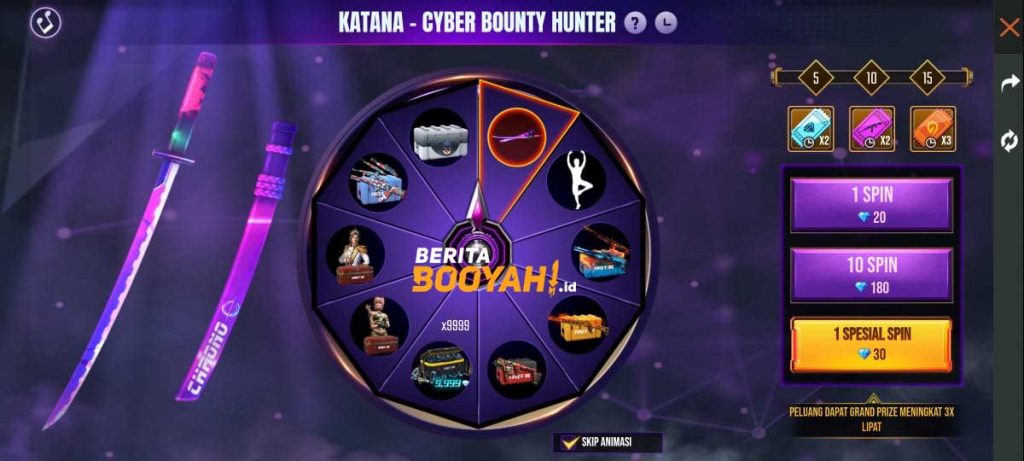 Katan Cyber ​​Bounty Hunter will be coming soon in the latest Summer Spin Free Fire event. Specifically, This event will take place and be available on Free Fire from 23 July to 28 July 2021.
Meanwhile, the conditions for the Summer Spin FF event to get the Katana Cyber ​​Bounty Hunter Free Fire are as follows:
The event will take place from 23 – 28 July 2021.
Get a chance to win the jackpot, namely Katana Cyber ​​Bounty Hunter and 9,999 Diamonds by doing Spin.
Diamond Price per Spin:
-1x Normal Spin: 20 Diamonds
–10x Normal Spins: 180 Diamonds
-1x Special Spin: 30 Diamonds (chance to get 3x the grand prize)
The prizes you get will go directly to the Vault/Collection.
One of the prizes that is no less interesting than the Summer Spin FF event besides Katan Cyber ​​Bounty Hunter Free Fire, of course, is 9,999 Diamonds, which Booyah can get through Spin if you are lucky.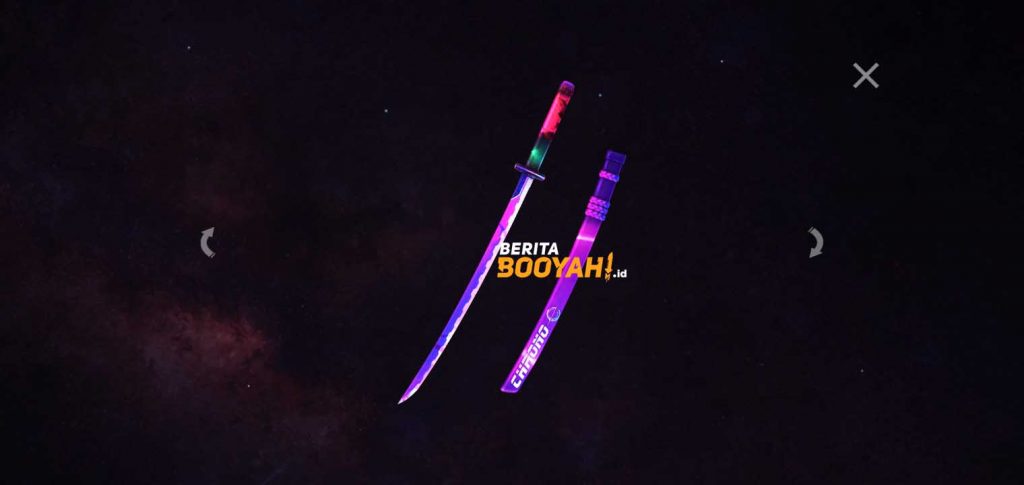 In addition, Buddy Booyah will also be offered prizes milestones where every 5, 10, and 15 Spins, Buddy Booyah can get additional prizes in the form of Diamond Royale Vouchers, Weapon Royale Vouchers, and Incubator Vouchers.
According to Buddy Booyah himself, how does the Katana Cyber ​​Bounty Hunter FF look, which is actually a Free Fire x CR7 collaboration item? Don't miss out on getting it!
---
Don't want to miss a series of other interesting information about Free Fire? Don't forget to follow Tiktok, Instagram, Facebook, and YouTube from Booyah News!