Hi Buddy Booyah!
In a few days, Free Fire will return with a major update. More precisely, on August 4, 2021 Free Fire will carry out maintenance and updates which are certainly interesting to watch.
One of the updates that will be brought in the Free Fire (FF) update this August is the existence of buffs and nerfs on characters. One of the characters who received the buff was a character from Indonesia, Jota.
Also Read: Want to Booyah in FF Convoy Crunch Mode? Apply This Set of Tips!
Also Read: Clash Squad in the August FF Update, Can Bring a Backpack and Ask for Weapons!
Then, what kind of buff does Jota's character get and will making this character adapted from the famous Indonesian actor Joe Taslim become an overpower? Check out the explanation below!
Jota Buff in the August Free Fire (FF) Update
Jota's character is one of the characters that is quite good to play for Buddy Booyah who plays as a rusher in the team if you see how Jota's skills work.
Currently, the Jota Free Fire skill called Sustained Raids will make Buddy Booyah's character automatically get HP after defeating the enemy with SMG or Shotgun weapons.
Even so, in the August Free Fire (FF) update, it seems that Jota will be even more overpowered. The reason is, Jota's skill will get additional which seems to make Jota's character more overpowered.
The buffs are, besides Jota being able to recover HP instantly when defeating the enemy, when shooting and bullets hit the enemy, Jota will recover some HP for him!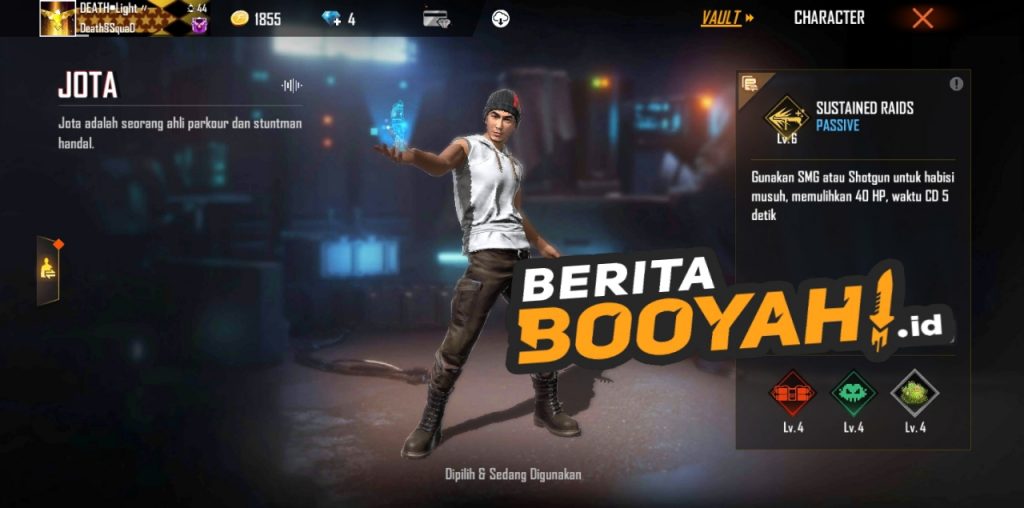 Of course, this is quite useful for fighting if you consider how fierce the battle in Free Fire is, especially if Buddy Booyah is against a lot of people.
According to Buddy Booyah himself, what about the update for Jota's character on August 4, 2021? Do you think this character will become overpowered?
---
Don't want to miss a series of other interesting information about Free Fire? Don't forget to follow Tiktok, Instagram, Facebook, and YouTube from Booyah News!