Hi Buddy Booyah!
The existence of characters is indeed the difference between Free Fire and various similar games. The presence of characters who are also equipped with various skills makes Buddy Booyah can feel what it's like to play battle royale in a different way.
Currently, in Free Fire there are dozens of characters that you can combine skills with up to a maximum of 4 skills in one character. One of the characters present in Free Fire is Jai.
Also Read: M1887 and AUG Winterlands 2021 FF Coming Back to Free Fire!
Also Read: Don't Do These Things When Playing Clash Squad Free Fire (FF)!
Jai is the fruit of Free Fire's collaboration with Hrithik Roshan, a well-known Indian actor who has been in the Bollywood industry for a long time. The presence of Jai's character also has unique skills.
With a skill called Raging Reload, Jai's character is able to reload automatically and fill 45% of Magazine's capacity for certain weapons after defeating the enemy.
However, bad news comes to Jai's character. This Jai FF character who works as a SWAT character will soon disappear from the Free Fire Shop after July 31, 2021!
This means, after July 31, 2021 Buddy Booyah who wants to have Jai's character can no longer get it because Jai will go on a mission. Apart from being deleted, Jai's character is also not in the level up reward or Gold Royale.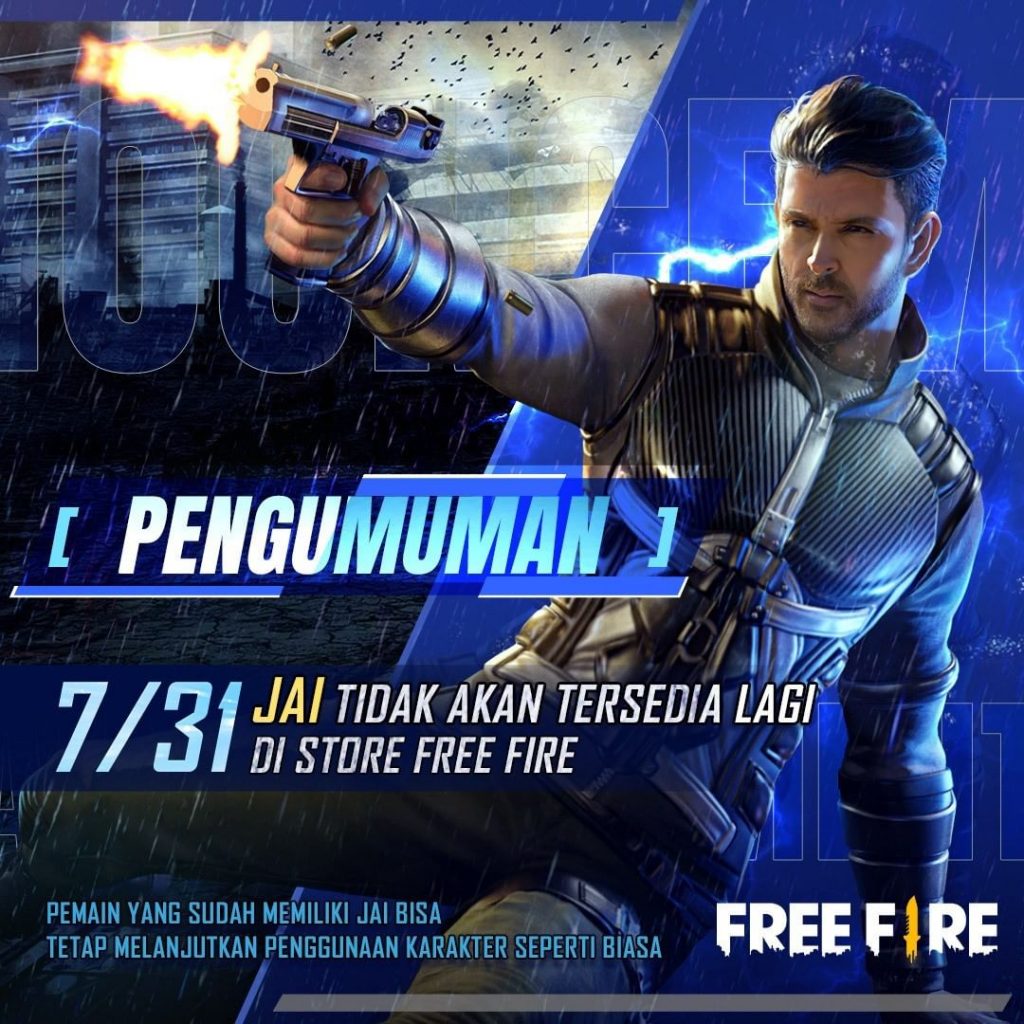 But don't worry, Booyah Buddies who already have Jai characters, you won't lose the Jai FF character from your Free Fire account. So you can still use it as usual even after July 31st.
What if Buddy Booyah think about the removal of Jai's character from Free Fire? What do you think is the reason why this character is not selling well in META Free Fire at the moment?
---
Don't want to miss a series of other interesting information about Free Fire? Don't forget to follow Tiktok, Instagram, Facebook, and YouTube from Booyah News!