Hi Buddy Booyah!
Free Fire never stops pampering the players. At the peak of the excitement of the 4th anniversary of Free Fire, a character in collaboration with Dimitri Vegas Like Mike is here to bring a new, more interesting and exciting gaming experience.
Dimitri, is a collaboration character from the famous DJ, Dimitri Vegas which was released on Free Fire with skills which is very interesting. With skills active Healing HeartbeatAccording to him, Dimitri is able to revive his users and teammates without anyone's help while in Dimitri's healing zone.
Also Read:
Also Read:
Very interesting and overpower no? Now to increase the strength of Dimitri, Buddy Booyah can pair Dimitri with one of the three pet Free Fire below!
Moony
Moony has skills which name is Paranormal Protection, which is able to protect its users when doing reverse interactions such as reviving one of them by reducing 35% damage from the enemy.
By combining Moony with Dimitri, Buddy Booyah will be safer and more immune when knocking and then self-reviving from skills Dimitri.
Rockie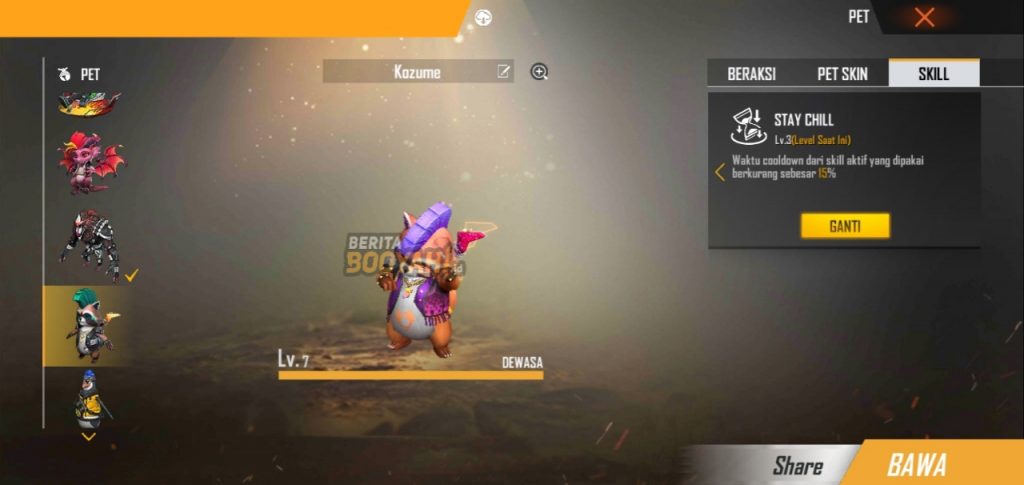 Is one of pet most overpower, Rockie is equipped skills called Stay Chill, which is able to reduce 15% cooldown time from skills active that Buddy Booyah uses.
So, Dimitri's cooldown will be faster than usual, and Buddy Booyah will be able to use more and more effectively skills active Dimitri on Free Fire.
Mr. Waggor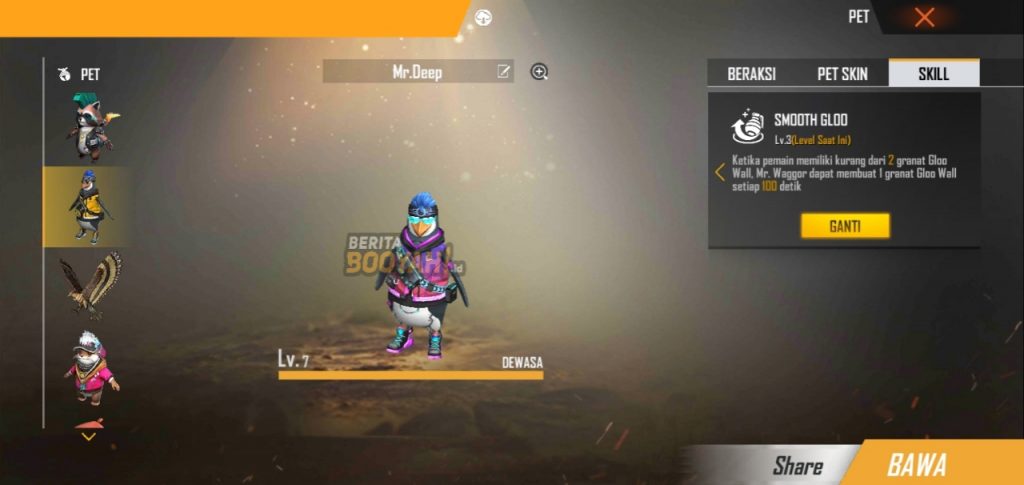 Mr. Waggors have an ability called Smooth Gloo, which is able to create a Gloo Wall every 100 seconds when Buddy Booyah doesn't have 2 Gloo Walls.
Skills owned by Mr. This Waggor certainly helps Buddy Booyah in using Dimitri's skills to be safer and more effective. Thanks to the Gloo Wall that Mr. Waggor, Buddy Booyah can fight comfortably against enemies, and Buddy Booyah is not easily knocked out. Skills Dimitri's actives can be used at the right time.
According to Buddy Booyah himself, pet what is suitable to use when using the new character Dimitri in Free Fire?
---
Don't want to miss a series of other interesting information on Free Fire? Don't forget to follow Tiktok, Instagram, Facebook, and YouTube from Booyah News!