Hi Buddy Booyah!
Exactly today, August 4, 2021, Free Fire will receive an update. Updates on Free Fire, which have become a mandatory agenda that you can't miss every time, Buddy Booyah.
In the big update, it's not only the various in-game updates that are interesting to follow. The presence of the new FF Token bundle is no less a concern for Free Fire players.
Also Read: FF Party Collection Event Leaks, There's a Wildfire Rogue Free Fire Bundle!
Also Read: Revamp Decoy Grenade in the August FF Update, What's It Like?
Then, what new bundle will be present in FF Token after the FF August Update takes place today? Check out this article to find out more about the latest leaked FF Token bundle!
Imperial Malikah FF Token Free Fire Bundle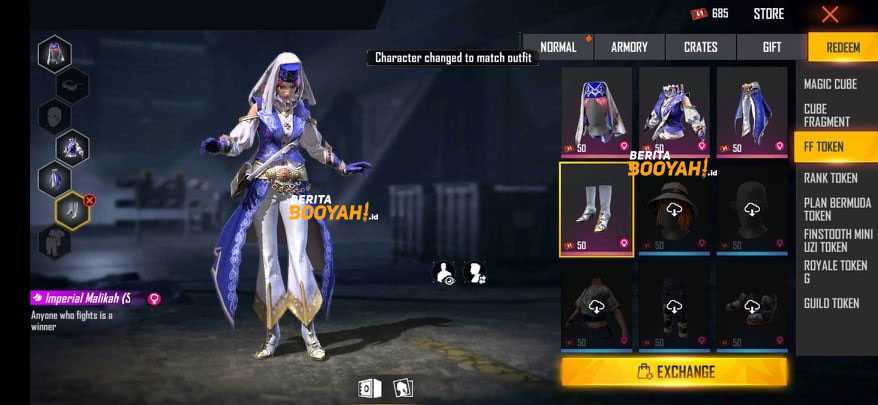 Imperial Malikah will be the newest bundle that Buddy Booyah can get at the latest FF Token exchange starting on August 4, 2021, more precisely after the Free Fire maintenance is over.
Imperial Malikah is a bundle used for female characters. In this Imperial Malikah FF bundle, it has a purple-white color consisting of a bundle that is divided into four parts.
Meanwhile, to be able to collect all parts of the Imperial Malikah bundle, you need the FF Token below.
50 FF Tokens: Imperial Malikah – Head
50 FF Tokens: Imperial Malikah – Top
50 FF Tokens: Imperial Malika – Bottom
50 FF Tokens: Imperial Malikah – Shoes
This means, in total Buddy Booyah needs 200 FF Tokens to be able to get the entire Imperial Malikah Free Fire bundle. Is Buddy Booyah interested in getting it?
---
Don't want to miss a series of other interesting information about Free Fire? Don't forget to follow Tiktok, Instagram, Facebook, and YouTube from Booyah News!