To make it faster and easier, you should know how to play the Memory Jigsaw Free Fire (FF) event which you might have to play now. Because there are some gifts that we have to use, so that later we can have all the gifts.
There are still many new events that are present in the Free Fire game now, complete all the Missions that have appeared to get lots of prizes. Because there are still some other gifts that we can collect, when we have seen some of these things.
Like the presence of the 4nniversary Free Fire Event Schedule right now, so you can get the latest prizes and of course Limited. Various missions that you can complete too if you really intend, maybe you only need to spend 1 day.
Especially now that there is a How to Play Memory Jigsaw Free Fire (FF) event, first understand what the event will be like before starting to play. Because from here there is the main prize, an item that players are looking forward to the most.
Curious? see how to play in the article right now.
How to Play Event Memory Jigsaw Free Fire (FF)
The event, called Memory Jigsaw FF, will take place from 20 August – 6 September 2021.
To access this event, all you have to do is log into Free Fire first so it's easier to find it now.
When you are in the game Lobby, select the right side which is the Free Fire 4th Anniversary Event Interface.
When you have entered this event, see the selection in the middle with the logo 4 and it says Memory Jigsaw.
After entering, see the section of each Column in this Event so you can complete it using Fragment Rhythm first.
Each Column has a different color of Fragment Token, so install it and have the prize after completing the Column.
Then after you can also see the left side there is a choice of the Milestone Fragment that you have installed.
On the right there is a menu option and also a preview of the main prizes that we can get.
Complete everything and try to collect all the empty columns and if you install 1, you usually get a prize.
The prizes you get in this event will go into the Vault, Inventory or Collection.
The presence of this event in the Free Fire game is indeed quite exciting and we are waiting for the most, because the main prize is a male bundle. You need to know how to get the Free Fire Rhythm Fragment Token, so that we can use it in this event now.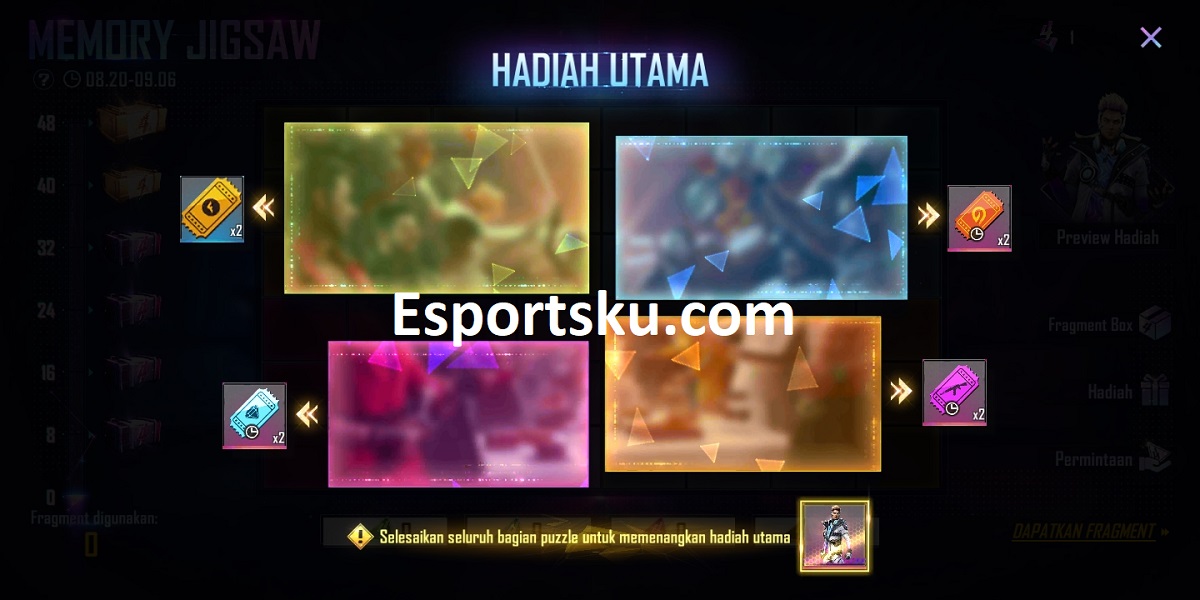 For the main prize, we can complete up to 48 parts of the existing column, then we can get several other prizes if we complete this. The following is a list of prizes that you can get, when participating in the new Memory Jigsaw Event.
8 Fragments Filled: 3000 Gold
16 Fragments Filled: Crimson Neon Parachute
24 Fragments Filled: 3000 Gold
32 Fragments Filled: 3000 Gold
40 Fragments Filled: Special Pin 4th Free Fire Anniversary
48 Fragments Filled: Free Amplified Bassrock Bundle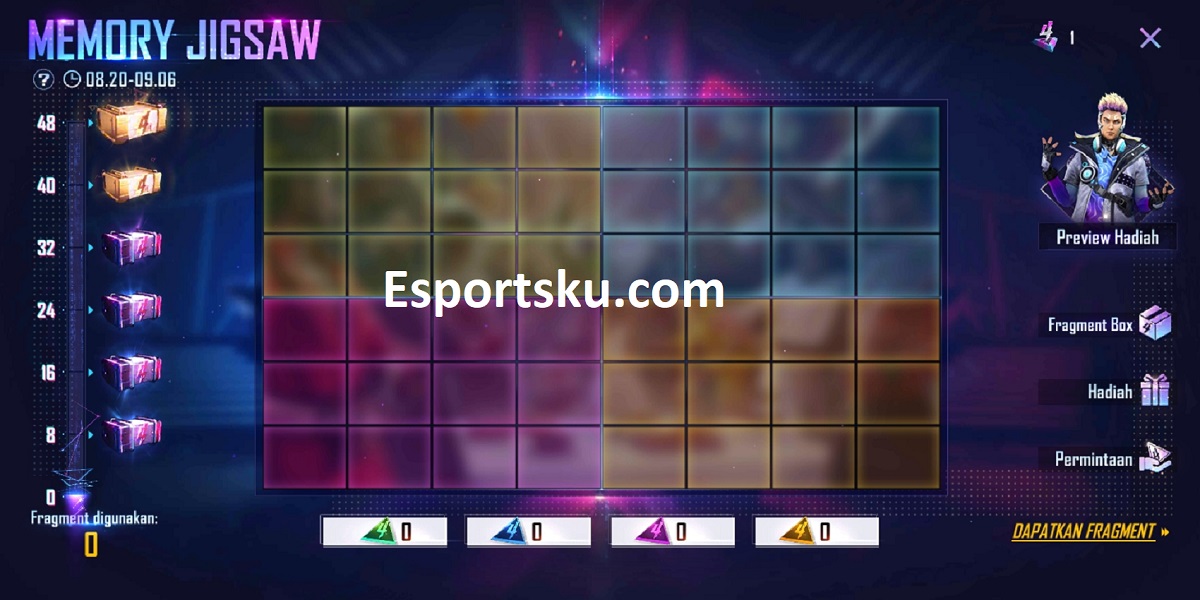 That's the contents of the prizes that you can get from this event, just collect them all and make sure to finish them now. Moreover, in order to get Fragments, you must have the Free Fire Dynamic Anniversary Token so that the game runs more smoothly.
After you know how to play the Memory Jigsaw Free Fire (FF) event, it won't be difficult at all to complete it. Even for the rewards that you will get later, this is quite a lot.
Focus first on completing 1 Event, so that later you can get and try all the prizes that are present in this game, too. There's even a way to get a Thrash Metallic Free Fire Backpack, so you can play even cooler
Keep visiting Kabargokil for the latest information, Follow our Kabargokil Instagram and YouTube news, too!